Syfy has released the second part to their Krypton recap. It's fairly inclusive and gives away spoilers, but also just hits the highlights and bypasses some of the really cool character moments of the season. But hey, it's just a recap right? Spoilers ahead.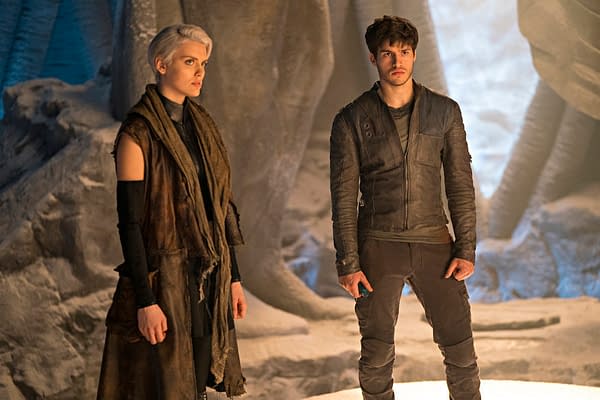 It was sold as a Superman prequel series, but there is a lot more going on here than just that. To me it's more of an Elseworlds story that stars Adam Strange (Shaun Sipos) and Kal-El's grandfather, Seg-El (Cameron Cuffe). The idea is that Adam has traveled 200 years into the past — and across space — to stop another person from traveling back and preventing Superman from ever going to Earth.
We spend the first five episodes believing Adam was there to stop Brainiac (Blake Ritson) from stealing Kandor City. But halfway through we meet General Zod (Colin Salmon) from our time, who has gone back to stop Brainiac. It turns out that the taking of Kandor always happened, and it was the removal of the city that weakened the planet, causing it to explode 200 years later. Zod wants to stop Brainiac and save Kandor and Krypton… but prevent Superman. This puts Adam on the side of wanting Brainiac to succeed. Oh, and they also introduce Doomsday and the Phantom Zone — all of which you see in the recap below.
Krypton has been renewed for a second season expected to debut in 2019.
Enjoyed this article? Share it!