WWE is ready to bring fans back to its live events after several months of filming shows in empty buildings with no audience. Earlier today, we learned that a plan by the government of Florida to re-open the state includes allowing live sporting events to admit crowds up to 25% of the capacity of a building providing social distancing guidelines are followed. It could mark the end of the empty arena shows, provided wrestling companies are willing to take the risk. And in the case of WWE, that seems highly likely.
Dave Meltzer transcribes large portions of Vince McMahon's statements during the recent WWE first-quarter financial call in the latest Wrestling Observer Newsletter, and what Vince has to say about WWE bringing back fans is interesting. Apparently, Vince believes that if anyone is equipped to bring fans back into arenas safely, it's WWE.
Yes, we could. Again, we're just waiting for it, just like everyone else is. I don't know what the live audience is going to mean anymore. Obviously there's a huge need and want by our audience to want to be there live. Again, I don't know whether it's six feet apart or whether or not, everyone gets tested before they come n, which you could be able to do in a smaller arena type thing. If anyone knows how to do it in a safe and exciting way, it would be us. Chances are we would be the first ones to do it, pretty much like we're the first ones to do everything else.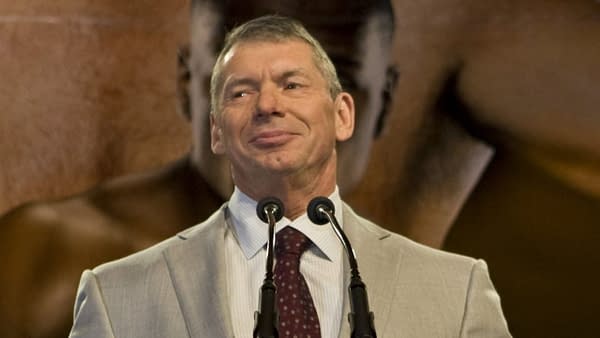 WWE does hate to let a good tragedy go to waste when they can instead use it for self-aggrandizement, as anyone who's heard the company tout its September 13th, 2001 episode of Smackdown as the first major sporting event held after the 9/11 attacks. And why shouldn't they? That's what makes them the best in the world.
McMahon continued to discuss WWE using the current situation as an opportunity, not a problem.
I think there's a difference in behavior the people have now in terms of the consumer.  really, if anyone can figure it out we will. We're highly adaptable as you've seen through the years. Whatever happens, we're there, and I think that's going to be more content oriented, heavily marketed, and in terms of not live events, but more in terms of programming and social and digital media, which are way up. There are a lot of things we can do there. So I'd say creative environment is the way I look at it. Obviously, it's not a problem. It's an opportunity.
We may get the chance to see sooner rather than later, just what WWE does with that opportunity.
Enjoyed this article? Share it!