Motherland: Fort Salem Season 1 Citydrop Review: Tally Takes the Lead
This week's episode of Freeform's Motherland: Fort Salem continued right where it left off, packed with action and showing just how far our witches have evolved with their training. As always, we get some inconsistencies with our "rebel" heroine but we also see how much the other two have grown. We witness some particular nastiness within the upper echelons of power that has us wondering if General Alder (Lyne Renée) is connected with the Spree.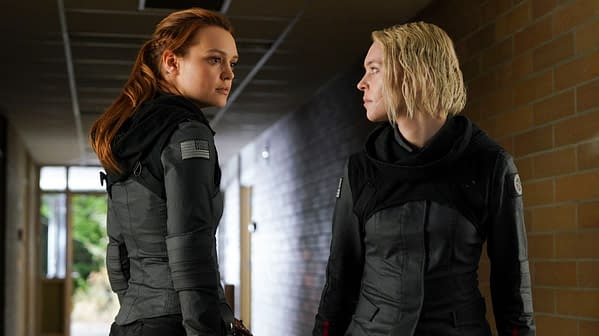 I expected more out of "Citydrop" after last week's episode. The witches' training comes to its final legs where they are all put into a situation to test how far along they have come. After seeing Abigail (Ashley Nicole Williams) get along with her enemy Libba (Sarah Yarkin), I immediately knew how this episode was going to end. I have come to grow fond of Abigail despite certain moments where it seems the stick cannot go more up her behind. Once they drop down to where the training is set, Tally (Jessica Sutton) injures herself and Raelle (Taylor Hickson) links up with her to fix her. Unfortunately considering timing and situation, she looks into Tally's memories and realized what she knew about Scylla (Amalia Holm) and that Tally was the one who told the military brass what she saw.
Let me say, I love me a rebel every single day. Rebellious characters tend to be my favorites in every story. However, Raelle's little "rebel moments" really take me out of the story because it's just too inconsistent, and some times completely illogical and out of the left field. At this point, I hope they give her mother a backstory worth all these moments to make up for it. Watch her be part of the Spree. I mean, I can understand Raelle and Abigail feeling a bit betrayed, but really? Especially coming from Abigail, who is normally doing nothing but preaching about the importance of procedures. I loved Tally in this episode and how she took the lead of the unit, putting both Raelle and Abigail in their places and sternly reminding them to keep the personal drama out of their mission. I have come to enjoy how much Tally has grown from being the innocent girl she started as, with her personal journey the more believable and relatable as possible.
The cadets' training is cut short as General Adler summons them to intervene in a life-or-death battle against the Spree. This part saved the whole episode and made things much more intriguing, especially now that our main unit knows there is something very fishy going on with the military power base. I want to see more of this and hope this continues escalating into next episode, especially after General Adler gave a public speech lying about the details of what went down. This has me wondering if she is using the Spree in order to keep herself in power, or even claim more control.
All in all, it was a good episode of Motherland: Fort Salem but I wish we could get more of or witches maturing and growing, and definitely more battle scenes as opposed to tween anger among the unit. I love when we get moments focused on the world-building or past history of what made this world what it is, so I hope we get to see more of that before the season wraps. There's so much to this world still to be explored, so showing more if it could be the key to more seasons.