Motherland: Fort Salem Season 1 Mother Mycelium Review: A Saving Grace
This week, Freeform's Motherland: Fort Salem finally brings us the urgency and pacing we have been craving. This episode has been the best one so far, putting our witches-in-training in a situation even professors at Hogwarts would cringe at. Viewers finally get a chance to see our threesome in a bit of action and showing everyone (especially the viewers) what they are capable of and the bond forming between them. While our newbies are showing the growth needed for what's ahead, we were also given a side-eye to the thirst for power of those in charge.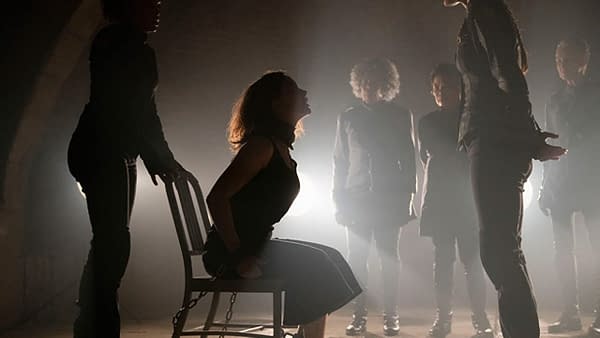 While "Mother Mycelium" starts off a bit choppy, it caught its footing and flow very early on. We finally get to see Raelle (Taylor Hickson) show the class how much power she actually has when she put them all to sleep. I think this whole scene was by far my favorite. It felt like a f***ed-up Hogwarts that even Snape would frown upon. The class was about healing and fixing, though you couldn't tell at first by the brutally shocking yet effective method used to demonstrate. I think I will never volunteer for anything again. I also liked that we get to see a relationship forming between Raelle, Abigail (Ashley Nicole Williams), and Tally (Jessica Sutton) without the constant bickering on this episode. I really appreciated this as that tends to take me out of the mood more often than not.
I have certainly had a roller-coaster time with Abigail, though. I hated her at first, then she was okay, then "girl, get that stick out from where it is at", and now I am okay with her again. However, something was off this time, as if she was asked to pull a Kristen Stewart and keep her emotions to herself while holding a monotone voice. I like the potential relationship growing between her and the refugee, Adil (Tony Giroux), but at moments it just felt so forced. It was cute to see how far along she has come in regards to trusting her unit, especially Raelle. While it was a stupid move, I appreciated how she just knew Raelle could fix Adil's sister. I am curious though, what is it actually that Raelle touched and got into her finger?
In another messed-up Snape move with her own type of Legilimens (the spell to get into someone's mind), Anacostia (Demetria McKinney) links up with Scylla (Amalia Holm) and finally gets answers. Though to get to this, she used Raelle to break through Scylla's barriers. It was as f*cked up as it was brilliant. However, I wonder if it was truly smart and worth it considering how hard-headed Raelle is and now she will really be fighting to prove Scylla is alive. She wakes up back in her bed, but her freak-out is cut short as the next part of their training has begun. I am really glad to see that it looks like Motherland: Fort Salem has gotten itself back on track and I wonder how things will start escalating with only a handful of episodes remaining. This episode was definitely an improvement, I wish we would have gotten this type of energy earlier on, I am in for this vibe.