Muppets Now Preview: Joe from Legal Needs The Cast to Know the Rules
Last time we checked in on Disney+'s upcoming Muppets Now, we were waxing poetically about its meta-like, Inception-y approach to its format. First off, it's an unscripted, six-episode series that includes improv, off-the-cuff gags, and a parade of the Muppets' close, personal (and famous) friends so it's a mix of a reality show and the original series. Scooter finds himself rushing to make his delivery deadline to upload their brand-new series to their streaming home. To say they were due yesterday would be an understatement, so he finds himself navigating whatever obstacles, distractions, and complications the rest of the Muppets can throw at him as he looks to beat the clock.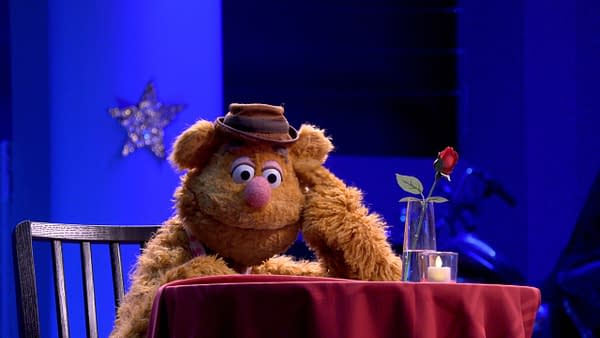 But just in case you thought things were still sounding a little shady and not exactly on the up-and-up, Joe The Legal Weasel aka "Joe from Legal" is here to let us all know that everything's… well… legal. His proof? How about a look at the "legally vetted, approved, and signed-off-on official press release," followed by a screening of the internal video conference call with the cast to confirm the series and its July 31st premiere? Check out the "evidence" for yourselves below: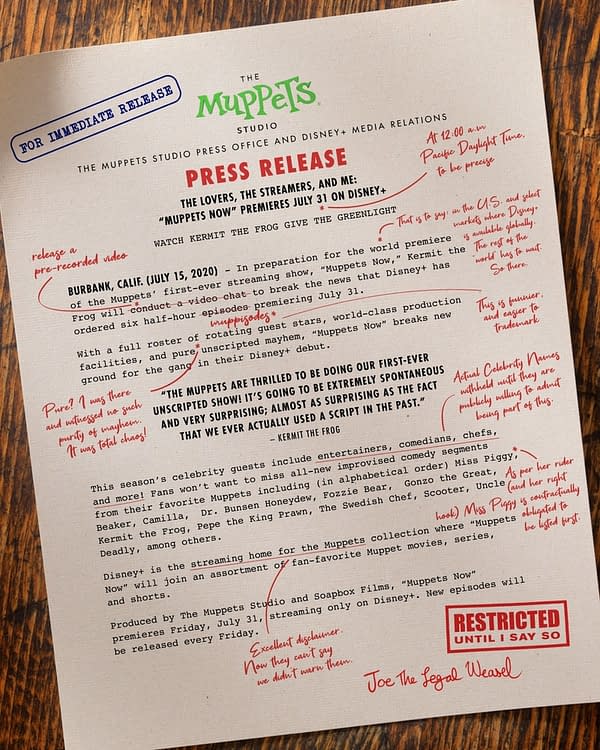 Produced by The Muppets Studio and Soapbox Films, the series is set to premiere Friday, July 31, streaming only on Disney+ (with new episodes released on Fridays. Here's a look at the official trailer:
Overflowing with spontaneous lunacy, surprising guest stars and more frogs, pigs, bears (and whatevers) than legally allowed, the Muppets cut loose in "Muppets Now" with the kind of startling silliness and chaotic fun that made them famous. From zany experiments with Dr. Bunsen Honeydew and Beaker to lifestyle tips from the fabulous Miss Piggy, each episode is packed with hilarious segments, hosted by the Muppets showcasing what the Muppets do best.