Greetings, friends, classmates, and most importantly foes. This week's episode of The CW's Riverdale was back to our regularly scheduled cuckoo-crazy shenanigans after last week's tribute episode to the late Luke Perry (and his character Fred Andrews).
Before we get into exactly what shenanigans happened in this week's episode, you should be warned that spoilers wait for you… among other things…
What? You didn't hear me? MAJOR SPOILERS!
"Riverdale" season 4, episode 2 "Chapter Fifty-Nine: Fast Times at Riverdale High": Archie encourages Mad Dog to attend Riverdale High and join the football team; Jughead meets Mr. Chipping, who offers him a spot at an elite school called Stonewall Prep; Kevin applies for a spot on the Blue & Gold to make amends with Betty.
Now, where were we? Oh, yes – senior year for our fab four Archie and his gang. No, not the Southside Serpents – Betty, Veronica, and Jughead, of course!
So, Veronica's parents are both in jail – Hermione for attempting to kill Hiram, and Hiram for illicit activities on his properties; Betty's mom is still on the farm, but undercover for the FBI; Jughead and his dad are as great and Archie's mom is back, even though we don't see her in this episode.
Reggie and his dad are at odds – oh, you don't remember the casual line from last season where Reggie mentioned that his dad hits him? Well, it's come back this episode, in all its after-school special glory!
Yes – "Mad Dog" Monroe is now at Riverdale High and on the football team, but captain Reggie is getting unhappiness from his dad at not being the best or something? Regardless, he's hitting him, so Archie talks to Reggie and it all ends with Reggie going full "Carrie Underwood" on his dad's prized sports car – which made him mad, but it accomplished the goal of getting them talking. Domestic violence child abuse problem solved – Riverdale style! Bros? Bros for life!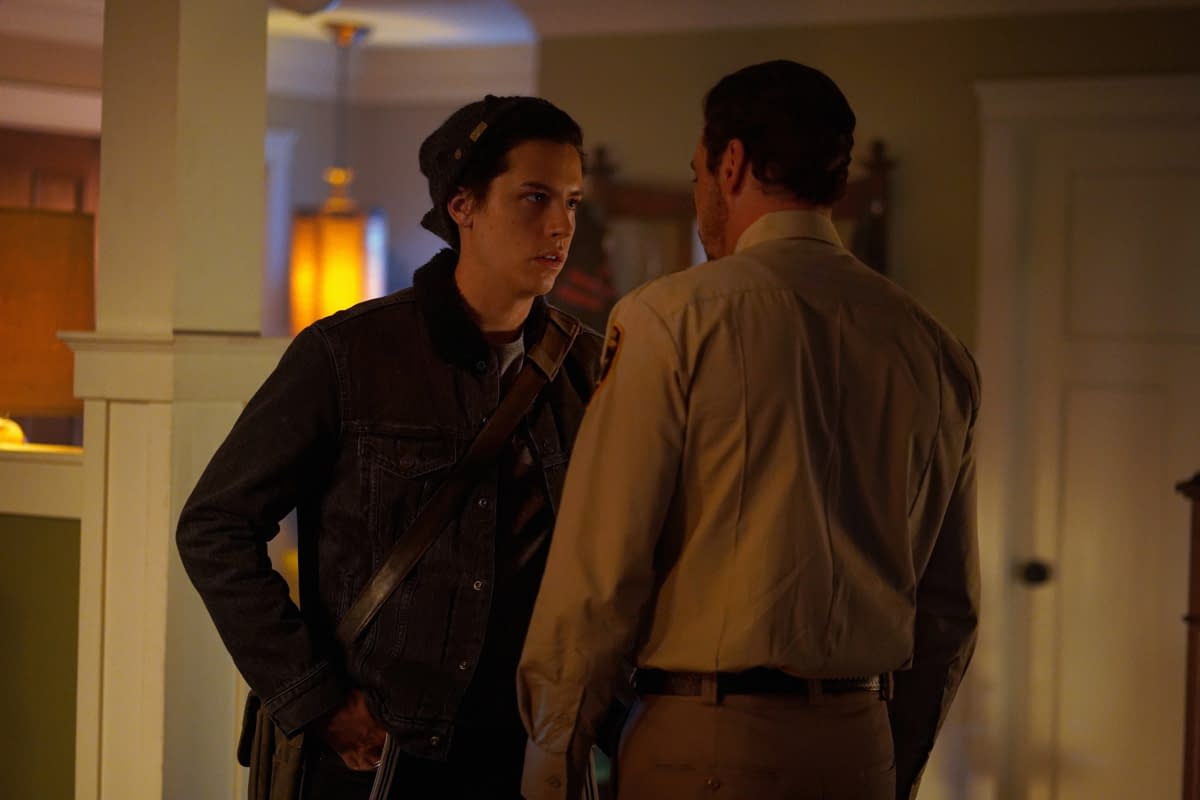 Veronica is getting hounded by paparazzi and reporters as to where she stands on her parents' individual cases – is she for her dad, or her mom? Veronica, however, just wants to be neutral – like Switzerland!
Jughead's short story he submitted to a contest over the summer caught the eye of a teacher at a swanky prep school, and at first he wouldn't even give it a chance because it would mean leaving Betty and everyone at the start of Senior year, but he comes around after Betty talks him into it.
Of course, the attentive teacher mentor and fact that it's populated by fellow literary dorks doesn't hurt – it's all very Dead Poet's Society. Hopefully though this ends better for Juggy than it did for Neil in the film. Big yikes, but time will tell!
Betty is working with Charles (her real half-brother – yes he's alive, and no he's not Chick – he is an FBI agent) and they're investigating the Farm…but Alice (Betty's mom and FBI informant on the Farm) hasn't checked in in awhile. Bigger yikes! Has Edgar found her out?
Ex-farmie Kevin made contact with his ex-boyfriend Fangs, who is still very much a part of the cult, and found out that Edgar Evernever – Riverdale's own version of Charles Manson – is stockpiling weapons and gearing up for war.
Naturally, no episode of Riverdale would be complete without a roaring jazzy musical number on the stage of Le Bonne Nuit, the speakeasy that Veronica own and runs in the basement of Pop's. After which, she states at a press conference that she stands with neither of her parents – she is her own agent, operating on her own for the first time in her life. And as such, the Lodge name is tainted, so she's going by her mother's maiden name. Say hello to Veronica Gomez, Riverdale.
Oh – and to cap off all the senior year drama, there's a new principal in town, and he is the fun police. Cancelling the school dance, breaking up Cheryl's house party – and that's just the start of it, I'm sure. Better watch your back, Mr. Honey – you do not want to make an enemy of queen bee Cheryl Blossom. And in perfect wordplay and Riverdale fashion, she makes sure he knows that he's not on her good side by leaving a bee hive on his desk Monday morning. Better watch your back, Mr. Honey – senior year will not be so sweet for you.
Jughead is looking dapper as he's all suited up and ready for his first day of boarding school at Stonewall High – it's going to be a great move…until we flash forward to spring break. Betty, FP, Archie, Veronica, and a full search party are in the woods looking for Jughead.
Did Riverdale just go all Stranger Things on us?
Is Jughead's time at prep school really going to be like Dead Poet's Society after all?
Will Archie never not meddle in other people's business?
Perhaps most importantly, exactly how much body glitter did they use on Veronica for her musical number stage performance?
The world may never know.
Tune in next week – maybe some of the pieces to the Riverdale mystery puzzle will fall into place!
Catch Archie and friends senior year shenanigans Wednesday nights on The CW.
Enjoyed this article? Share it!