'Supergirl' S04E18 "Crime and Punishment": Are You Going to the Fireworks Factory or Not? [SPOILER REVIEW]
Glad to have The CW's Supergirl back on air after a few weeks as it takes steps towards its season finale. This week's "Crime and Punishment" centers around our heroic troika of Kara/Supergirl (Melissa Benoist), Lena (Katie McGrath), and Alex (Chyler Leigh) vow to try to clear Supergirl's name after the attack on The White House. So while Alex runs interference at the DEO to prevent Ben Lockwood (Sam Witwer) from getting his hands on tech to take down Supergirl, Lena and Kara head to Stryker's Island to Lex's old cell to see what they can find.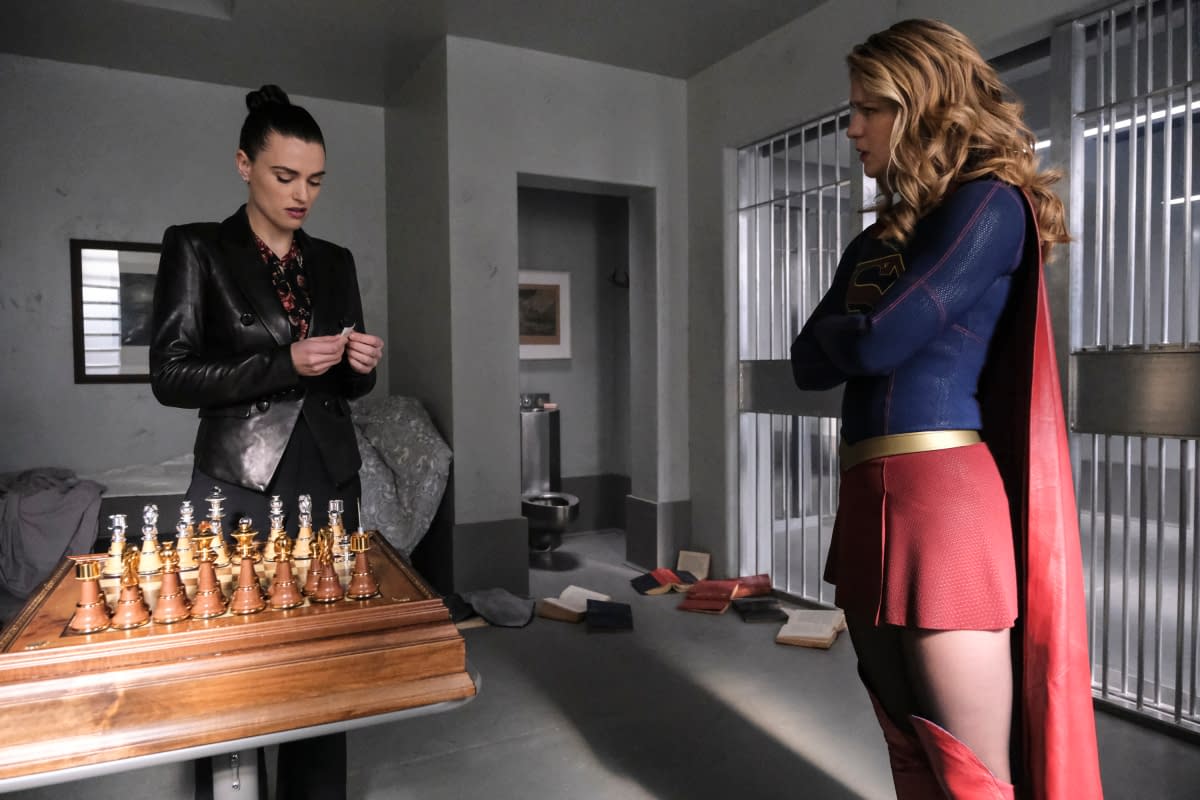 Their first clue is an old chessboard – identical to the one Lex and Lena played on as children. Indeed, the entire thing is a puzzle for Lena, which leads to Lex's old journals and an emotionally fraught journey down memory lane to their childhood. Lex is indeed playing games – on multiple levels.
Luckily for them, they also meet the inmate who was in the cell across from Lex: Steve (Willie Garson), and a government whistleblower (think Edward Snowden or Chelsea Manning) – so of course he's in Stryker's, too.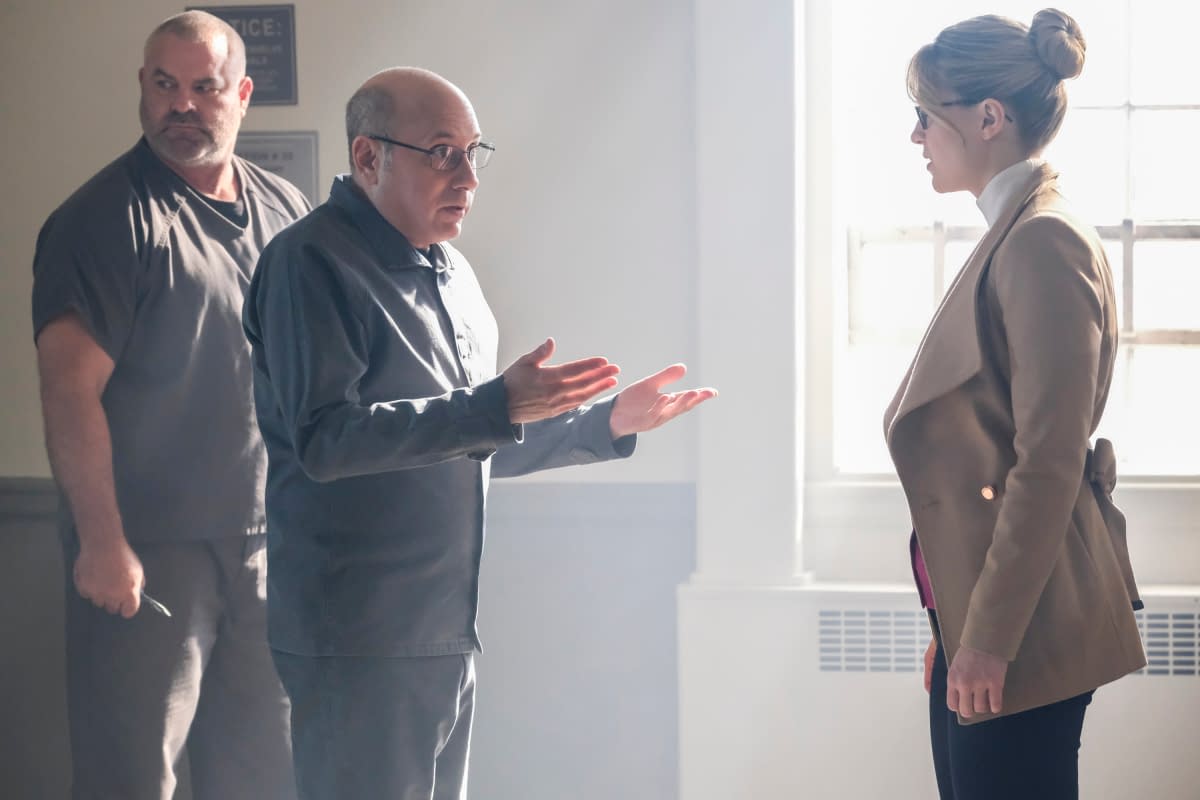 He's initially distrustful of Supergirl (so is everyone in this episode – which is a real change of pace) but when he meets Kara, it turns out he has a giant journalism crush on her work. (Awwwww! He likes her writing!) Of course, Otis Graves (Robert Baker) – newly transformed into the newest Metallo – picks that moment to bust in and start a giant brawl.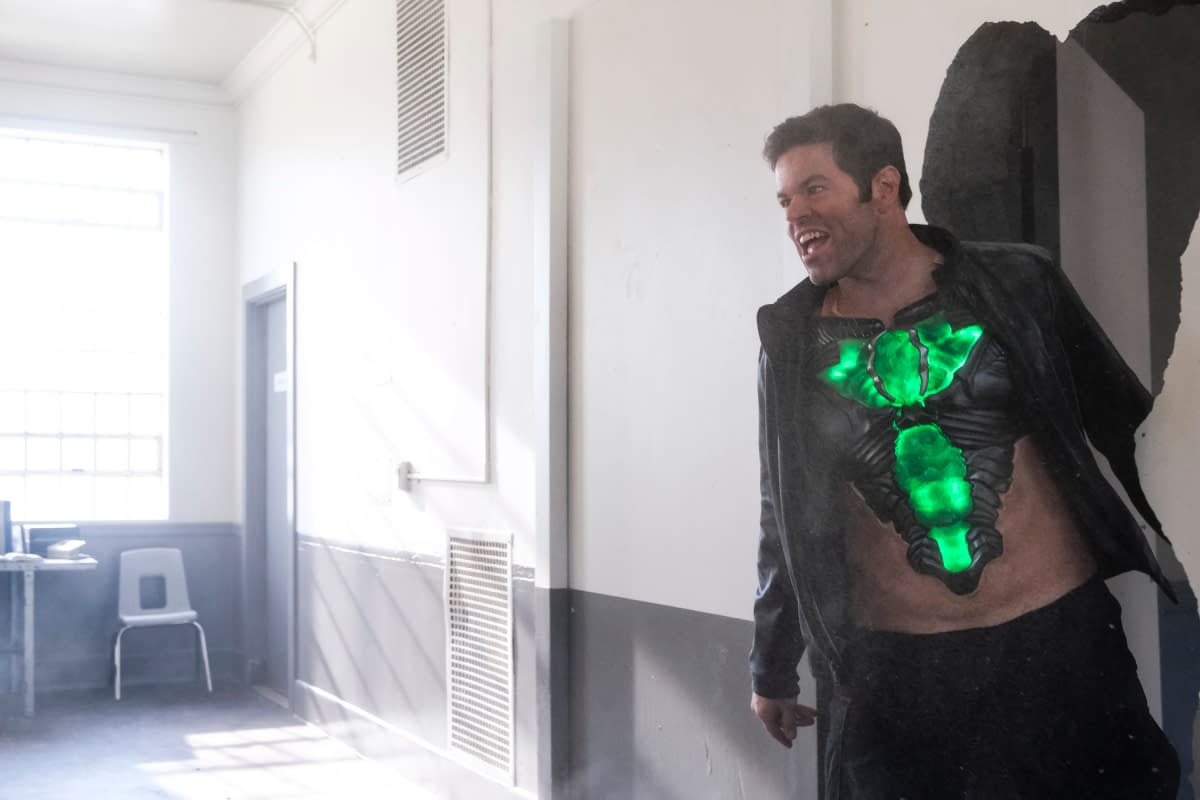 Most of this is just fine – but it sort of stops there. Truth? As good as Supergirl has been this season, this episode just sort of sits there. Yes, it moves the plotline along, but the whole thing feels like everyone is talking about Lex Luthor and he's never in the episode. It's Waiting for Godot but Lex Luthor – and as iconic a DC location as Stryker's Island is? It feels a little wasted this episode…
It's teasing that Lena and Supergirl and the rest are all going to go to a fireworks factory – and then they never go. Instead Poochy… errr… Metallo shows up. Cool, but what about Lex? What about Red Daughter?
One brighter spot is the ongoing side-plot with James (Mechad Brooks) dealing with his PTSD from being shot. Any realistic depiction of mental health issues on a major television program is great, and this does a solid job of normalizing something many people deal with on a regular basis.
As mentioned previously, it's also great to see how everyone has turned against Supergirl. Even on a street level, it's been good to see how effective Lex's propaganda has been. Even when trying to save people, she runs into trouble.
https://www.youtube.com/watch?v=w83l9sOPoys
That's heartbreaking.
But when are they going to get to the fireworks factory?!?! This Milhouse demands to know…
Here's hoping that next week we get more Lex Luthor, more unraveling the plot of what Lex was up to, and some general forward momentum on the plot. Instead, it looks like we'll be spending the episode with Nia Nal and her journey as Dreamer – which is good since she deserves more development as a hero in her own right, instead of just being seen as a "convenient plot device."
The CW's Supergirl premieres "American Dreamer" on Sunday, April 28 at 8 p.m. ET/ 7 p.m. CT.
https://www.youtube.com/watch?v=wl_9Z3iTGps
Supergirl s04e19 "American Dreamer": DAVID HAREWOOD DIRECTS — As Kara (Melissa Benoist) doggedly works as a reporter to clear Supergirl's name, Dreamer (Nicole Maines) picks up the slack as National City's protector, which leads to a showdown with Ben Lockwood (Sam Witwer). James (Mehcad Brooks) takes drastic measures to relieve his PTSD. David Harewood directed the episode with story by Dana Horgan and teleplay by Daniel Beaty & Jess Kardos