Oh, The CW's Supergirl! Will you ever not have to tangle with the problems of alter-ego Kara Danvers (Melissa Benoist)? In the episode "Blurred Lines," said blurred lines are the legal and ethical decisions Kara has to make while trying to mend fences with her best friend Lena (Katie McGrath), who asks her to nick some of Lex's property from a military base– you know, like all friends do. Other blurred lines of moral conundrums appears as J'onn J'onzz (David Harewood) and Kelly (Azie Tesfai) have to deal with their own moral struggles. In short, it's a pretty personal episode even though there is a lot of action that frames these discussions.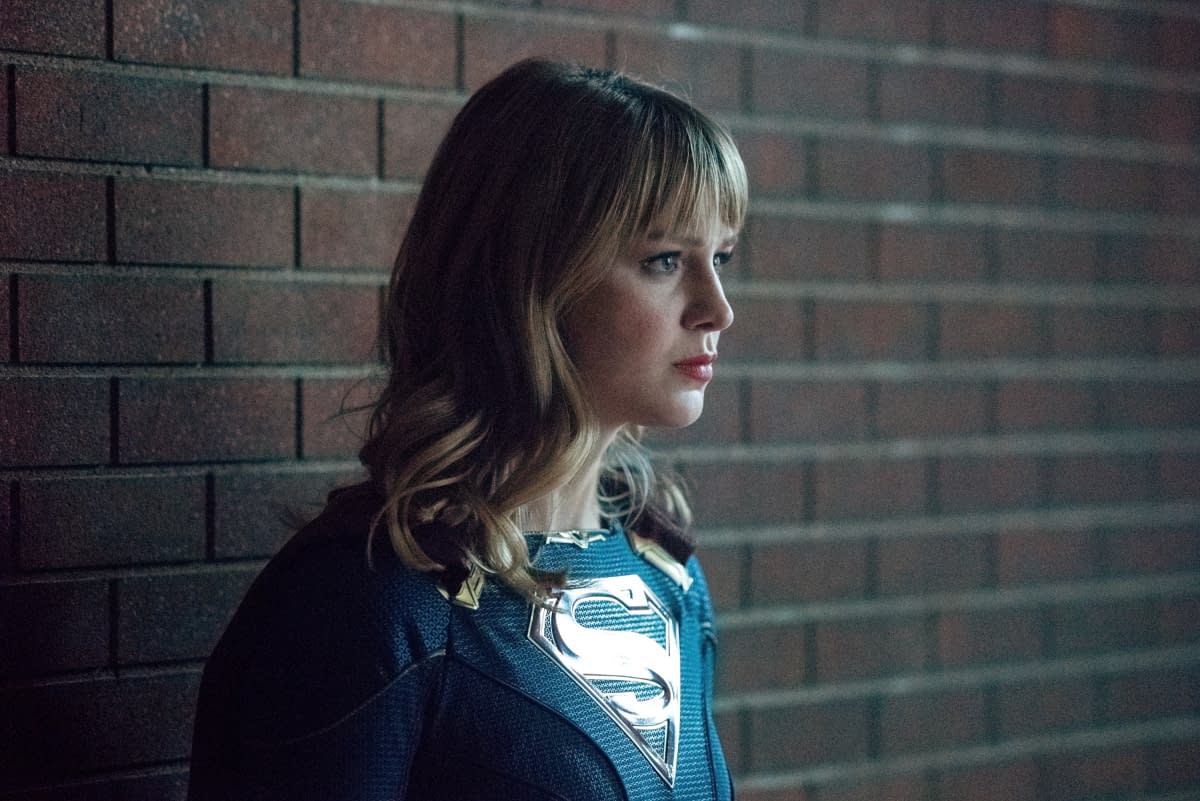 When Supergirl works it's because there is some underlying moral or ethical question, or some sort of commentary on our cultural zeitgeist. When it comes right down to it, there's very little that Kara wouldn't do to try and help her friends. Unfortunately, that makes her a prime suspect for Lena's manipulation, and she plays her "friend" like a finely tuned instrument. Lena makes it such a sob story about how only reading Lex's journals can help her sleep at night. (In truth, she wants them because he has hidden information in them that she needs for her ongoing experiments with Eve) It's almost tragic to watch, and McGrath does such a great job of playing it completely straight-faced. Unfortunately, we the audience know that she's lying, and exactly why she wants to get her hands on Lex's journals. They're not just for therapeutic reasons to help with her mental health.
Speaking of mental health, the rest of the axis of this episode really revolves around some mental health questions. J'onn asks Nia to help probe deeper into his memories to try and uncover the things hidden in his erased memories between him and his brother Malefic. Unfortunately, what he and we see is incredibly painful and is 100% one of those instances where it's almost better not knowing the truth. The show also continues its incredibly interesting aesthetic choice of rather than showing Martians in their true forms, in J'onn's head he sees all of his Martian brothers and sisters as black men and women. It's a good aesthetic and, one they should continue to use.
Meanwhile, Kelly's work at Obsidian North brings her back in contact with a former patient, played be special guest star Sean Astin! Suffering from combat-related PTSD, he's asking to use the new therapeutic systems to get some help. It's revealed to us early on that he is in fact Malefic in disguise. (PS — what a great disguise for a 7 ft tall White Martian to come back as Sean Astin, one of the most trustworthy and lovable looking people on the planet.) We immediately want to help him, and Kelly falls into the trap of breaking the rules to rush him to the head of her clinical therapy, with disastrous results. The procedure ends up unlocking more of Malefic's powers, making him far more dangerous.
Over and over and over in this episode we see our characters making decisions to cross ethical boundaries with disastrous results. The real lesson here is that it's great to have a moral code, but it's even more important to live it, even if it seems like the greater good is accomplished by bending the rules.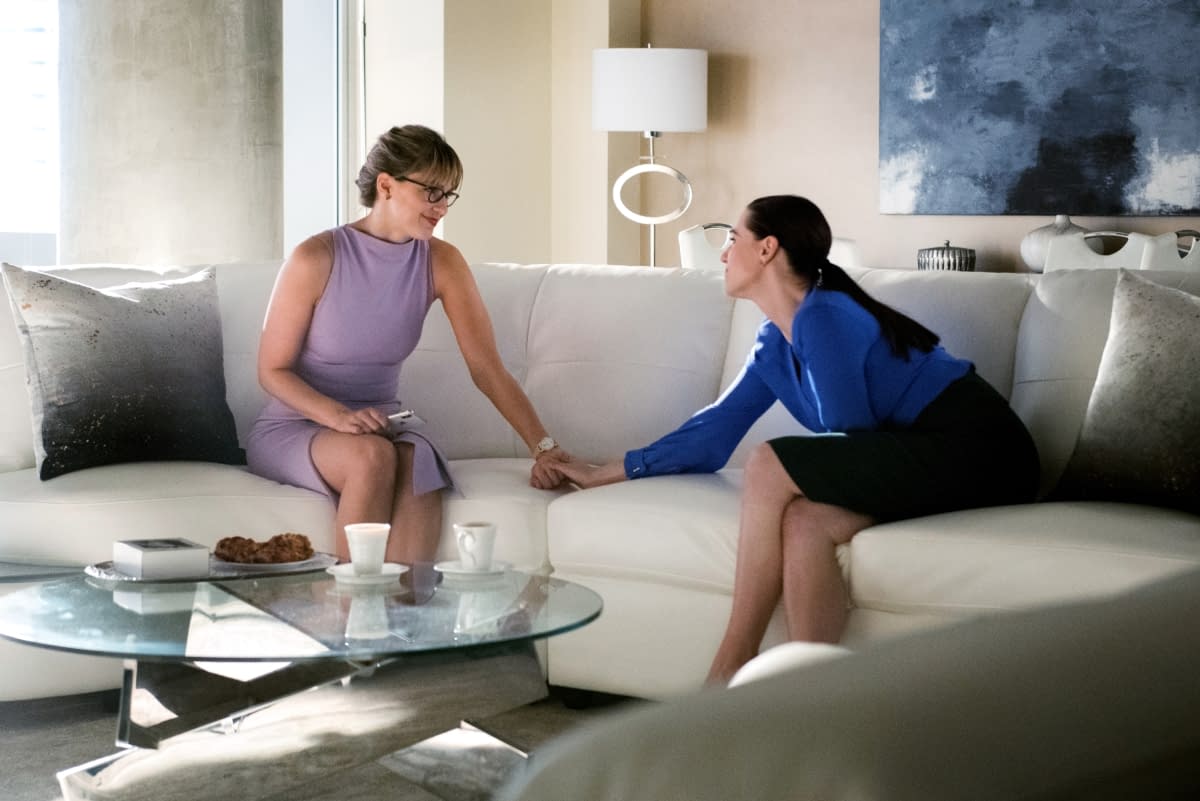 Oh, and there's also a villain of the week who has crazy spider tattoos that she can attack people with. Even though it's technically the main storyline of the week. It feels like almost an afterthought. But one good part of it is that it moves William's (Staz Nair) story along further, leading us to wonder exactly what he's up to.
When Kara pitches a story in staff meeting about a mysterious death, he says he's already looked into it and it's nothing, but Kara knows he's lying. Later on, we see him taking an envelope full of cash from someone in a park. There's definitely something shady going on here. But I also can't help but wonder if they're still setting up William to be a romantic interest for Kara, in which case. . .no. Absolutely not. Don't go down this road. Kara deserves better. #giveSupergirlarealboyfriend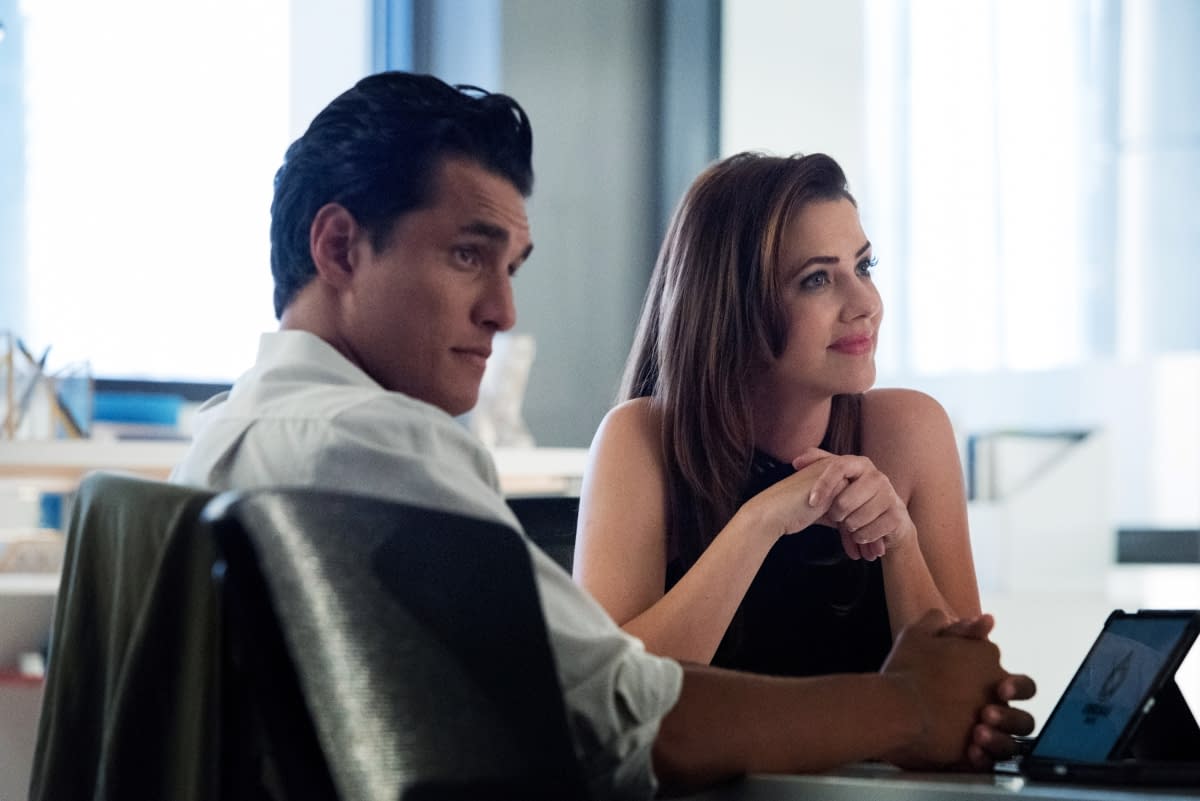 This was a fairly good episode, but didn't move our main storylines along very far. That's fine, and it's important to have some down time every once in awhile. Let's hope that this leads to more Astin as Malefic. That would be sort of really funny, especially when his White Martian Persona is voiced by Phil LaMarr. Given LaMarr's bona fides as an actor, I would also be fine with him playing the human persona of Malefic, the same way Harewood plays J'onn.
Next week, we return with "In Plain Sight," which promises to delve more into Malefic and J'onn's feud as well as find out more about what exactly William is up to.
Enjoyed this article? Share it!