David Tennant On 'Who' Culture, Jodie Whittaker, 'Good Omens' and More
David Tennant has enjoyed a long and vibrant acting career – both on stage and on screen – that truly took off after realizing his dream of becoming The Doctor in BBC's long-running hit series Doctor Who and thriving ever since. In a recent interview with The Guardian, Tennant looked back on his career – and ahead, offering his thoughts on his beginnings, becoming the 10th Doctor, Who culture, the advice he gave 13th Doctor Jodie Whittaker, his new podcast David Tennant Does a Podcast With… a project he credits Alec Baldwin as being an inspiration for.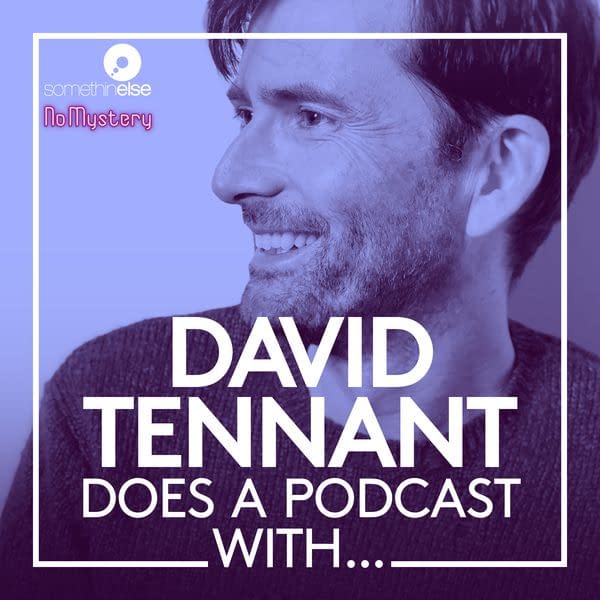 "It happened accidentally, starting with a conversation with my agent about my predilection for podcasts. Before I knew what was happening, I was in a production meeting, postulating who might take part. The people I asked were keen, so suddenly I had to do it. It's been interesting to have this other life. A side-hustle.

Alec Baldwin's Here's the Thing. It's not his day job either, yet he does it incredibly well, probably because he's so cool and fearless. I'm neither of those things, but I liked the way he sat down, often with people he knows or has a connection to, for a rambling, freeform interview that is often very revealing."
Tennant listens to a numbr of podcats, including The Guardian's Politics Weekly, Pod Save America, Serial, and The RFK Tapes.
It still doesn't seem that long ago when he was playing the 10th Doctor – going on to play the role for five seasons from 2005-2010 and making a cameo in the 2013 episode, The Day of the Doctor alongside successor Matt Smith.
Tennant did reveal that he offered new Doctor Whittaker a small piece of what he hopes was valuable advice:
"To certain people, you'll always be the Doctor, which is a wonderful, humbling thing but it does mean accepting an adjustment to your life. You have to be ready for that. It's a unique experience and there's a very small support group who know how that feels. One would never give advice about how to play a part. The acting bit is what you go to drama school for. All you can help with is the other stuff. Jodie was such an exciting choice. I'm hugely proud of how successful she's been."
When it came to the backlash against her casting, Tennant scoffed at the notion of Who being too "politically correct": "Is it possible to be too politically correct? What does that even mean? Inclusivity has always been one of Doctor Who's strengths." Tennant is set to have Whittaker on as a guest on Tuesday
Tennant will have Whittaker as his next guest on Tuesday, February 12.
Since his run as the 10th Doctor, Tennant's enjoyed a string of mainstream success with various US and UK projects on film and television: Broadchuch (costarring with Whittaker) and Marvel's Jessica Jones for Netflix are just two examples – and he currently stars with Jennifer Garner (Alias) in HBO's 2018 US remake of comedy series Camping, which premiered on HBO in 2018.
"I wasn't [a fan of the UK original], shamefully, but when I was offered the part, I devoured it all in one sitting and loved it. This is Lena Dunham and Jenni Konner's take on it. I was a huge fan of theirs from Girls, so to work with them, with a flavour of Julia Davis, was fantastic."
Tennant is also in the Amazon series Good Omens, based on the novel Good Omens: The Nice and Accurate Prophecies of Agnes Nutter, Witch by Terry Pratchett and Neil Gaiman. From the sounds of it, playing ginger-haired and snake-eyed demon Crowley was a pretty heavenly experience:
"Absurdly good fun. It's totally bonkers. Because Neil Gaiman adapted it and is showrunner, the oddness isn't diluted at all. Terry charged Neil with getting it made, almost as his deathbed wish, so it's a real labour of love. The whole thing is dedicated to Terry's memory. His hat was at the script read-through."
Good Omens stars Tennant, Michael Sheen, Anna Maxwell Martin, Jon Hamm, and Josie Lawrence will premiere on Amazon Prime in 2019.