Posted in: TV | Tagged: chinese science fiction, Liu Cixin, TenCent, The Three-Body Problem
---
The Three-Body Problem Ep. 19 Review: Cult Leaders & Math Whizzes
The Three-Body Problem Ep. 19 continues its slow pace so that viewers fully understand what's going on when all hell breaks loose.
---
The nineteenth episode of The Three-Body Problem continues the series' slowed pace with more exposition that we need to know before it goes any further. There's a rumour that the makers of the series originally planned twenty or twenty-two episodes, but the studio asked them to make thirty so that older viewers not used to hard Science could follow the story better before all hell breaks loose.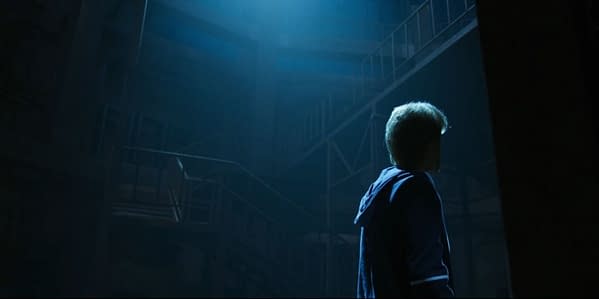 But all hell doesn't break loose yet. We still have at least two episodes to go. Wang Miao (Edward Zhang) and Shi Qiang (Yu He Wei) go back to Beijing with more questions than answers. Science Grandma Ye Wen Jie (Chen Jia) stays at Red Coast to wait for Mike Evans.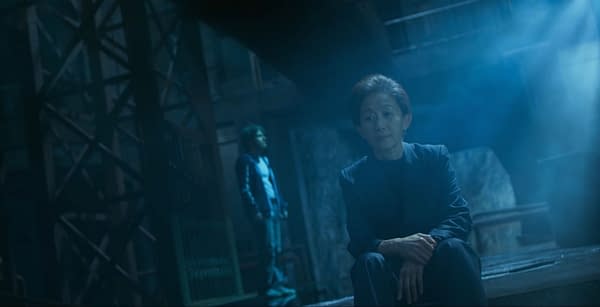 The Cult Leader of The Three-Body Problem
Who is Mike Evans, and why is he a big deal? Mike Evans is an American who looks like a very disheveled Steve Jobs. He's played by Ryan Heppe, an American actor who's a professional actor as opposed to some random German dude Chinese filmmakers tend to grab from the local expatriate pub and shove into their movie or TV show to play "American." And "Mike Evans" might be the most American character imaginable. Or the most "Mike Evans." And he is not a good guy. You can tell because he's lit in shadow.
Evans visits Science Grandma at the wreckage of Red Coast. The former observatory is like a cave in the underworld, a place where secrets are still kept. Evans speaks that language that every audience member and screenwriter should dread: fluent exposition. This is one of these scenes where characters tell each other shit they already know but are really letting the audience find out for the first time. It's a clumsy and inelegant way to write a screenplay, but many writers can't seem to avoid it, not even the best show on network television.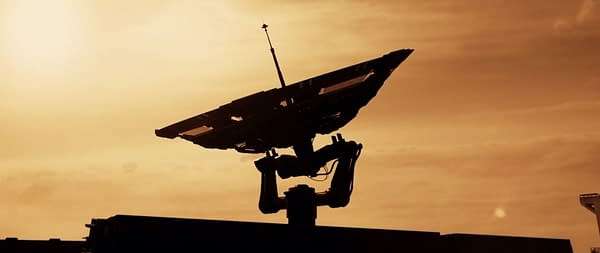 Red Coast Never Died
So what does Evans reveal? That he was inspired by Ye Wen Jie's work at Red Coast when they met after 1979 and formed their own organization. His base is a cargo ship called Judgment Day, and he built a new satellite dish on it that he christened "Red Coast Two." He reassures her that as the Commander of their movement, she's their spiritual leader, untouchable. He knows she secretly built a new monitoring station on the old site and is perfectly fine, even dubbing it "Red Coast Three." He sort of apologises to Science Grandma for taking over the movement and pretty much betraying her. Her life has been a whole series of betrayals. Exactly what his betrayal is will be revealed later. For now, everything's a bit vague, with just clues that sort of connect. We'll also have to wait to find out what Mike Evans' whole deal is. Author Liu Cixin seems to have a thing for the name "Mike" for his white characters. It pops up again in The Wandering Earth 2.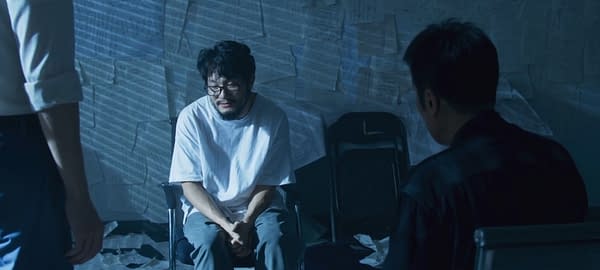 The Time of the Math Weirdo
Wang Miao and Shi Qiang get back to Beijing to find Shen Yu Fei's math genius husband, Wei Cheng, at headquarters asking for police protection. And he just can't stop working on his math equations, forcing them to wait hours until his next breakthrough because they can ask him what the hell's going on. To do that, he has to tell him his whole story.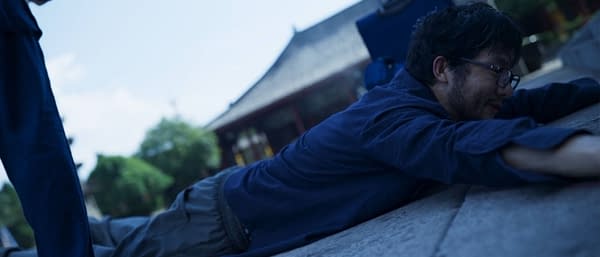 "No, no, no! Don't start with your high school days!" cries Shi Qiang, who speaks for all of us. Unfortunately, Wei Chang starts from his high school days. He's probably on the autism spectrum, able to see maths and numbers as living things. He won prizes and became a prodigy but found himself unable to function in society or hold a job. He retreated to a Buddhist temple run by a friend of his father's. There he's taught to meditate and understand emptiness, but he never truly does. Eventually, he at least gets the difference between emptiness and nothingness, but out of that void, he begins to envision a puzzle of objects that turns out to be the Three-Body Problem. He has managed to come across it entirely on his own. And that has become his entire life's mission. Turns out he's a major part of The Three-Body Problem all along. Buddhism is not for him. It really is all Math or nothing, and that Math is deployed for solving The Three-Body Problem.
But we have to wait for the next episode to find out how.
---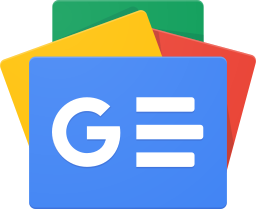 Stay up-to-date and support the site by following Bleeding Cool on Google News today!