Posted in: Preview, streaming, TV | Tagged: bctv daily dispatch, ironheart, macho man, randy savage, superman & lois, the last of us, warrior nun, X-Men '97
---
X-Men '97, Warrior Nun, Ironheart, TLOU & More: BCTV Daily Dispatch
In today's BCTV Daily Dispatch: Warrior Nun, X-Men '97, Ironheart, Superman & Lois, The Last of Us, "Macho Man" Randy Savage, AEW/WWE & more!
---
With today's BCTV DD "Long-Distance Dedication" bringing us Kings of Leon with "Fans," welcome back to the BCTV Daily Dispatch! Here's where we look back at what we've been doing for the past 24 hours that you might've missed or might want to check out again. We're talking about everything from news and reviews to interviews and opinion pieces- all for your television-obsessed enjoyment. Our line-up for this morning includes the #SaveWarriorNun campaign getting some love from OUTFRONT Media for the Warrior Nun billboard, a deleted tweet confirming that voice recordings for Marvel Studios & Disney+'s X-Men '97, Ironheart star Alden Ehrenreich sharing how he introduced Dominique Thorne (Riri Williams/Ironheart) and Robert Downey Jr. (Tony Stark/Iron Man), The CW's Superman & Lois Season 3 key art promises hope on the horizon, HBO's The Last of Us creators writing the playbook on how to rollout a series adaptation of a popular franchise, and "Macho Man" Randy Savage's 2003 Rap album Be A Man getting a special vinyl release for Record Store Day.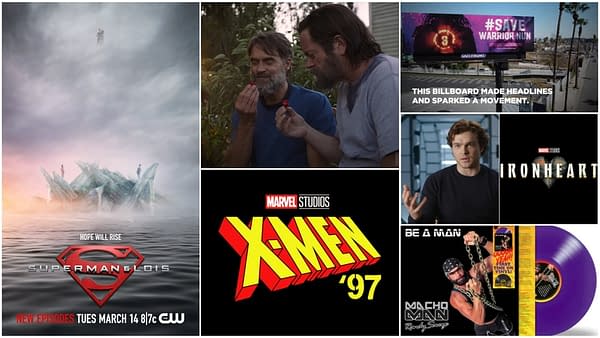 BCTV Daily Dispatch: X-Men '97, Warrior Nun, Ironheart, The Last of Us, Superman & Lois, "Macho Man" Randy Savage & More
Plus, check out our additional coverage: The CW's Gotham Knights, TNT's AEW Rampage, FOX's WWE SmackDown, Paramount+'s Rabbit Hole, Peacock's The Shrouded College, AMC's The Walking Dead: Daryl Dixon, The CW's Walker Independence, Harvey Guillén/Stephen Colbert, NBC's Night Court, Paramount+'s Teen Wolf: The Movie, Crunchyroll's My Hero Academia, Paramount+'s Star Trek: Picard, and lots more!
Now, here's a look at your Bleeding Cool TV Coverage for Saturday, February 18, 2023:
Warrior Nun Billboard Company Video Offers #SaveWarriorNun Support
X-Men '97 Season 2 Recording Sessions Reportedly Underway
Gotham Knights Cast Preview: Can Gotham's Most Wanted Avenge Batman?
AEW Rampage Preview: Lineup For Tonight's Special Slam Dunk Episode
Ironheart: Ehrenreich Spoke with Robery Downey Jr. About MCU Series
WWE SmackDown Preview Sees Gunther Defending The IC Title Tonight
Rabbit Hole Teaser: For Sutherland's John Weir, It's "Trust No One"
The Shrouded College: MacFarlane, Peacock Plan Graphic Novel Adapt
The Walking Dead: Daryl Dixon Star Norman Reedus Gets A Visitor
Superman & Lois Season 3 Key Art: Fortress of Solitude Signals Hope
Walker Independence S01E12 Promo Previews Jared Padalecki Appearance
Macho Man's 2003 Rap Album Gets Vinyl Release for Record Store Day
WWDITS: Harvey Guillén's George Santos Checks-In Again with Colbert
Night Court Season 1 E08 "Blood Moon Binga" Images, Overview Released
Teen Wolf: The Movie Stunt Coordinator on Franchise, Wolf Pack & More
"The Last of Us" Lied to Us: Here's Why That's A Beautiful Thing
My Hero Academia Season 6 Episode 19 "Full Power!!": Dark Deku Rules
Star Trek: Picard Season 3 Ep. 1 Offers A Bold New Adventure: Review
The Venture Bros, Bosch, The Mandalorian & More: BCTV Daily Dispatch

Bleeding Cool TV on Instagram: For all of the stuff too random and bizarre to make the site, make sure to follow us on Instagram: Bleeding Cool TV (@bleedingcooltv).
BCTV Daily Dispatch: For a look at what's going on across the television and streaming landscape, sign up for Bleeding Cool's daily email round-up of the news you need to know here.
---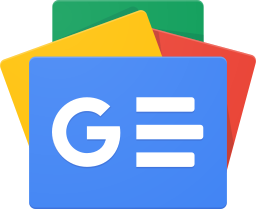 Stay up-to-date and support the site by following Bleeding Cool on Google News today!