Posted in: Review, Showtime, TV | Tagged: antler queen, Review, showtime, two truths and a lie, yellowjackets, yellowjackets season 2, yellowjackets season 2 episode 5
---
Yellowjackets Season 2 Ep. 5 Review: Poop Duties Never End Well
Showtime's Yellowjackets S02E05 "Two Truths and a Lie" shows us just how out-of-control things are about to become in the wilderness.
---
Showtime's Yellowjackets took us on a journey of motel condoms, VHS references that made me feel ancient and questionable friendships in the fifth episode of season two, "Two Truths and a Lie." Similar to my previous review, I'll be diving into the episode in parts based on what or who they are involved with. A lot happened in this episode, so major spoilers will be plentiful…you've been warned… buzz-buzz.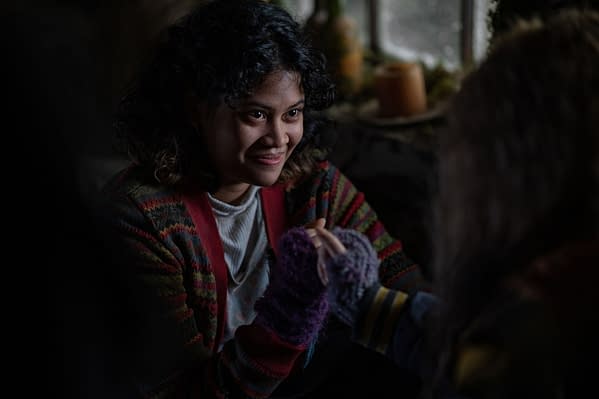 Taissa and a Peaceful Night's Sleep? Sure.
First up on the Yellowjackets' block of unresolved trauma are Taissa (Tawny Cypress) and Van (Lauren Ambrose). Van starting off this episode with her morning routine and opening up her store was a fantastic choice. I have yet to enter my 30s, but the VHS confusion from a patron of Van's almost had me turning into dust. Welcome, I am now your ancient guide. Adult Van is obviously disrupted by the appearance of Taissa, but as the episode goes along there's a better sense of why there's more to that unease. This other part of teen Taissa (Jasmin Savoy Brown) that embraces the darkness of the wilderness has subsided by partaking in teen Lottie's (Courtney Eaton) daily meditation circle.
In the present day, this darker part of Taissa is back with a vengeance, and it's not just seeking out Van, but it wishes to reveal something to them both. Van's keeping her own secrets with the "digitizing" tapes excuse. Based on what she resorts to taking at the end of this episode, Van isn't coping with life after the wilderness either. There's difficulty believing she didn't find solace in her mother's life ending. But with that comes additional trauma and some toxic coping mechanisms.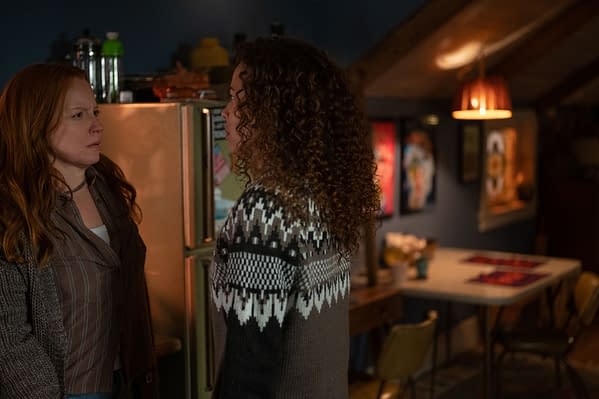 Ambrose does a fantastic job conveying the same yet slightly matured personality we've come to love from Van (Liv Hewson) in the wilderness. We also get a better idea of how things were after the rescue for her and Taissa. The mention of them attending Shauna's wedding to Jeff was important. I'm happy to see Taissa found strength in revealing the basement altar incident to Van, but her darker side saying, "This isn't where we're supposed to be," has me afraid of what may be next.
Officer McCreepy, Take Your Mustache and Leave.
Yellowjackets designed probably one of the coolest bowling alleys for the meeting between Callie (Sarah Desjardins) and her secret date (Office McCreeper). Everything about Detective Saracusa (John Reynolds) irritates me so much. There are plenty of men just like him in other shows and in real life. While I can understand his enthusiasm to be correct on a case, there's something bothering me about his energy. There's more to his intensity on this case; he's just not revealing much beyond his exaggerated revelations about strawberry lotion in condoms and almost kissing teens in public.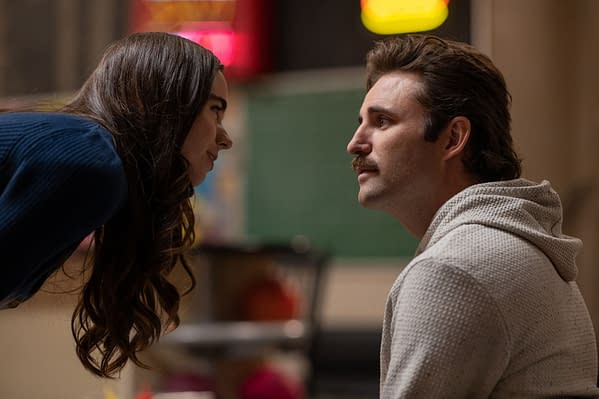 Never thought I'd see the day when I was proud of Callie Sadecki, but here we are. So smart of her character to take that chance when she felt something off in her gut. It took her some time, but her decision to use this to steer away attention was fantastic. More is revealed to Shauna (Melanie Lynskey) because of the fake hook-up with Randy (Jeff Holman). We're getting closer to a reunion between her and Lottie (Simone Kessell). Even though the condom was found, it doesn't mean this detective won't fuck things up for this case because of his creepy enthusiasm. Randy is that kind of dumb with the lotion, and it's torture but also hilarious to watch.
Trauma Bonding in the Adirondacks
Yellowjackets know how to convey the toll trauma bonding can take on people. The crucial moments between Natalie (Juliette Lewis) and Lottie are a fantastic representation of how much someone can hold inside themselves. The memories of Natalie's relapse in the hotel room give her a lot of answers to her own trauma, but it reignites Lottie's from the wilderness. Natalie decides that Travis was right about in his note concerning the darkness in the wilderness, and Natalie was right about them bringing it back with them.
Juliette Lewis as Natalie in YELLOWJACKETS, "Two Truths and a Lie". Photo Credit: Kailey Schwerman/SHOWTIME.
(L-R): Simone Kessell as Lottie and Nicole Maines as Lisa in YELLOWJACKETS, "Two Truths and a Lie". Photo Credit: Kailey Schwerman/SHOWTIME.
Kessell and Lewis are absolutely fantastic in their scenes together. There's a lot for them to work through. While I believe a lot of this comes from trauma and their experiences, there's no denying the supernatural elements becoming more and more present this season.
'Baby Tree Cult' Sounds Like a Great Band Name
Everything was warming around them in the wilderness as the miraculous and alive Javi (Luciano Leroux) continues to not speak to anyone, even to Travis (Kevin Alves). Some are progressing and sleeping well, while others are experiencing the worst of pregnancy like Shauna (Sophie Nélisse). Her distress and anger make a lot of sense, but dear lord everyone needs to calm down. Shauna has long been a timid person in the cabin, but she's past her breaking point and it's scary.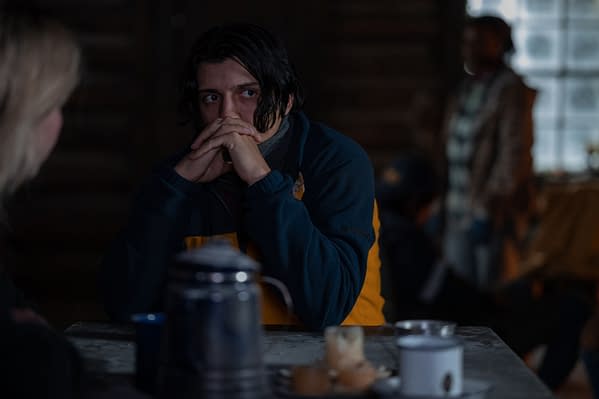 The continually fractured status of everyone in the wilderness comes from the simplest joys, such as friendship. Crystal (Nuha Jes Izman) and Misty (Samantha Hanratty) we're friends in the best ways, but revealing secrets by a steep cliff is never a good idea. While Misty reveals her biggest secret of all, which she doesn't seem to regret that much, Javi has some revelations for Coach Ben (Steven Krueger) as well, and only can Ben have the best reactions to this weird shit. Javi mentions that his friend had told him not to come back. This could be someone random within the wilderness, or he could mean he misinterpreted Shauna's advice for him to "RUN!" the night of the Doomcoming Party. Either way, this child needs to not randomly start speaking like that out of nowhere.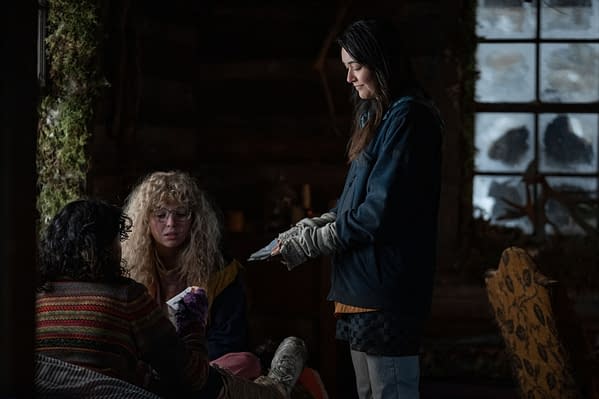 We continue to see how the wilderness provides for the group, like with the previous Jackie slow roast, but there's something oddly sadistic in the "care" it shows. The wilderness embraces the reliance everyone grows to have on it. The wilderness saw Misty's Crystal-sized mistake, and the snowfall covered it as a fixer would for a bad politician. While it's embracing the wrongs, it also forced Shauna and Taissa to turn around and quickly head for the cabin. There's something in that wind that continues to shift how I view the wilderness.
(L-R): Sophie Nélisse as Teen Shauna and Jasmin Savoy Brown as Teen Taissa in YELLOWJACKETS, "Two Truths and a Lie". Photo Credit: Kailey Schwerman/SHOWTIME.
(L-R): Sophie Nélisse as Teen Shauna and Jasmin Savoy Brown as Teen Taissa in YELLOWJACKETS, "Two Truths and a Lie". Photo Credit: Kailey Schwerman/SHOWTIME.
This episode of Yellowjackets did a better job of focusing when it came to the multiple stories it aimed to follow. There was adequate time spent in certain areas when it mattered. This show isn't afraid to throw a character off a cliff or have you continually guess the intentions of new characters. There's a fantastic balance in this episode, and I'm grateful to see it. The tension and horrors of the wilderness and modern age are bound to rise in the coming episodes.
Yellowjackets Season 2 Episode 5 "Two Truths and a Lie"
---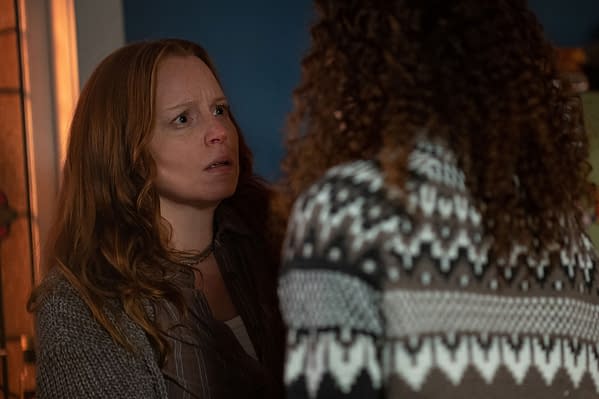 ---
Showtime's Yellowjackets S02E05, "Two Truths and a Lie," heightens the season and warns viewers of the storms that remain ahead both in the wilderness and out of it. There's plenty of fantastic balance between dark comedy and rising tension to make this episode incredibly entertaining and shocking.
Credits
---
---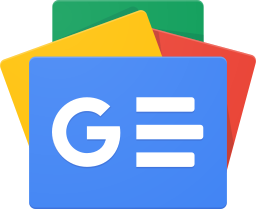 Stay up-to-date and support the site by following Bleeding Cool on Google News today!