Black Lightning Season 2, Episode 2 – 'The Book of Consequences: Chapter Two – Black Jesus Blues': Facing Some Dark Truths (RECAP)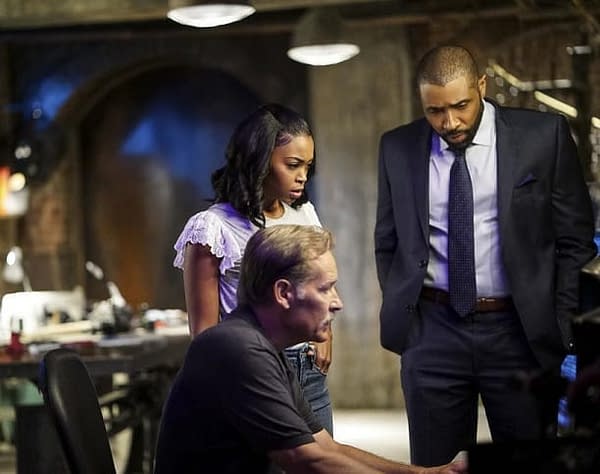 The second season of the CW's Black Lightning hasn't wasted any time amping up the threats from season 1, with Jefferson Pierce aka Black Lightning (Cress Williams), Anissa Pierce aka Thunder (Nafessa Williams) and the rest of "Team Lightning" realizing pretty quickly that they have a lot more than a returning Tobias Whale (Marvin "Krondon" Jones III) to contend with: now that Green Light's out in the community, the battle for Freeland's future has gotten a lot deadlier – with dangers coming from all sides as well as from within.
Here are four key takeaways from 'The Book of Consequences: Chapter Two – Black Jesus Blues':
https://youtu.be/8vAePm5hIyI
● While a fan of Wendy's (Madison Bailey) "aerokinesis" (she can control wind) power, there was a feeling that she wasn't long for the free world – which is a shame because the character has so much more potential beyond the Rip Van Winkle cautionary tale she was given here. While it's easy to understand her decision (alone, everyone she's loved is gone, etc.), we're hoping that she becomes a major player as the season progresses because her power levels alone could make the fight interesting…because we don't have another three decades to wait.
● As for the metahuman we met last week via moving body bag? The one whose own mother is glad he's shuffled off this mortal coil? That's Issa Williams (Myles Truitt), and his powers are to bring out your dark inner-truths when he makes eye contact with you – which explains the handcuffs and the black bag over his head. While last week's premiere served as an allegory to the current immigration issue, this week turned its focus on to the matter of police violence within the black community: you literally can't look at Issa – a victim of police violence – without being forced to face uncomfortable truths. The only way to break his power? By looking away – by ignoring the truth. The symbolism isn't lost, and it's what makes Issa character so interesting.
● A tale of two rhetorical questions: (1) Why would Lynn (Christine Adams) give someone she just met – and who was handcuffed to a chair with a bag over his head – pretty much a free run at her family by bringing Issa home? (2) How great is Jennifer (China Anne McClain) at handling a rooftop "Romeo" like Khalil/Painkiller (Jordan Calloway)?
● While its understandable that Jefferson would need to resign as principal of Garfield High (see previous recap), it also makes sense that he would stay on as a teacher because…well…if for no other reason, the school's a pretty cool backdrop to work off of. One thing that you could see coming a mile away? Probably could've shaved off the "Oh, Captain! My Captain!" scene at the end just a little…
https://youtu.be/HRZ2eQQ86Tc
Black Lightning s0202 – 'The Book of Consequences: Chapter Two – Black Jesus Blues': Jefferson (Cress Williams) must break the news to his students and faculty that he is stepping down. Struggling with his new life as Painkiller, Kahlil (Jordan Calloway) pays a visit to Jennifer (China Anne McClain) in hopes of mending things. Meanwhile, Tobias (Marvin Jones III) continues to enact his plan. Nafessa Williams, Christine Adams, Damon Gupton, and James Remar also star. Oz Scott directed the episode written by Charles D. Holland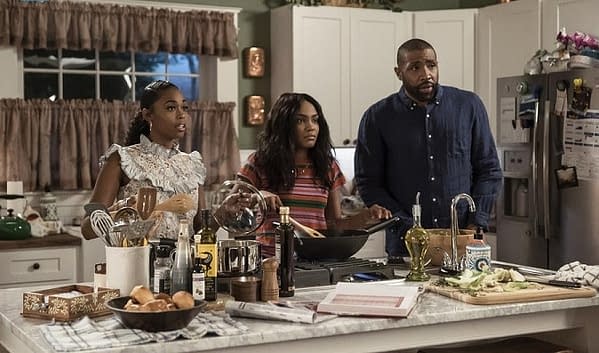 Now here's a look at the CW's preview for next week's episode of Black Lightning, 'The Book of Consequences: Chapter Three – Master Lowry':
https://youtu.be/kCQKsZt8sjU
Black Lightning s0202 – 'The Book of Consequences: Chapter Three – Master Lowry': CHANGES –Jefferson (Cress Williams) is forced to watch as all his good work is undone before his eyes when his replacement arrives and begins implementing sweeping changes. Meanwhile, Anissa (Nafessa Williams) continues to play Robin Hood by stealing from one of the most powerful crime syndicates in Freeland. China Anne McClain, Christine Adams, Marvin Jones III, Damon Gupton, Jordan Calloway and James Remar also star. Rose Troche directed the episode written by Jan Nash