By Michele Brittany, a West Coast Bleeding Cool Correspondent
Did everyone have a fantastic Free Comic Book Day? Ready to get into the con season? There are several to chose from as we get closer to summer and the crème de la crème of all cons, the San Diego International Comic Con.
Arizona
In its 40th year, the Phoenix Marriott Mesa Hotel will host LepreCon in Mesa starting Thursday, May 8th through Sunday, May 11th. Scheduled events include a film festival, art gallery, charity auction, and an opportunity to meet industry pros plus a game room, cosplay and a dealer hall. Tickets are reasonable: available online and at the door.
California
I featured Gaslight IV: The Expedition in last month's article. So, if you are into all things steampunk, take a trip to the Gaslight District in San Diego May 2 – 4.
Emerald Knights in Burbank is hosting a comic book signing as part of their Shriners Hospital Charity Event. On Saturday, May 10, writers Steve Niles, Marc Andreyko, and Joshua Fialkov are joined by artists Karl Altstaetter and Lak Lim from 1 – 4 PM to meet and sign comic books!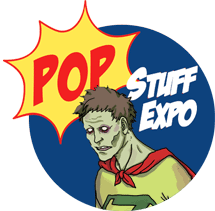 The first annual Pop Stuff Expo will take place at the Ventura County Fairgrounds May 10 -11. The expo brings together under one roof sci-fi, comics, horror, video games and many other pop culture activities along with lots of special guests. Single day and weekend passes available online; kids 12 and under are free with a paid adult. Website does not indicate if tickets can be purchased at the door. Parking is $10.
Are you ready to be wowed? Then, get yourself to San Jose Convention Center the weekend of May 17 – 18 for the Big Wow ComicFest. Comics, anime, entertainment, artists, and exhibitors will pack this event. Tickets are available online, however the site includes a list of local comic book stores that carry tickets to purchase.
For four days, anime fans can gather at the San Jose McEnery Convention Center for FanimeCon, May 23 – 26. Have a look through the artist alley, pick up the latest manga in the dealer hall, enjoy the cosplay hangout, the gaming hall, or take a break at the café or browse the artist gallery showcasing art inspired by all things anime.  Badges available online for one-day and weekend passes or passes can be purchased at the con's door. Children 10 and under get in free.
Gamers in the Bay Area will want to take a look at KublaCon being held over Memorial Day Weekend (May 23 – 26) at the Hyatt Regency SFO in Burlingame. Card, board/tabletop, and roleplaying games will be featured in casual to competitive parties. The dealer's hall will include over twenty vendors. Purchase weekend passes online, but one-days will only be available at the event.

Are you ready to get "wyrd"? Well, head to The Westin LAX for five days at the fifth annual Wyrdcon, May 22 – 26. The website describes this con as "a storytelling convention for designers, writers, creators, producers, directors, technologist, inventors and explorers" and it allows attendees to improve and hone their storytelling skills. A full event badge is $120, or day passes at $45. Specials guests include writers Jim Butcher, Todd McCaffrey, and Christie Golden.
If you are new the cons and you're in the Los Angeles area, then the Long Beach Comic Expo is the place to be Saturday May 31 and Sunday June 1. I've attended a few of the LBCC events now, and it offers a big con schedule, but with the feel of an intimate hometown show. General tickets are very reasonable but take a look at the package deals since they offer some good exclusives. It's held at the convention center where there's parking at the center and across the street.
Colorado
Sci-fi enthusiasts will want to attend the StarFest 2014 being held at the Denver Tech Center May 2 – 4. Special guests include Nichelle Nichols, Billy Dee Williams, Tim Russ, Amanda Tapping, and several others. There are many membership packages online that range from general, VIP, and Platinum levels. Children under 6 are free, but if your child is 11 or over, be aware that the organizers consider them as adults. Note that tickets are also available at the door.
Oregon
Known as the City of Roses and one of the most haunted cities in America, Portland will play host to the World Horror Convention being held at the Doubletree Hotel May 8 – 11. The big events are the Bram Stoker Awards, Gothic Masked Ball, and Sunday morning Cthulhu Prayer Breakfast. Pre-registration is closed and tickets are only available at the door.
Washington

Check out Crypticon Seattle May 23 – 25 at the Hilton in Seattle. Jeffrey Combs, C. Thomas Howell, Eric Roberts, Doug Jones, Tom Savini, and Zach Galligan are some of the special guests headlining this horror event. One-day and weekend passes available until May 21st and at the door (but expect a long line if you wait to purchase day of).

In its eighth year, the Spokane Comicon is being held Saturday, May 31st at the Spokane Community College. The event features comic book writers and artists from 10 AM to 5 PM. Admission is $8. Kids 12 and under get in free with a paid general admission.
And, plan early for these very popular events coming up in June:
Phoenix Comicon 2014 will take place at the Phoenix Convention Center. I've heard nothing but kudos for this con, which last year attracted over 55,000 attendees. Incredible guests are planned at the 14th annual con set for the first weekend of June, 5 – 8th.
Tickets will go fast for another con being held in the mile high city of Denver in mid June, 13 – 15. This con is also a highly anticipated event among comic book enthusiasts. The Colorado Convention Center will host three days of comics alongside media guests, cosplayers, and panel presentations.
Michele Brittany is an independent popular culture scholar and semi-professional photographer currently editing an upcoming anthology on the influence of James Bond on popular culture. She regularly posts reviews and analysis on the spy/espionage genre on her blog, Spyfi & Superspies.