William Moulton Marston — one of the creators of Wonder Woman — was ahead of his time, and also considered an outrageous man. He was openly polyamorous in a time when that was morally looked down upon. He was ardently pro-female, when that was also looked down on. And he also really hated Nazis, like the majority of the comic industry and world at large.
In an article titled Women: Servants of Civilization in the February 1942 issue of the journal Tomorrow, Marston goes into a few points on these subjects. He talks about how he believes women will one day rule the world. Marsters then comments on letters he received — largely from men — saying that women don't have the capacity to lead anyone, nor were the capable of governing their own bodies. He also talks about the minimization of female influence during the rise of Nazism. Copies of this article were included in the press packs sent out to promote the launch of Wonder Woman in her own series in Summer 1942.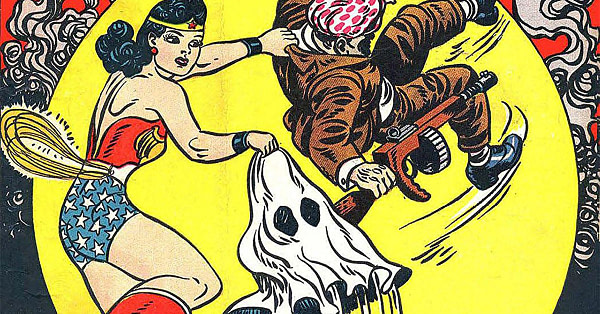 Marston notes the steady rise of women's material influence in the United States during this period, the accumulated wealth of women and their employment, and their impact on the U.S. economy. He also spoke highly of China's Madame Chiang Kaishek, who led thousands of women in saving lives during WWII. Marston was well aware of how powerful and capable women are, which we see on full display with Wonder Woman.
Of course, Wonder Woman made her debut during World War II, and Marston doesn't exactly mince words with his views on the Nazi party:
"Hitler and his clever physiological advisers knew perfectly well that the one opponent they could never kill was love."
Marston said this in reaction to Hitlers moral "wet blanket" he had over Vienna and Paris. Clubs would close early, and women were told to stay home and be good housewives. He said that as long as a woman's influence was minimized, hate and fear would win.
Marston continued:
"So long as woman's influence is successfully minimized in these and other unfortunate centers of a once happy Europe, the dark forces of fear and horror will reign supreme. It is highly significant to a psychologist that Hitler and his original gang of political racketeers were singularly free from the influence of women. There was no woman's influences whatsoever in the emotional beginnings of Nazism. The result, inevitably, was unrestrained male dominance. There's no more reason for not killing humans who oppose you than for sparing the lives of mosquitoes, in the mind of a man whose self-seeking emotions are permitted to run rampant."
I don't need to convince you that Wonder Woman was ahead of her time, and that yes, there were several sexual undertones. But Marston wanted to normalize what Wonder Woman was. That women are powerful, and can do anything. They are free to pick their fates and live their lives as they see fit. Wonder Woman stands for truth, justice, and love.
He goes on to say that it was obvious that Hitler and his troops had no female influence, which resulted in unrestrained male dominance. Marston follows with "…the only hope of permanent peace and happiness for the humanity on this planet is an increased expression of love, and that women are the primary carriers of this great force…" you can clearly see "the power of love" in other such shows, like Sailor Moon. In the Wonder Woman movie, Wonder Woman even states that humans are worthy of love. Maybe William Moulton Marston was indeed onto something, something greater than Wonder Woman. Only time will tell.