Marvel's Cloak & Dagger Season 1, Episode 2 Recap: Suicide Sprints
This article contains spoilers for Marvel's Cloak & Dagger season one episode – Suicide Sprints.
.
.
.
.
.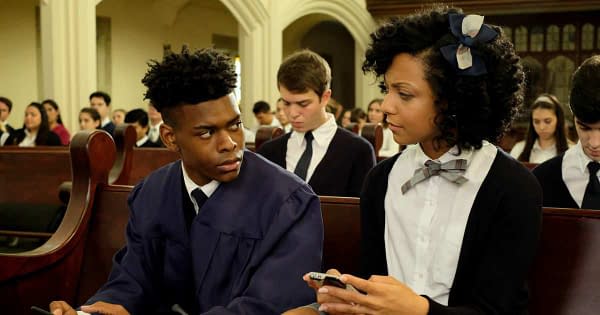 Episode two opens with an accident, there is a car wrapped around a tree. There's a 'Just Married' sign on the back. When then cut to the city where we see Detective O'Reilly investigating the stabbing of the rich kid. We then see both Tandy and Ty in their individual places trying to figure out how their powers work, to no avail. When then see Ty going down to breakfast and talking to his father, who points out that Ty should be early to practice and own up for what he did. He also tells him to try and be like his mom, who has everything handled.
Tandy is worried about what happened and goes to Liam, telling him she needs to get out of town. They go to get a fake ID for her and discover that it's $11k, which Liam has half. Tandy has to go home to get her part. We cut back to Ty who is having a counseling session with Father Delgado before service. We learn that Ty doesn't take the pills he was prescribed nor drink because he doesn't want to lose control. During the service, he is exchanging texts with Evita and asks her to sign him into study hall.
We get a quick montage of the detective working, Ty going to find Connors again and Ty's mom pulling out a revolver to take care of something that keeps getting into their trash. The rich kid's buddies getting interviewed and Ty falling asleep only to wake to find he's missed part of practice. By the time he arrives, the coach is angry, the team is being forced to run suicide sprints and Ty is sent to the bleacher to watch. Tandy heads to her mom's trailer only discover her there with a guy and that her mom found her stash and spent it on a new filing against Roxxon and taking all of the pills.
Still needing the money, Tandy comes up with a plan to work a wedding and take Liam with her. She sees three targets: the cash bar, the cash in envelopes as gifts and to hit the person whose job is to pay the caterers and bartenders. We cut to the detective who has a sketch of Tandy now and is asking around. Back at the gym, Ty is doing all of the suicide sprints that his teammates were forced to do. When he is changing after, his teammates come in and take it out on him by beating him. He tries to use his powers to escape but they don't work. Back with Tandy, as their working the room, she gets a power flash that shows her what she could have with Liam and it scares her. She runs off to the bathroom where she meets the Maid of Honor, who has all the tip money. Ty gets out of the gym and is furious, he takes a bat and goes after Connors, but when he is almost caught, his powers teleports him away. He goes home and sees his mom. When they touch, he gets a power flash that shows him her biggest fear, which was losing bother her sons.
Tandy lefts the money from the Maid of Honor, Liam grabs the cash bar money and the swipe the envelopes and leave just as the Maid of Honor realizes her money is gone. They take the newlyweds car to get away… which has the "Just Married" on the back. They head back to change and get her new ID from the dry cleaner. Liam wants to help her and go with her, but she tells him there is no "we" and leaves town in the car. Liam heads home and is arrested by O'Reilly.
Ty takes his mom's gun and goes after Connor. He busts into the cop's house and shoots but suddenly disappears and the cop is not hurt. Back with Tandy, she's just gotten a call from Liam asking for help. She hangs up and you can't tell if she's going to turn around or not when suddenly Ty appears in the street in front of her and the bullet he fired flies through her window, making her swerve and crash into a tree.
VERDICT
The show is very fast paced and cuts a lot between the two characters, which can be a little difficult to follow. But I hope that will calm down a bit once the two end up together… assuming that happens in season one. I really like the fact that neither of the leads are necessarily pure. Ty (Aubrey Joseph) wants to kill the cop who killed his brother and Tandy (Olivia Holt) is more than willing to commit a crime and it looks like leave a guy in trouble. The both come across as very real. The series continues to feel like a Netflix series and may suffer a bit from not being one, or at least not being available to binge watch all at once. The advantage of releasing a full series at once is that you don't necessarily have to rush to get the hero on screen, or in this case the heroes together… but with releasing the episodes weekly it may not be moving at a fast enough pace to make people want to come back. We'll have to see how that works out.
Well, my earlier request for them to make New Orleans more important to the series may be happening in the third episode.