56 Pics From the Star Wars Celebration Hasbro Booth, Plus an Interview With the Brand Team!
Earlier today, we shared with you the reveals from Hasbro's Star Wars Celebration panel. We also had the opportunity to tour their booth and speak to two members of the Hasbro Star Wars Design Team, Patrick Schneider (Senior Brand Manager and really funny dude), and Sam Smith (Design Manager, very knowledgeable, not the singer) about the reveals, Jabba's Sail Barge, packaging art, and more! Check out some of what they had to say, along with 56 pics of the figures they had on display at the booth below!
On the Retro Line…
Patrick: Basically When we looked at 2019 it's all about the Skywalker Saga, so we started talking about what that means and what we can do, and we realized Kenner and Hasbro have been there for that entire journey. We joked that Mark Boudreaux (legendary Star Wars team designer) has been doing it longer than anyone. We realized that they are so iconic, they are really in the pop culture, and with the throwback trend going on recently, we thought what better way to celebrate the Skywalker Saga than going back to the very beginning and redoing the figures that started it all.
Sam: Ultimately what we wanted the line to do was not only be able to bring back the memories of these figures, but build on the the line. So we took a character like Tarkin that we never saw on an original cardback, and it actually ended up being a huge challenge for us. To go get our sculptors into the mindset of 40 years ago when we are in this completely digital environment and creating a new character portrait, it was…I think we had a few that were on the verge of a mental breakdown. "No no, it looks TOO much like Peter Cushing". We had to dial back, dial back, and dial back some more.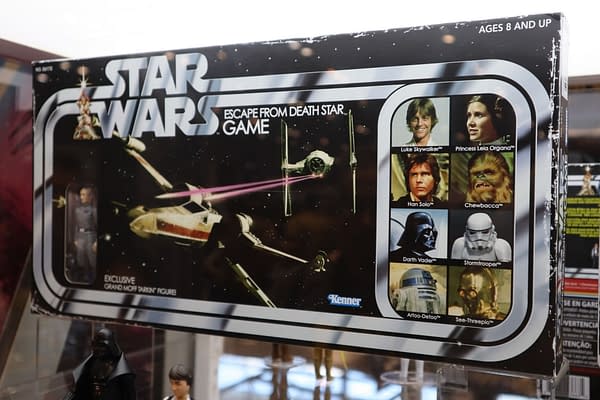 On why they decided to release him with the Escape From the Death Star Game…
Patrick: That game holds such a special place in people's hearts, and we wanted to keep the assortment clean. Once we started talking about figures that hadn't been done before, Tarkin being very iconic and niche, so after that we wanted to keep the assortment clean and keep it to the originals and find a nice home for Tarkin and release the game.
On Jabba's Sail Barge and adding other pieces to display around it besides the Skiff and figures announced…
Patrick: Well, we cannot comment on things we haven't revealed yet as always. It goes two ways: when the Barge launched we thought "This is great, let's build out this corner of the Star Wars universe more" and that's why we did a lot of these items. I also think that we didn't want to just coast on that and want to keep focusing on building the brand as a whole. There is so much good stuff coming this fall, and we are certainly open to keep exploring that corner of the Star Wars universe more.
On the long break between movies and getting to build out other corners of the universe…
Sam: Well, I don't know that we ever really enjoy not having a movie. We do always enjoy having the opportunity to build up and revisit these characters when we may have not had a chance to otherwise. A lot of that goes back to interacting with the fan community and seeing what they are excited about and the figures you fans really want to see. Doing more Rebels characters, jumping into the comics with characters like Aphra. It has its benefits as as saturation across the brand and getting to visit the vast universe of Star Wars as a brand.
On HyperReal excitement and possibly incorporating the new wire body with the Face Scan tech further into the line…
Patrick: We are excited about HyperReal, and it's interesting you put those two together. They are always part of the same conversation. We love our figures, we loved them five years ago , but identifying ways we can improve them is always the goal. We talk to fans and they say "The sculpts are great, but we see the breaks in joints in our displays". Sam and his team came up with a way to solve that out. So we are super excited about it. It will never be like 20 releases a year like Black Series, but a couple a year.
On Galaxy's Edge exclusives and the DJ R3x figure…
Sam: He is an engineering marvel, but we love figures with a challenge. Chopper is another one, like Are we going to make these arms plug in? Do we make them collapse back into the head? Being able to have swappable limbs in case he needs rocket thrusters, that kind of stuff. So R3x took a bit more solving from the engineering side, but ultimately that figure was a blast. The amount of articulation he has is insane. Every arm has super articulation, every axis on his body moves a full 360. So we are super excited for that one.
Patrick: Gives me one more reason to go there, not that I needed another one!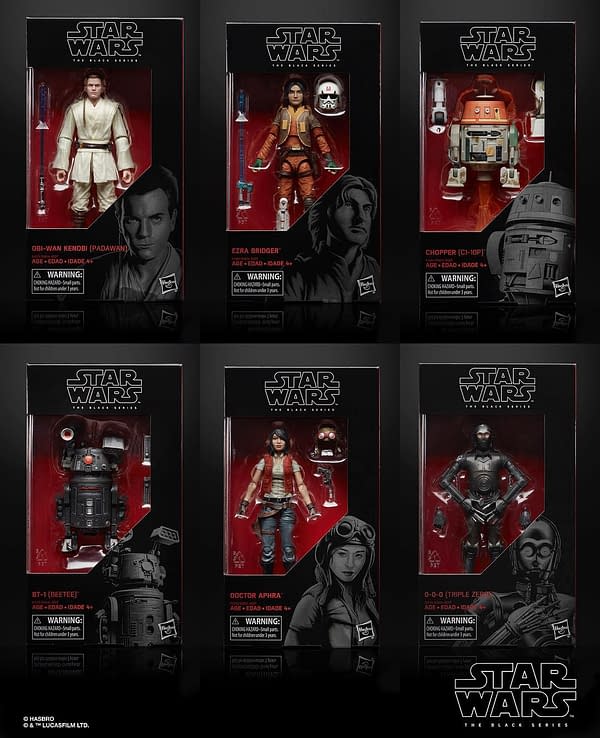 On the Black Series packaging artwork and maybe releasing am art portfolio containing it…
Patrick: It is an interesting idea. It is definitely a conversation we have had, again talking to the fans at conventions they tell us "Man, we love this art". It has kind of gotten a following of its own so it is something we have talked about and it might be something you see in the future.
Thanks again to Patrick and Sam for their time! Check out more pics from the Hasbro Star Wars booth below.