All Might Funko Pops Tell Us That They Are Here! [Review]
My Hero Academia Season 4 is a back in it is bigger and better than ever. Could All Might die? What will our heroes do next? What is the League of Villains up to? Only these questions can be answered by My Hero Academia Season 4. The questions that you have that I can answer are what are the newest All Might Funko Pop figures. In the most recent wave of Funko Pop and we have got a massive selection from the League of Villains as well as some unsung heroes from Class 1A. This time we're looking at the main man himself All Might. All Might has gotten three Funko Pop final characters, one of them is an exclusive.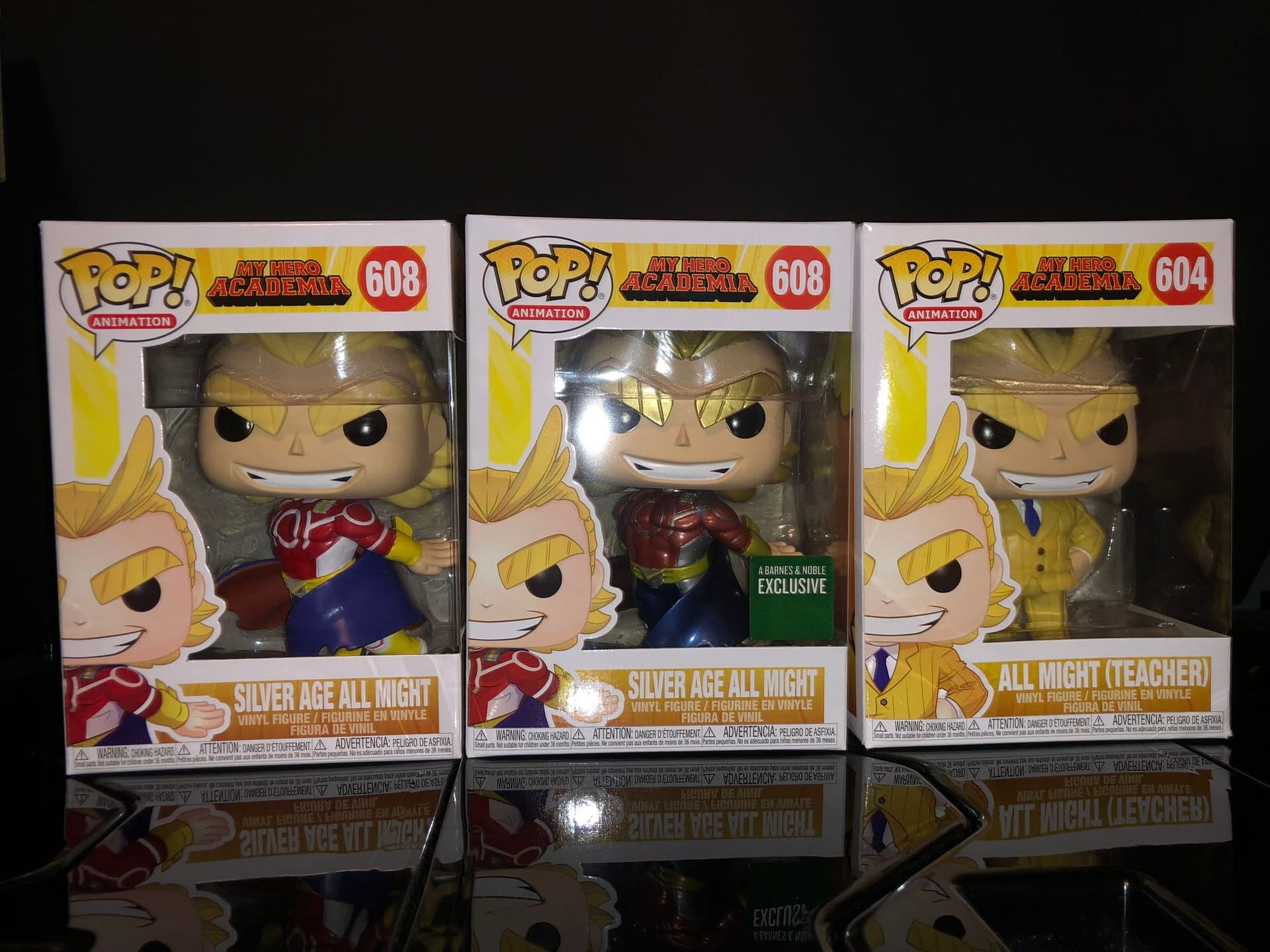 First off, we're going to look at the All Might teacher, which is based off the original mode with just a new outfit. All Might teacher is posing his original mold with posed with his thumbs up. The newest addition is the fact that he's in his yellow teaching suit. I do like this Funko Pop figure it is quite different then you would usually expect. The only issue I did have was his feet were not properly flat so he was having issues standing up as he did not come with a display stand. Besides that the character design is beautifully crafted and definitely recommend it for any My Hero Academia Funko collection
Next up we have a new mold for All Might in the newest wave of My Hero Academia Funko Pop's. This new Funko is based off his Silver Age outfits as he has posed in a heroic stance. I feel like this pose is when he is popping his head through the door way to meet class 1A in the first season. This Funko Pop can be split into two separate ones actually, as it is the same but Barnes & Noble is getting an exclusive metallic version. This new mold for All Might is pretty cool I really love the silver each outfit and I hope we can see more outfits come out from past characters like Gran Torino. I do like how he is posed very heroic styled with the cape blowing in the wind. The colors for this character are quite bright and they really gave the character of dynamic feel.
As for the Barnes and Noble Metallic version exclusive it honestly is a lot better than the common version. I don't know why but for some reason the metallic paint really defines the characters muscle mass and it makes it quite dynamic. I don't know whether it's a metallic paint or the fact that the paint can bring shadows to the body itself but it looks a lot better in certain aspects than others. The golden style hair is kind of weird but this is an exclusive so you can't complain too much.
All Might is an amazing character from My Hero Academia and I am sure we will see a lot more Funko Pops. I hope we can see more All Mights in different outfits in the future and I sure we will as more exclusives or in another wave. All of these are still available at most retailers or you can find them here. Locate your own Metallic Barnes & Noble exclusive All Might at your local B&N or you can find them online and located here and the other All Might Funko Pops here. Don't forget to check out all the other amazing My Hero Academia Funko Pops already released for this wave in the near future.