New Annabelle Cloth Figure On The Way From NECA
NECA has revealed a new horror figure in their cloth retro line, this one paying tribute to The Conjuring Universes own cursed doll, Annabelle. This version of her will come two swappable heads, including one not bad, and one tattered and torn up. She will be wearing her well-known white dress and red belt with the rose on it. She will come packaged in her display case, not a real one, but a box made to look like one, that collectors can free her from. You can check out the new version of Annabelle and the full details below.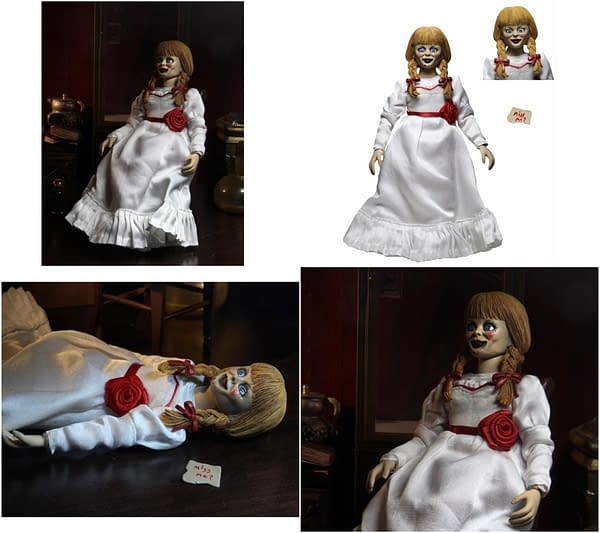 "Annabelle, the haunted conduit for demons to carry out their malevolent acts, is the newest release in the 8" Clothed action figure line. This possessed doll is fully poseable, donning a soft goods white dress and red rose belt. She comes with 2 interchangeable heads featuring a standard expression and a tattered, cracked portrait. Comes in window box packaging resembling her protective display case. Out of box collectors, beware!"
Product Features
8 inches (20.32cm)
Made of plastic and fabric
Features a soft goods skirt
Based on The Conjuring Universe movies
Window box packaging
Box Contents
Annabelle figure
2 Head sculpts
Miss me note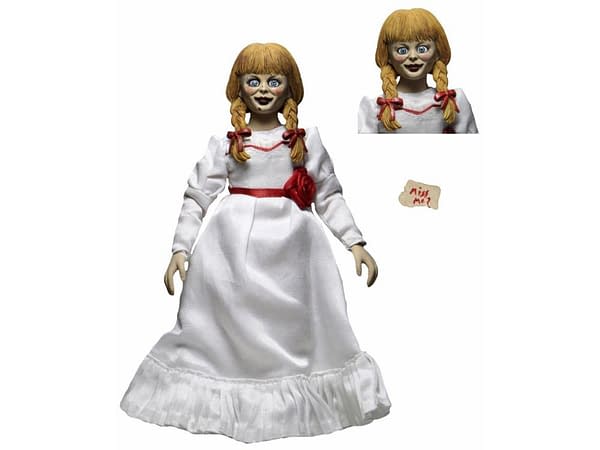 You know, I am glad the NECA focuses on some modern horror franchises alongside the classic we all know and love. Not just with the Ultimates, but these retro cloth figures too. If you have not jumped on these yet, you are missing out, the craftsmanship on these is just as high quality as you would expect from NECA. Their Ultimate Annabelle figure is one of their coolest in the horror line, so I would expect this one to be just as great. She will ship in February and can be pre-ordered right here.