Special Operations Squad in the Survey Corps is on a special mission but things in the world of Attack on Titan never go as planned. It is now a fight for survival against the titans and Squad Captain Levi is going all in. Kotobukiya and Sideshow Collectible bring Levi to life and show us he will always stand tall with their new Fortitude version of him. This statue captures a lot of detail form this Attack on Titan character. For the battle damaged look to the bloodstains it is the detail that really gives this statue the edge over most. The statue is super dynamic and perfect for any anime fans collection.
The Attack on Titan Levi (Fortitude Version) Statue from Kotobukiya is priced at $175. He stands his ground once again between July and September 2020, pre-orders are available now and located here.
"The only thing we're allowed to do is to believe that we won't regret the choice we made."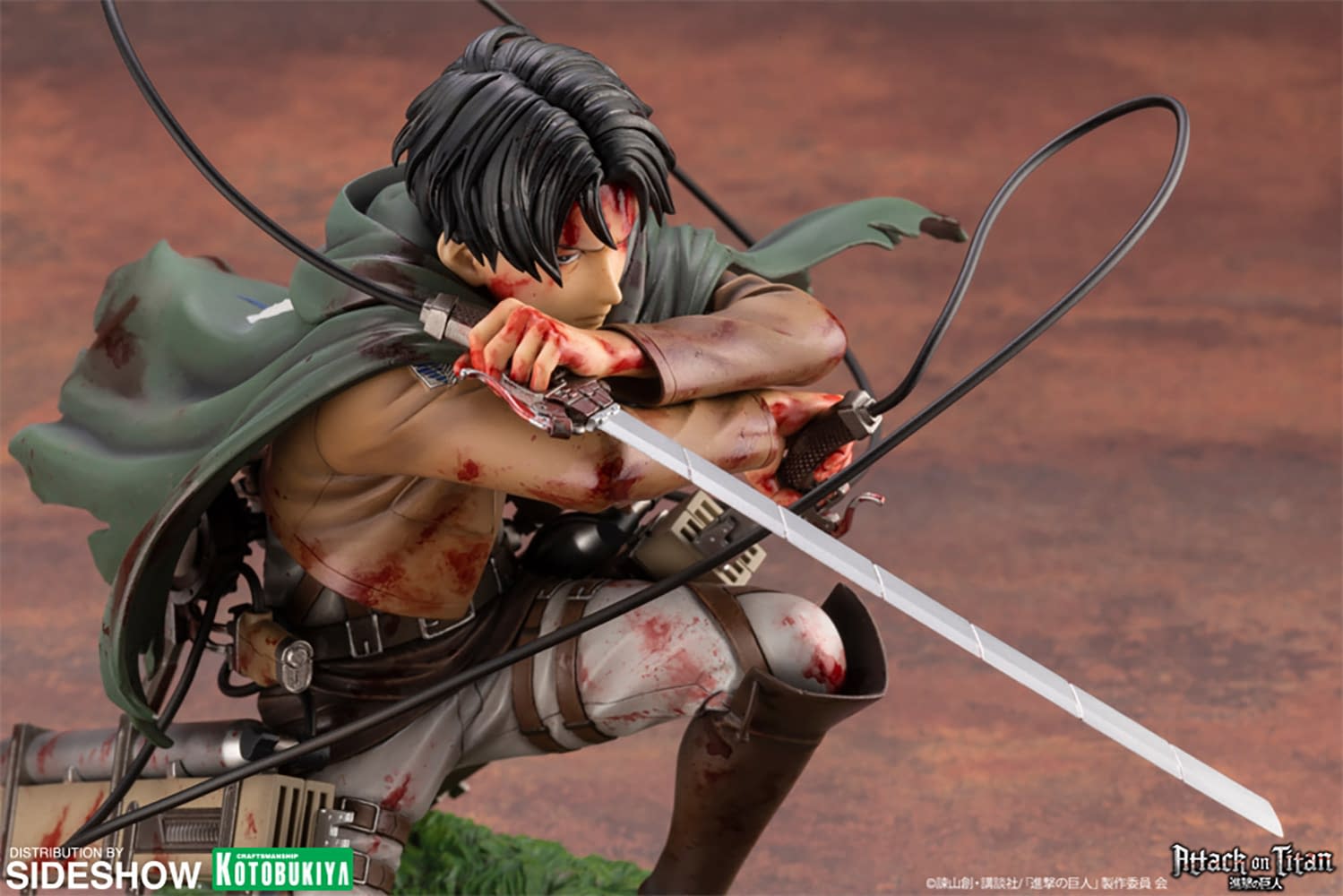 Levi (Fortitude Version) Statue by Kotobukiya
ABOUT THIS STATUE
Sideshow and Kotobukiya present the Levi (Fortitude Version) ARTFX J Statue. An all-new rendition of the world's most valiant squad captain of the Special Operations Squad in the Survey Corps joins Kotobukiya's ARTFX J series!
Levi from one of the world's best-selling manga series, Attack on Titan, comes to life in a 1:7 scale! Attack on Titan has sold over 100 million copies of its manga worldwide, and this rendition of Levi will be sure to please fans of both the manga and anime series.
Although wounded in combat, Levi can be seen pointing the blade of his Three Dimensional Maneuver Gear at his enemy in this scale figure rendition. Despite Levi's body being covered in wounds and uniform tattered throughout, his will to survive and fight to the end shows his strong "fortitude". Shin Tanabe who sculpted Kotobukiya's original ARTFX J Levi has returned to craft this new rendition of Levi. Pay close attention This figure has been sculpted to perfection down to every small detail.
Be sure to welcome this masterpiece into your very own collection!
Enjoyed this article? Share it!