Zombie Batman and More DC Comics Statues Arrive with Diamond
Diamond Select Toys is making the dead walk again as some of their newest statues are revealed. As things are slowing starting to get back on track that means more collectible releases and lucky for us some new DC Comics statues are headed our way. Two of which are from the hot highly popular zombie filled story featuring your favorite DC Comics heroes, DCeased. The first statue shown to us is a Harley Quinn during the apocalypse. Harley Quinn keeps her cool even during the end of the world. After her encounter with the Zombified Birds of Prey, Harley is sporting some new scratches on her face and posed her a chainring fence. Harley Quinn is blowing a kiss and ready for what the apocalypse is throwing at her next. Batman on the other hand was not so lucky and has fallen to the horde. He used a modified Mr. Freeze suit to keep the virus at bay for as long as he could. These statues show the newly reanimated Batman in the crypt suit and it's terrifying. The last statue we are getting is inspired by Batman #702 as we see the Dark Knight standing mighty. This statue shows off the classic blue and light grey suit as he stands on rubble. Batman stands 10" tall and would be an excellent statue for any fans batcave.
I like seeing more DCeased collectibles come out as the story was quite a read. The Zombie Batman is the first comic book accurate piece we have seen. Harley Quinn's statues don't really scream zombie apocalypse but it has a gritty vibe. Both are nicely detailed and would be a nice piece to add to your growing collection though. All three statues will be priced at $44.99. The DCeased Zombie Batman will be set to release in October and you can find him here. Harley Quinn and the Dark Knight 702 Statue are set to come in in November 2020 and you can find Harley here and Bats here. I hope we can start to get more of the fallen zombie heroes as statues they would defiantly spice us any DCeased comic display.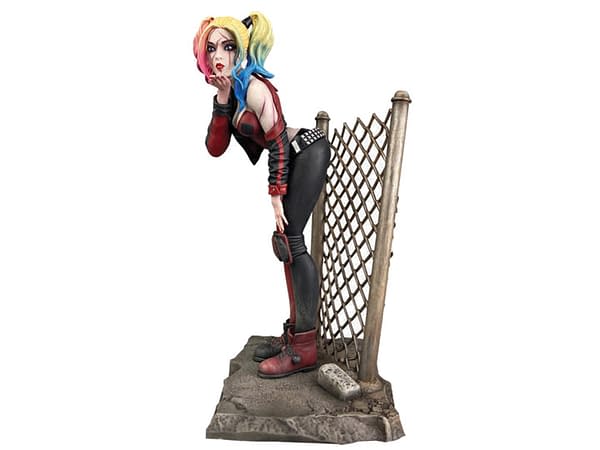 "Death becomes Harley! The DC Comics liveliest villain has survived the zombie outbreak all while keeping her signature attitude. Blowing a kiss with her face covered with scars, she strikes a pose by a chain-link fence in this approximately 8" sculpture. Cast in high-quality PVC, it features detailed sculpting and paint applications and comes packaged in a full-color window box. Sculpted by Sam Greenwell."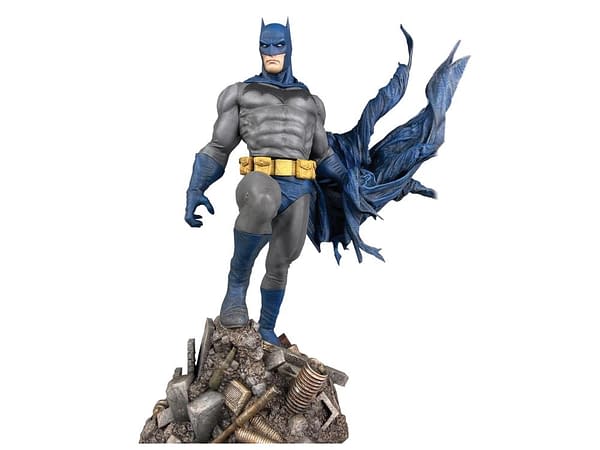 "Don't mess with The Dark Knight! Batman defiantly stands up to evil in this all-new Gallery Diorama from DST! With one foot up on a pile of rubble and his cape twisting in the wind, this piece inspired by the cover to Batman #702 features detailed sculpting and paint applications and is cast in high-quality PVC. Measuring approximately 10" tall, it comes packaged in a full-color window box. Sculpted by Alterton."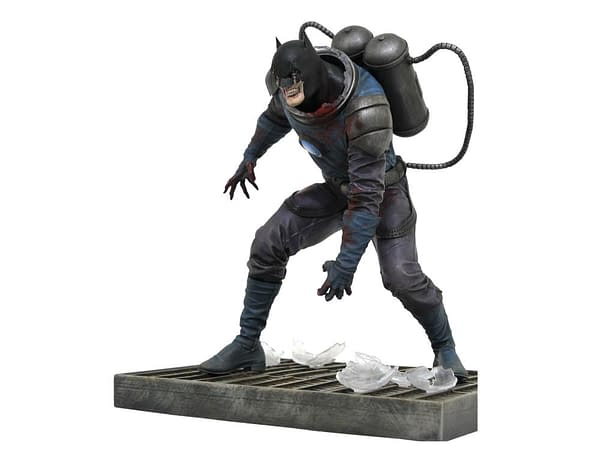 "Batman joins the ranks of the walking dead in this super-creepy DC Gallery diorama! Based on the DCeased crossover event, an anti-living Batman lurches toward Alfred in a repurposed Mr. Freeze suit in this approximately 8" sculpture. Cased in high-quality PVC, this 1/8-scale diorama comes packaged in a full-color window box. "