San Diego Comic Con 2020 has been canceled but from its ashes was Comic Con @ Home. Unsure what this new @Home convention will include but it will continue to bring us SDCC collectibles so they have my attention. A couple of weeks ago, Beast Kingdom showed off their upcoming Summer Convention Exclusive. This included three new Egg Action Attack and one new Dynamic 8ction Heroes collectible. Spider-Man, Bro Thor, Tony Stark, and Bank Robber Joker will all be heading our way soon. With Comic Con @ Home just around the corner, BK has given fans a update with the packaging of their 2020 Summer Exclusives. They shared some amazing shots of these figures with the packaging featuring the new @Home sticker. Collectors even get to see the huge variety of accessories coming with each figure. This is treat itself as they do not show off their packaging and with exclusives like this it's worth a look.
Of these SDCC Exclusives, the Dark Knight Bank Robber Joker is my personal favorite. The figure is already bringing an iconic portrayal of Joker to life but the packaging is beautiful. They did right with the side by side black and white shot for the box. This is one figure that I will be adding to my list for this year's San Diego Comic Con 2020 exclusives. Spider-Man, Tony Stark, and Bro Thor packaged will be windowed and you'll see all the accessories within. They will also all include the Comic Con @ Home sticker on the front so box. You can find all the packing close up below and you will be able to find them all located here for preorder with Beast Kingdom.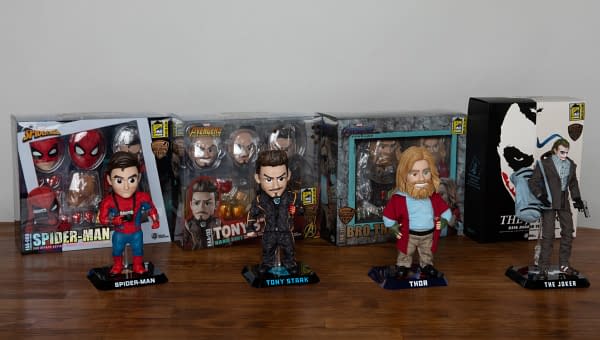 "Happy 4th of July! Beast Kingdom wants to take this time to reveal our new-version packaging designs dedicated to ComicCon@Home Exclusive items."
Enjoyed this article? Share it!