Beast Kingdom Resurrects Batman The Animated Series With New Figure
Batman: The Animated Series is one of the best know superhero cartoon series to come out of television. From the iconic voice of Kevin Conroy as Batman to Mark Hamill's beautifully crafted Joker, the series is one that goes down as one of the greats. Beast Kingdom is giving us collectors the ability to relive those childhood memories with a new EAA (Egg Attack Action) figure. The figure it self brings the life the animated version of Batman but it really packs a punch with all the features and accessories. The suit and cape are made of all cloth. He comes with two different cowls, and three separate lower face replacements to you can give his the face Gotham needs not the one it deserves.
Check out a 360 view below!
On top of the amazing costume and the face changes. He also comes with an illuminated eye function to really light the way for the scum of Gotham. That feature alone really makes it a unique figure that would definitely make it stand out from other Batman collectibles. Along with that, we get seven different hand attachments, four batarangs and his famous grappling hook. To end off how heroic this figure is, he is fully articulated so he can be posed just right for any Batman occasion. This figure is a dream collectible for all Batman and DC fans alike. The release date is May 2020 but preorders are available now and located here.
Check out the action and accessories below!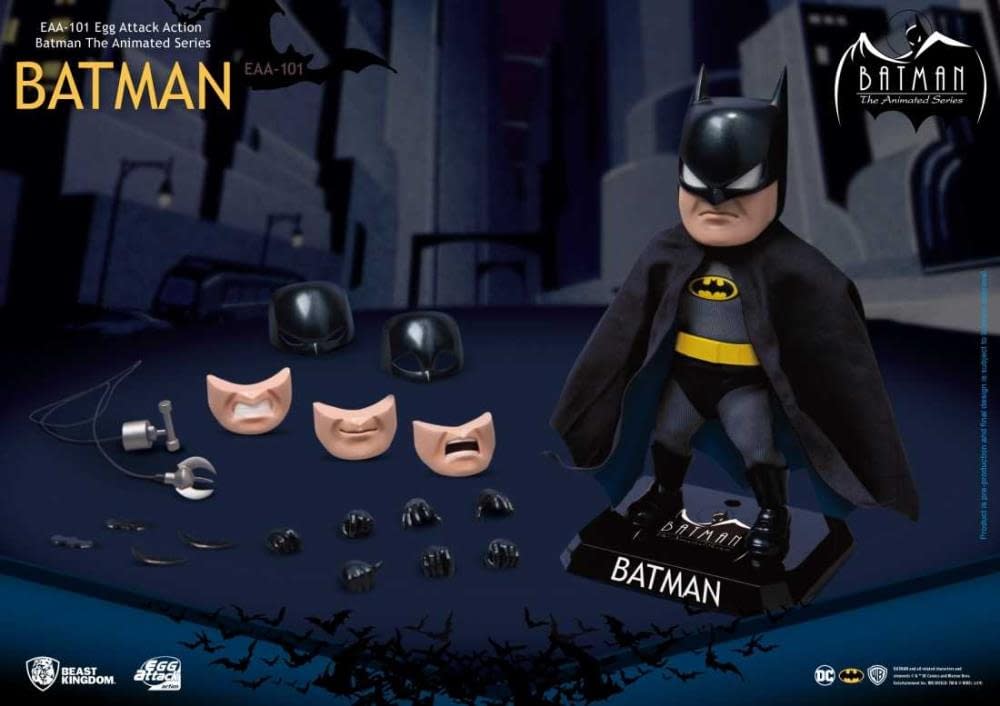 Based on the celebrated Batman: The Animated Series comes this Egg Attack Action figure of the Dark Knight! The use of real cloth for Batman's costume and cape, and an illuminated eye function, makes this version a collector's dream. With full articulation and a variety of accessories including: eye masks, hands, a grappling gun, and signature weapons, this EAA Batman action figure is sure to be a standout in any fan's collection!
Specifications:
6 inches (15.24cm)
Made of plastic
From Batman: The Animated Series
Illuminated eye function
Real cloth costume and cape
Packaging Contents:
Batman Figure
2 Alternate cowls
3 Alternate lower face parts
7 Hands
4 Batarangs
Grapple hook