Black Adam is finally making his way to the big screen after all this time. I remember when Dwayne Johnson told the world of his upcoming DC Comics villain role and not too long after, the new almost faded away in the distance. Hell, we even got to see a Shazam movie before Black Adam even got a movie made. Finally though and with everything being finalized we will see his big solo film after all this time and no better way to show your Black Adam love than with a new statue. This statue is from Tweeterhead and there is not one but two separate versions. The normal version will feature an 18 inch showing his iconic black and gold outfit. The base shows off storm clouds with lightning surrounding him. The second statue will feature a new head sculpt with an angry expression. I honestly like this face sculpt a lot better than the normal edition because it gives him a more intense vibe to him. This is a nice statue for any DC Comic fans collection, whether you are a fan of this big bad himself or of Shazam. I am quite fond of all of these DC villains getting their own statues as we always want some villain love for our growing collection.
The DC Comics Black Adam Statue from Tweeterhead is priced at $250. He is set to release between August and September 2020 and pre-orders are already live and can be found here for the regular and here for the exclusive. With the growing hype for this film and with such a big star behind the role, this wouldn't be a bad piece to own to beat all of the hype.
"The time for you to remain in darkness is over. The time has come for you and I to walk together again in the light."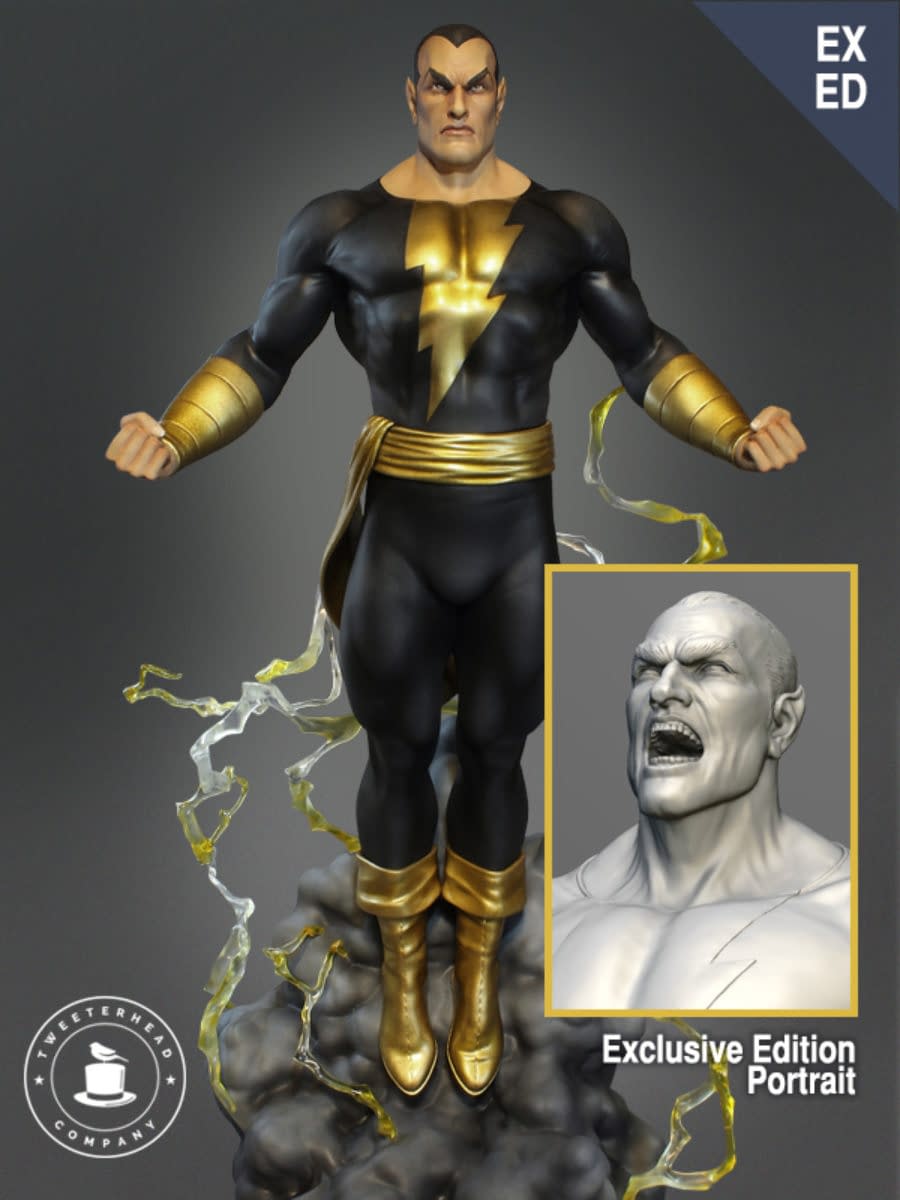 DC Comics – Black Adam Statue by Tweeterhead
Black Adam REG Maquette
Our Black Adam Regular Edition Maquette features his serious portrait.
Our Black Adam Exclusive Maquette features two portraits. One Serious portrait and the EX screaming portrait only available at Tweeterhead.com
Shipping: 3rd Qtr 2020
Height: 18 inches
Sculpture: Jack Mathews
Print/Mold/Cast: Ownage
Paints: David Fisher
Enjoyed this article? Share it!