Black Cat has always been an interesting character since here 1st appearance in The Amazing Spider-Man #194. She already knows how to get Spidey on her, yeah and he falls for her every time. This newest statue by Sideshow Collectibles is defiantly a work of art. This 16" statue shows Black Cat running away from her flame her most recent score. She is blowing a kiss and she runs on top of a Noir Cafe with a fellow cat right beside here. The coolest touch is the webbing on the sign showing that Spider-Man isn't far behind. Her costume is her older appearance that we hardly see anymore and I'm glad they decided to stay with it. Everything about this statue is marvelous and I would love to own it. The best part is that there is an exclusive Sideshow piece for the statue. This piece switches out Black Cats bag of stolen goods for a stolen Spider-Man costume and I love it! This just throws me back to their early days of playing cat and mouse.
The Black Cat Sideshow Collectibles Statue is priced at $435. The exclusive version is only $15 more at $450 and that is a great price for a piece like this. She is scheduled for release between May 2020 – July 2020 and preorders are already live and located here.
"I'm not a hero. I'm a thief. Born a thief. Raised a thief. Will die a thief."
ABOUT THIS STATUE
"I'm nothing but bad luck, baby."
Sideshow presents the Black Cat Statue, crossing your path to join the Mark Brooks Artist Series.
When Felicia Hardy is on the scene, it spells bad luck for her target! This infamous cat burglar joins the 1:5 scale Spider-Verse collection, which includes heroes Spider-Man, Silk, and Spider-Gwen as designed by the sensational comic book artist Mark Brooks.
The Black Cat Statue measures 16" tall as the feline femme fatale makes a quick getaway, blowing a kiss over her shoulder as Spider-Man stays hot on her tail. Dodging the webs coming her way, Felicia runs across a Chat Noir Café themed base while her kitty companion follows along.
The polyresin Black Cat Statue features an entirely sculpted costume, including her signature black catsuit detailed with white fur-like fringe on the neck, arms, and legs. Her portrait features a black domino mask, blue eyeshadow and red lipstick, and flowing white hair. As she escapes from her latest caper, Black Cat carries a sculpted duffel bag with stolen jewels and dollar bills spilling out behind her.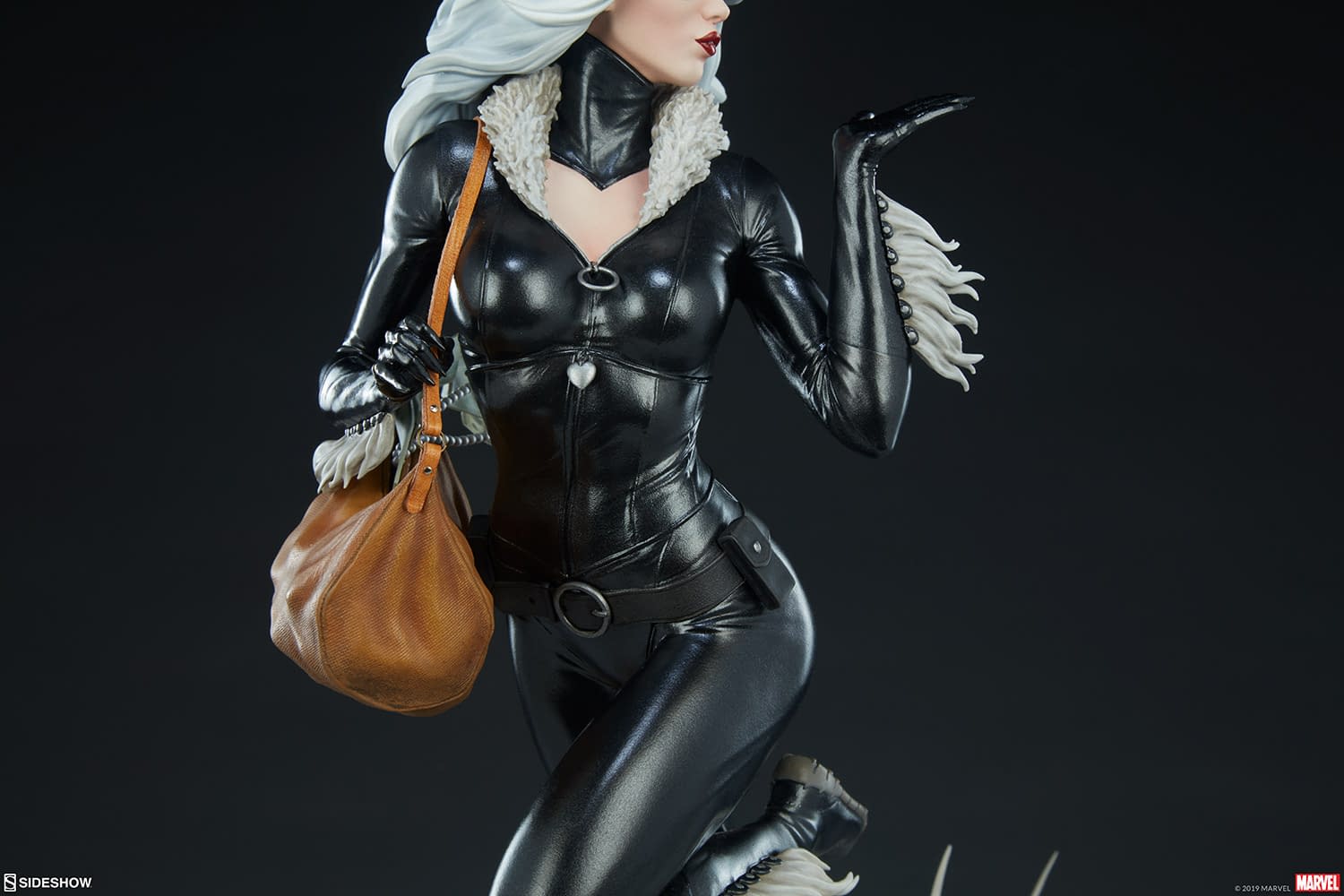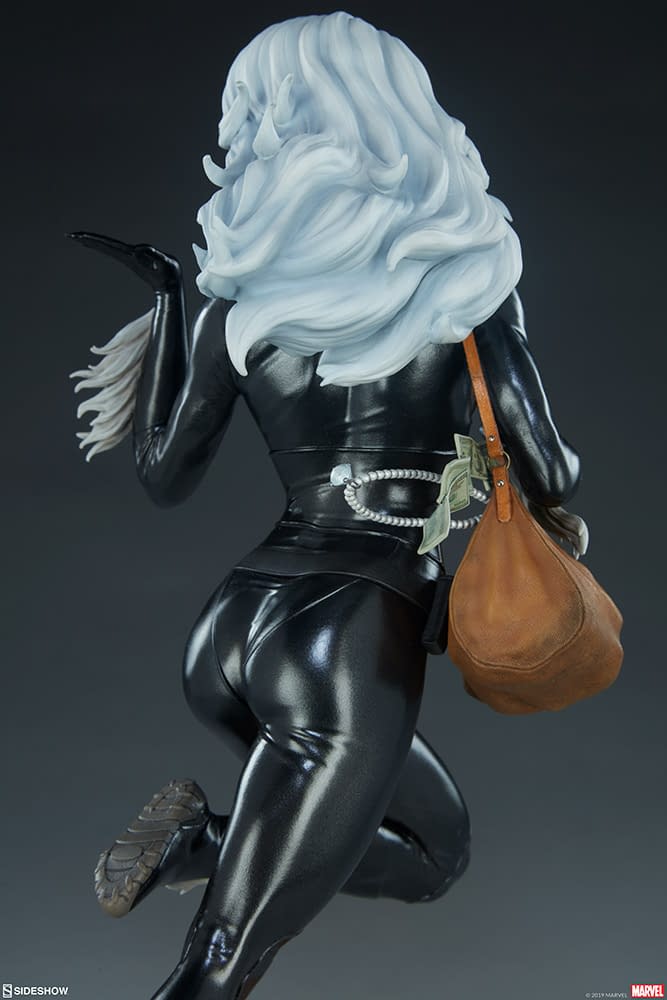 The Exclusive Edition of the Black Cat Statue includes a swap-out right arm holding Spider-Man's stolen suit! Give Peter Parker a run for his money with this additional display option.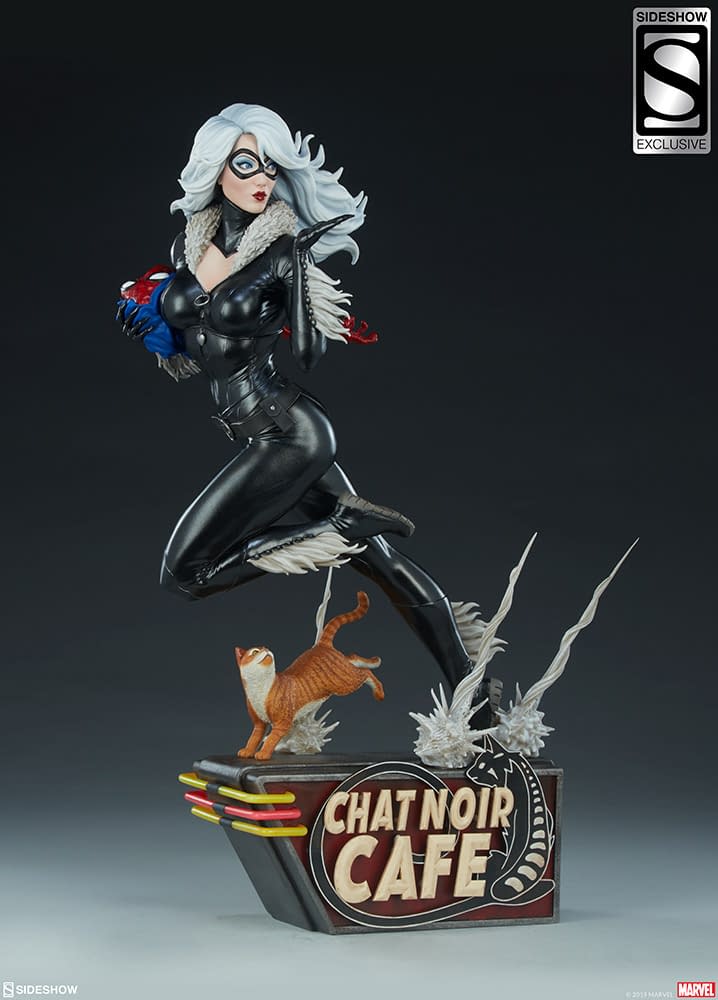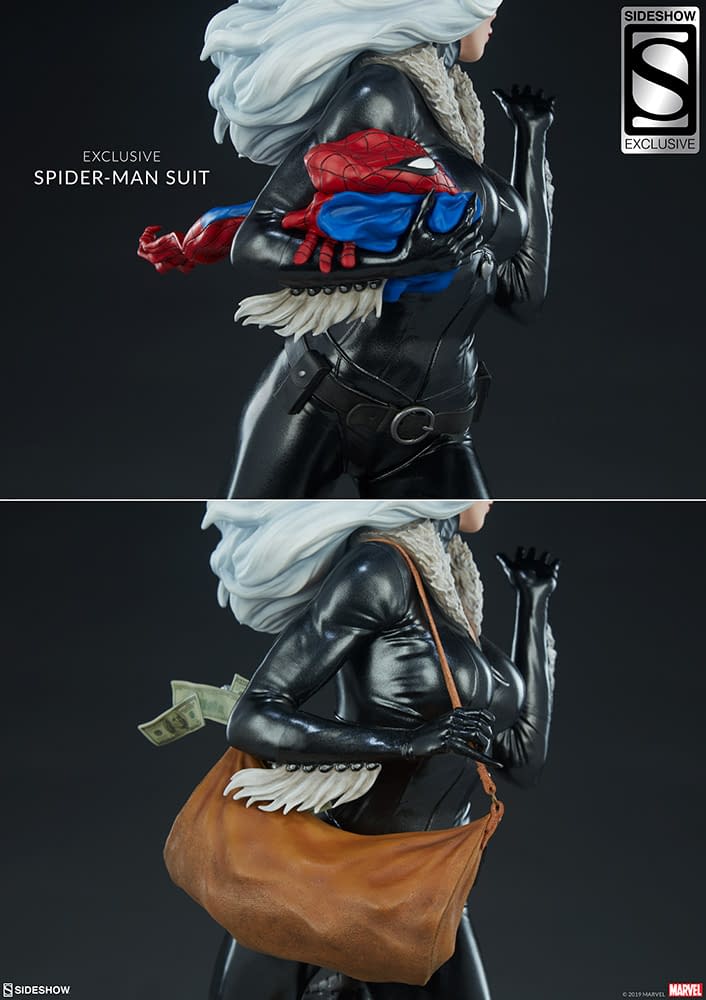 Change your luck and bring home the Mark Brooks Artist Series Black Cat Statue to your universe of Marvel collectibles today!