Black Widow is almost here and it'll be a first reprieve outside the Infinity Saga. Even though this is a "blast from the past" film, it'll be nice to see Black Widow in all her glory again. She has always had a mysterious past and it'll be a fun time looking deeper into her character outside of the Avengers. In preparation for her film, S.H. Figuarts has announced that Black Widow is getting a new figure based on this appearance. This slim black outfit is highly articulated and features a simple Scarlett Johansson face sculpt. She will come with a couple of accessories too like some guns, wrist effects, batons, and some interchangeable hands. This isn't a lot but it is enough for her to take on Taskmaster. Any fan of Natasha will do tight by adding this figure to their collection today!
The S.H. Figuarts Black Widow Cinematic Movie Version Figure is priced at roughly $61. She is set to release in June 2020 and pre-orders are not live yet but can be found here. Stay tuned as Taskmaster is right around the corner!
One last time.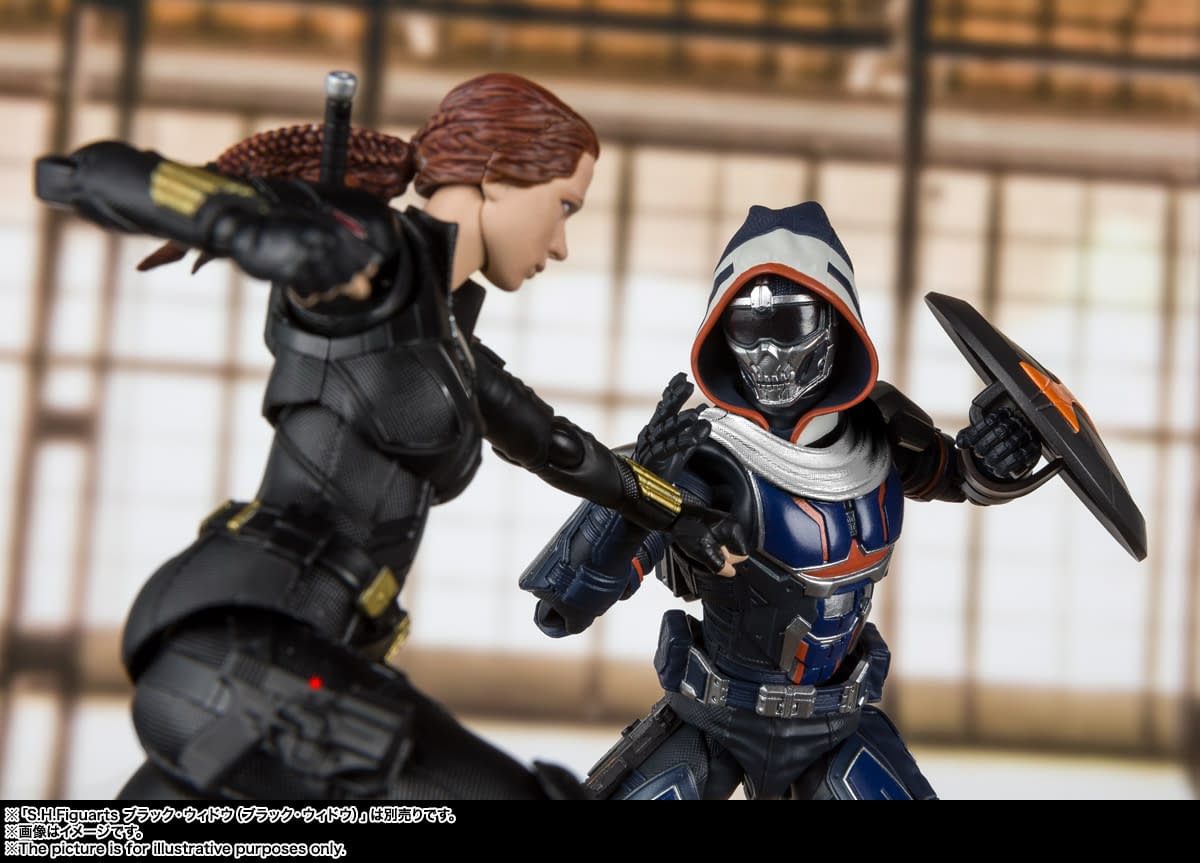 S.H. Figuarts Black Widow
Following the movie "Avengers / End Game", the world's No.1 box office, Black Widow, a core member of the Avengers, reappears in a long-awaited stand-alone movie!
This Black Widow is a luxurious content that comes with a new weapon and effect parts in addition to a realistic head with digital coloring of the soul. Simultaneous release, you can reproduce the death battle with the mysterious "task master" that will be the first appearance of this work!
Includes her equipment for using various weapons. Achieving reproducibility of assent.
The head is realistically reproduced with digital coloring of the soul. Abundant accessories.
The hook type baton first appeared in this work.
Simultaneous release, S.H.Figuarts can reproduce the excitement of the play together with the first appearance of the task master (sold separately).
Product Specifications
Height: about 145mm

Material: ABS, made of PVC
Set Contents
Body

Replacement wrist left and right each five

Gun × 2

Holster left and right

Baton × 2

Hook type baton
Enjoyed this article? Share it!