Bloodshot Comes to Life In The New McFarlane Toys Figure
Bloodshot is best known as a character inside the world of Valiant Comics. Bloodshot will hit the big screen on February 21, 2020, with Vin Diesel portraying him. We don't know too much about the movie but we do get to see a glimpse of Vin Diesel as this iconic character. McFarlane Toys has revealed the first upcoming 7-inch scale figure of Bloodshot. The figure itself is incredibly detailed and showcases Vin Diesel accurately. He is set to come with multiple accessories, including a sword to guns and an assault rifle. He does have holsters attached, so you can store the guns on the figure. He will come with a stand so you can display him on it and the McFarlane figure will have 22 points of articulation. Bloodshot will also be packaged in a special character-themed window box. I was already looking forward to seeing this movie, and with the release of this figure, I can't wait to see Vin Diesel in action. This figure would be great for any Valiant Comic fans, Bloodshot fans or even Vin Diesel fans.
The Bloodshot Movie 7-inch Scale Figure by McFarlane Toys is scheduled for release in January 2020. A price has not been solicited just yet, pre-order are not currently available and will likely be listed at a later date but you can find the figure here.
Check out Vin Diesel and all the Bloodshot action below.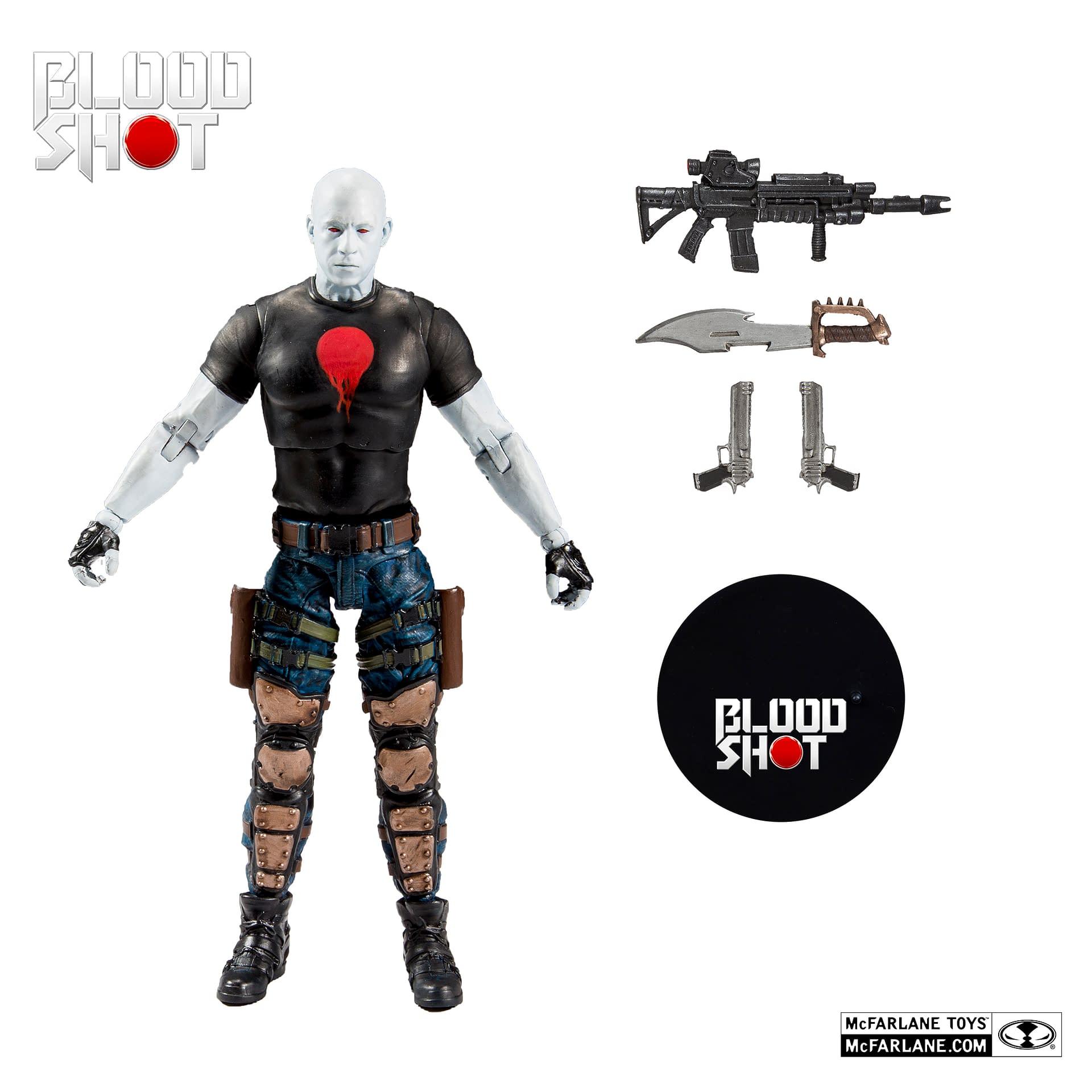 Bloodshot Movie McFarlane Toys Action Figure
Genre: Movies & TV
Product Type: Action Figure
Series: Coming Soon
Product features:
Incredibly detailed 7" scale figure of Vin Diesel's Bloodshot
Features Bloodshot based on his outfit from the upcoming movie
The figure comes with base, Machine Gun, Knight, and 2 Hand Guns
Designed with Ultra articulation with 22 moving parts
Figure showcased in Bloodshot themed window boxed packaging
Unavailable for purchase yet
Release Date: Jan 2020
Specs: Scale: 7 inches