"Clockwork Orange" Gets A Nendoroid with Good Smile Company
A Clockwork Orange is a cult classic that fans of the series just can't get enough of. This time it looks like the can add miniature Alex DeLarge to their collection. Good Smile Company has announced that Clockwork Orange is the next series getting the Nendoroid treatment. This figure is not only amazingly detailed but comes just a vast variety of accessories. Alex will come with two different face plates and even his iconic mask. He will also come with mini accessories like a glass of milk and his can. Combine those with the display base and you will be able to recreate a nice chunk of scenes from Clockwork Orange that any fan can get behind.
The Clockwork Orange Alex DeLarge Nendoroid Figured from Good Smile Company is priced at roughly $39. He is set to come out in July 2020 and pre-orders are already live and you can find them here. Don't forget to check out the other Nendoroid figures coming out soon and take advantage of the re-releases as who knows with they will come back out again.
"We can destroy what we have written, but we cannot unwrite it."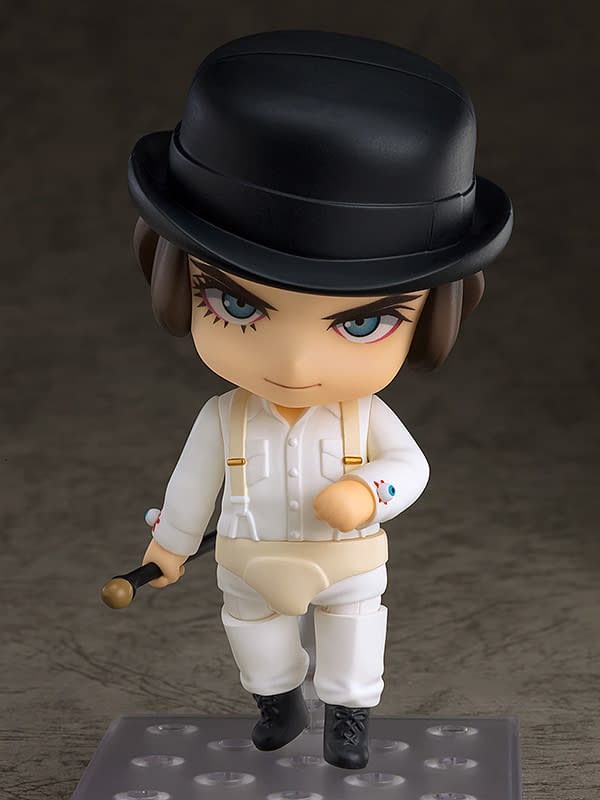 Nendoroid Alex DeLarge
From the classic film "A Clockwork Orange" comes a Nendoroid of Alex DeLarge!
From "A Clockwork Orange" comes a Nendoroid of Alex DeLarge. The gang leader is dressed in his iconic white outfit and comes with interchangeable arm and leg parts in order to recreate various poses from the film. He comes with two interchangeable face plates—a grinning expression and a serious expression, as well as a mask that he can be posed wearing.
Enjoy using the various optional parts like a glass of milk and his cane to recreate all kinds of scenes from the film. All of the included parts make it easy to switch up your display time and time again for unlimited fun. Be sure to add him to your collection!