Corvus Glaive Wants Revenge with New Iron Studios Statue
Corvus Glaive vs Vision was a very intense battle. That first startling stab in Avenger: Infinity War made me nearly jump out of my seat. His design in the Marvel Cinematic Universe it quite close to his appearance from the comics. If we could only get a solo film of The Black Order just conquering other worlds so we could get the rich backstory behind them all. Iron Studios is reuniting The Black Order once again with their newest addition to their Avengers: Endgamestatues. This time we have Corvus Glaive in all his menacing glory. His design and style are very detailed and the black and gold color scheme shines here. He is posed in an action stance with his weapon just behind him. He is the final piece of the Black Order puzzle and now with him, you can lock down the whole team of Thanos group of elites. This is a set of must-have statues perfect for any Corvus Glaive and Black Order fans.
The Avengers: Endgame Corvus Glaive Black Order 1/10th Scale Statue is priced at $129.99. He is set to release wit the other member by the end of 2020 and pre-orders are already live and located here. Don't forget to check out the other members of the Order also available for pre-order today from Iron Studios.
"I thought you were formidable, machine. But you're dying, like any man."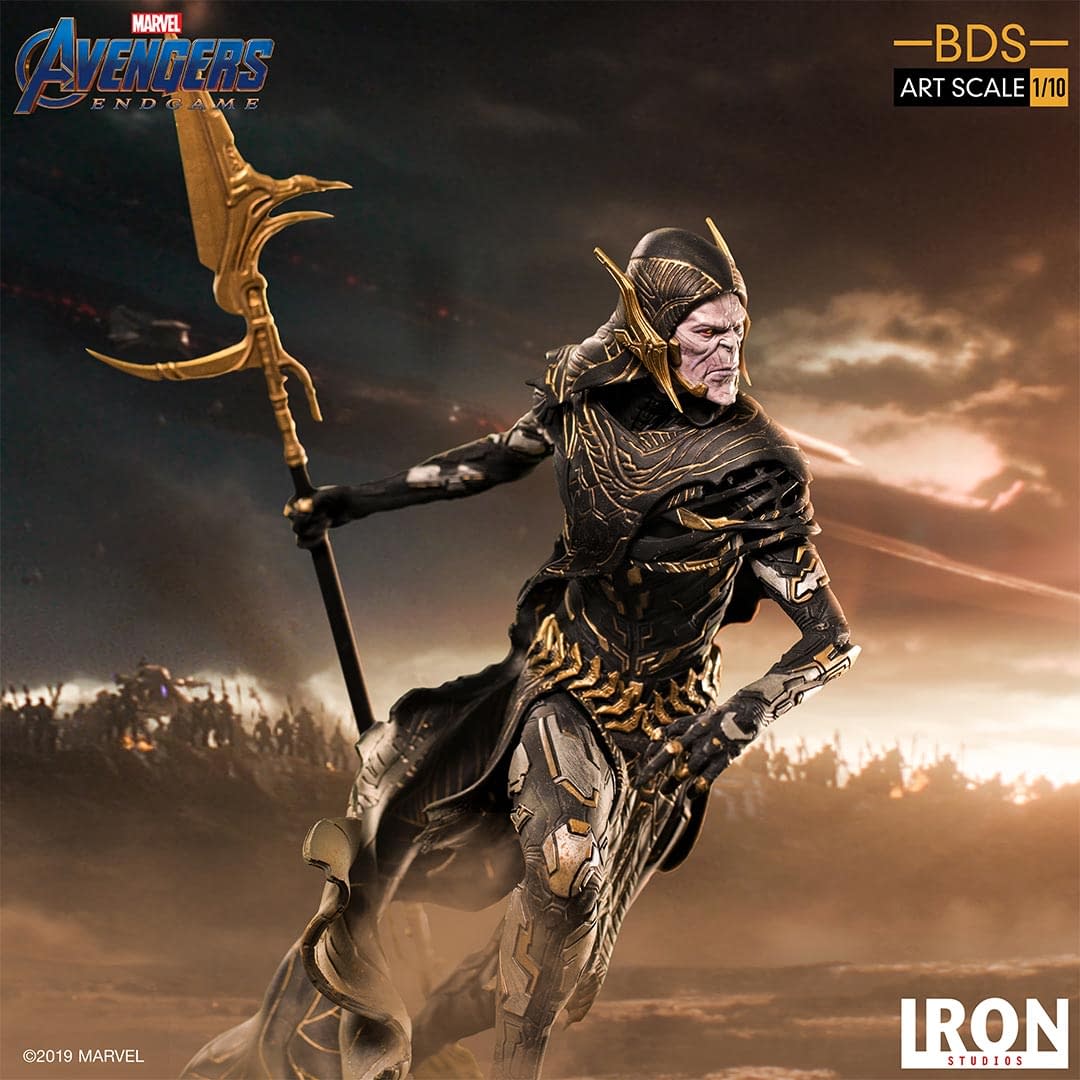 Corvus Glaive Black Order BDS Art Scale 1/10 – Avengers: Endgame
License: Avengers: Endgame
Scale: Art Scale 1/10
Features:
– Limited edition
– Based on original movie references
– Made in polystone
– Hand painted
– This statue is part of a diorama based on the Avengers: Endgame movie
Product dimensions: 10.6 in (H) x 7 in (W) x 7.8 in (L)
Product Weight: 1.6 lbs
Release schedule: Fourth quarter of 2020
*This item will be shipped from our warehouse in Los Angeles – California