Cyclops Becomes the 19th Marvel Animated Statue From Gentle Giant
Cyclops will be the next Marvel Animated statue from Gentle Giant. This is the 19th statue based on the art of Skottie Young, and for my money one of the cutest. look at his little round belly! Like all of the others, this one stands at about under 4 inches and features a detailed sculpt based on Young's popular variant covers. He will cost $64.99. Check out all 19 of the statues together!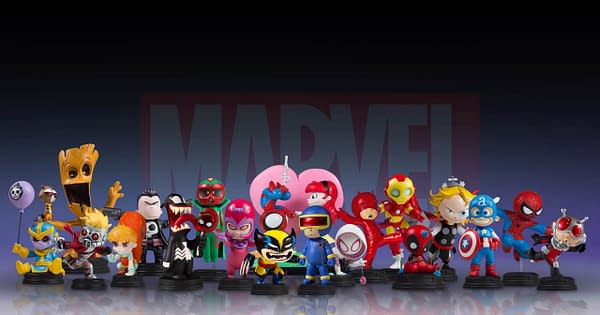 You can preorder this one right now for an early 2019 release. Check out pics and details below!
Cyclops, aka Scott Summers is a mutant with the ability to fire force beams from his eyes. As a boy, when Cyclops' powers first emerged, he could not control them. Professor Charles Xavier, who had been observing Scott's development, discovered the only way for Cyclops to control the beams is through the use of ruby quartz lenses. Professor X had some special glasses made for Cyclops and took him under his wing to train him in his powers at his special school for mutants. Cyclops is one of the founding members of the original X-Men and sometime serves as the leader of the team.

Cyclops is the 19th release in our popular Marvel animated statues and is based on the art from Giant Size Little Marvel AvX variant comic book cover on issue#1. He is decked out in his blue and gold X-men uniform with a cool reflective visor. This adorable X-man is ready to take on your Magneto Marvel Animated Statue (sold separately) in a battle of cuteness! Kick off building your animated X-Men statues by picking up their leader. The Cyclops Statue was digitally sculpted and carefully printed on state of the art 3D Systems 3D printers. The high-resolution prints were then used in the creation of prototypes needed to produce this animated collectible. Each animated statue is hand-cast, hand-painted, and hand-numbered with a limited edition Certificate of Authenticity.