Dante the Legendary Devil Hunter has returned in the newest game entry Devil May Cry 5. Prime 1 Studios is being the Devil to us with their newest statue. Dante's size varies depending on what weapon you decide to choose. He comes with his sword Rebellion that he can hold or you can attach it to Dante's back. He also comes with his guns Ebony & Ivory. Three interchangeable left hands are also included and open hand on for Ebony and one for the Coyote-A gun. This statue does come with a second variant version with more accessories. With the Deluxe version, you get all the same as Statue A but you get Five interchangeable right hands that include the weapons, Kalina Ann. Sparda, and Devil Sword Dante. You can also get a Red Orb collectible for your statue as well. The base shows off the total hellish destruction that is quite famous in the Devil May Cry series. This statue is great for any video game fan or Dante groupie. 
The Devil May Cry Dante Prime 1 Studios statue is available for preorder and is live here. The standard is priced at $899 and the deluxe is priced at $1,149. The release date is set for September 2020 – January 2021. 
"Let's Rock Baby!"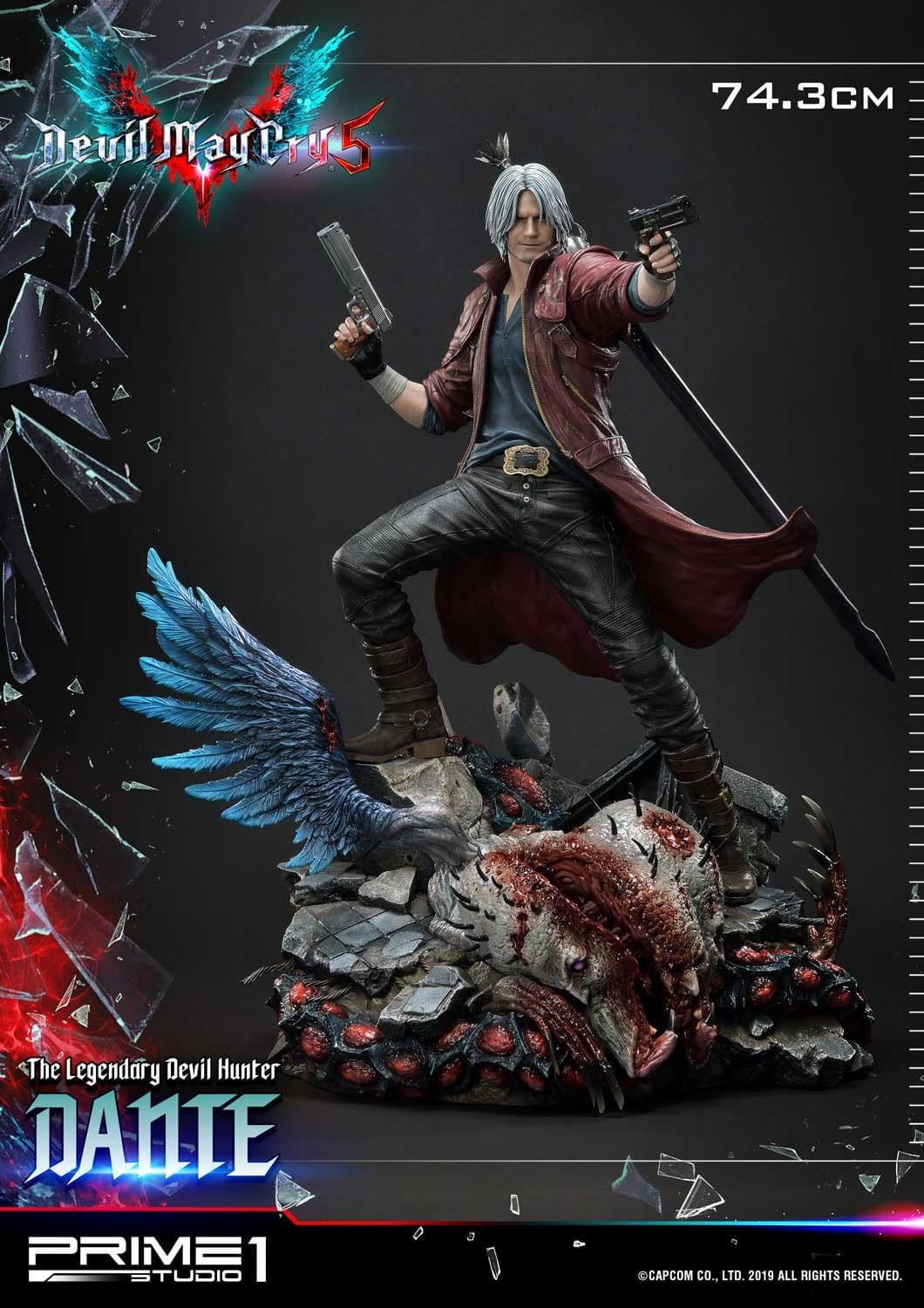 Ultimate Premium Masterline Devil May Cry 5 Dante Standard and Deluxe
"Think you can beat me? Not in a million years!"
Prime 1 Studio is proud to present The Strongest Demon Slayer Dante Statue from a very popular Japanese Video Game created by Capcom – Devil May Cry 5.
Dante is a paranormal mercenary, private investigator and vigilante Devil Hunter dedicated to exterminating evil demons and other malevolent supernatural forces. Dante greets any and all challengers with a signature smile on his face.
This is a very photorealistic, beautifully crafted piece that should satisfy all DMC series fans. We recreated each detail of Dante's stylish appearance from his red, long coat, leather trousers, passing through a variety of Dante's classic arsenal and ending with his gray hair and cool facial expression.
The base design perfectly captures the mood of the Devil May Cry 5 Video Game universe. It uses the demon tree Qliphoth's horrifying image as the main base theme. It has a spectacular finish no matter which angle you look at the statue.
This is the best companion piece to display next to the Nero Statue! Devil May Cry 5 fans, don't miss your chance to add the Dante Statue to your collection.
Standard Edition Specifications:
– Statue Size approx. 29 inches tall with Rebellion & Coyote-A equipped [H:74.3cm W:50.2cm D:52.2cm]
Statue Size approx. 25 inches tall with Ebony & Ivory equipped and Rebellion on his back [H:63.3cm W:52.2cm D:44.8cm]
– One (1) designed demon tree Qliphoth theme base
– Three (3) interchangeable left hands (Open Hand/Ebony /Coyote-A)
– Two (2) interchangeable right hands (Rebellion/ Ivory)
– Rebellion on Dante's back (while holding Ebony & Ivory)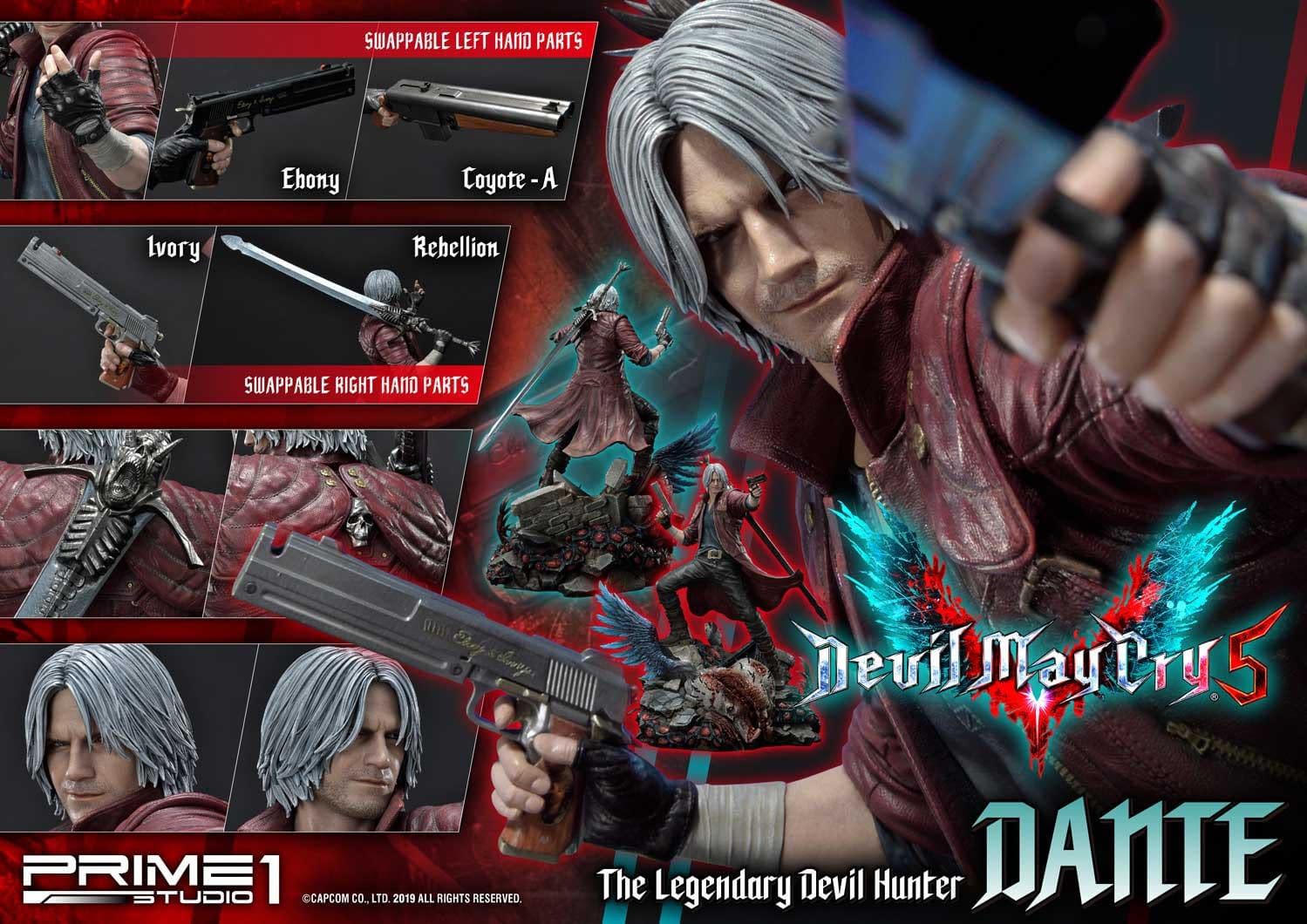 Deluxe Edition Specifications:
– Statue Size approx. 32 inches tall with Devil Sword Dante [H:80.2cm W:50.2cm D:38cm]
– Statue Size approx. 29 inches tall with Rebellion & Coyote-A equipped [H:74.3cm W:50.2cm D:52.2cm]
Statue Size approx. 25 inches tall with Ebony & Ivory equipped and Rebellion on his back [H:63.3cm W:52.2cm D:44.8cm]
– Statue Size approx. 25 inches tall with Kalina Ann & Coyote-A equipped [H:63.8cm W:50.3cm D:52.2cm]One (1) Red Orb with stand
– One (1) designed demon tree Qliphoth theme base
– Rebellion on Dante's back (while holding Ebony & Ivory)
– Three (3) interchangeable left hands (Open Hand/Ebony /Coyote-A)
– Five (5) interchangeable right hands (Rebellion/lvory/Kalina Ann/Sparda/Devil Sword Dante)