"Dark Nights: Metal" Statue by Prime 1 Studios Showcases a Joker Dragon
Dark Nights: Metal was one hell of a storyline. At times the story did get quite confusing but it did introduce us to some interested characters. The evil versions of Batman were quite remarkable, from The Red Death to The Batman Who Laughs, we got to see a darker side of our Caped Crusader. Prime 1 Studios is showing off the final fight of the series with their new statue. As usual, we are getting standard and deluxe versions of the statue. First, for the standard, we get a 34" statue that shows of Batman in his knight outfit fighting off a Joker Dragon. Dark Nights: Metal isn't metal enough unless you have Batman outfitted with not one but two axes. His cape is cloth and the statue does have some elements of fur faux on Batman's outfit. As for the Joker Dragon, it is quite detailed from the fins to the teeth and is no laughing matter. The deluxe statue has most of the same elements but includes a nice set of interchangeable pieces.
Deluxe Batman does have a more detailed Dark Nights: Metal armored chest than the standard as well. We also get two extra hands, one emptied and the other with a motioned torch that lights up. On top of that, we get two extra heads, one with a closed mouth and the other is a bearded Batman. This deluxe version can change the whole look and feel of the statue and that is worth it.
The Dark Nights: Metal Batman Vs Joker Dragon standard statue is priced at $1559 and the deluxe is $1759. Preorders are live and available here.
Prepare for the Dark Night below:
Prime 1 Studio is excited to present the second product of Dark Nights: Metal Comics series: MMDCMT-02 Batman Versus Joker Dragon Statue.
The story involves Batman discovering a dark multiverse that exists beneath the core DC multiverse. Eventually, he discovers seven evil versions of himself from the dark multiverse that are led by the dark god known as Barbatos.
We created an epic statue of a Batman in a Knight Armor fighting a Dragon with Joker's characteristics. It is a beautifully crafted diorama with exceptional attention to details starting with faux fur elements of Batman's armor and ending with a very realistic texture of the statue. The statue tells us a story of a bloody and fierce battle full of naturalistic features.
The Deluxe Version includes two additional Alternate Portraits, two additional interchangeable left-hands, and one additional Chest Armor.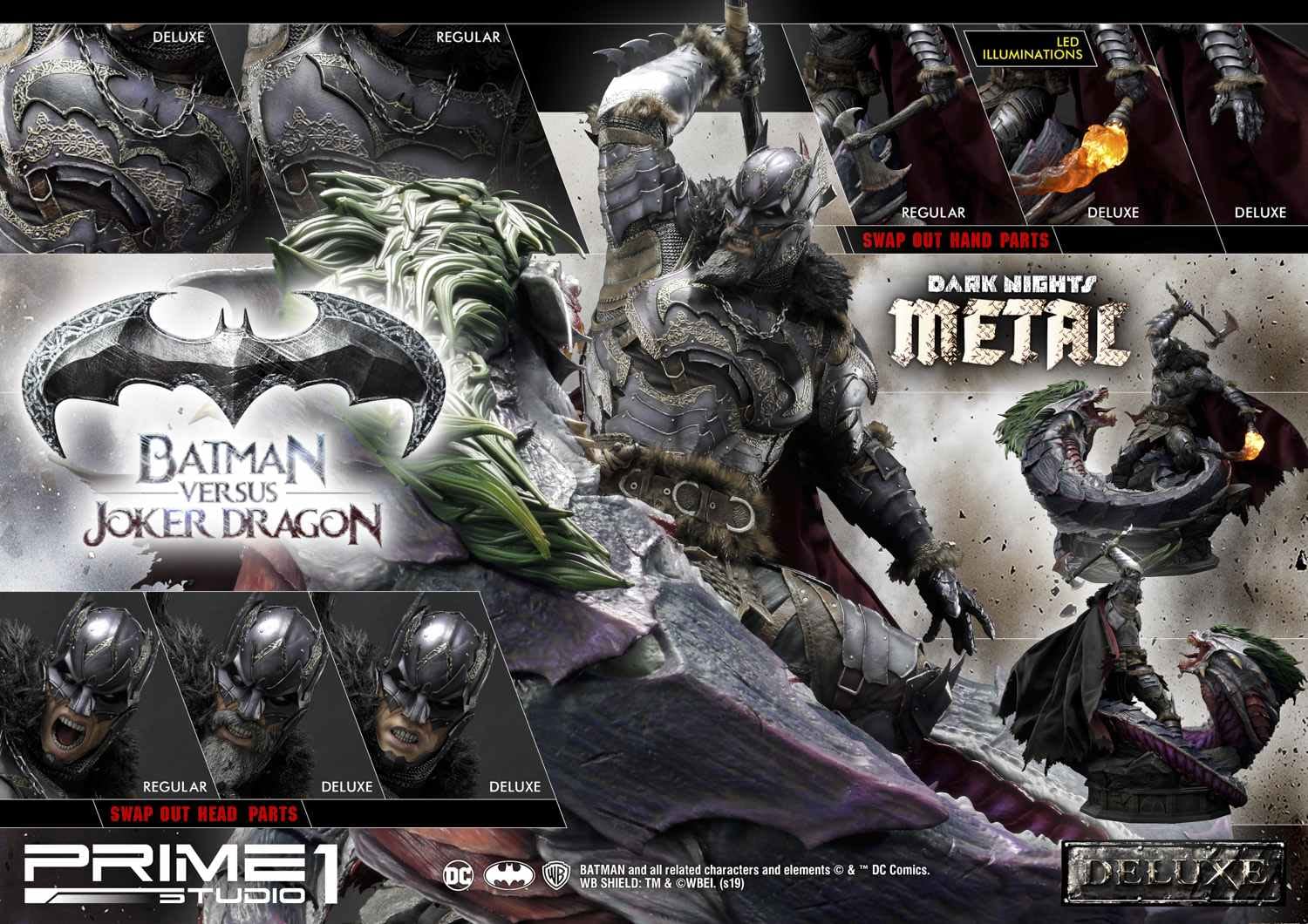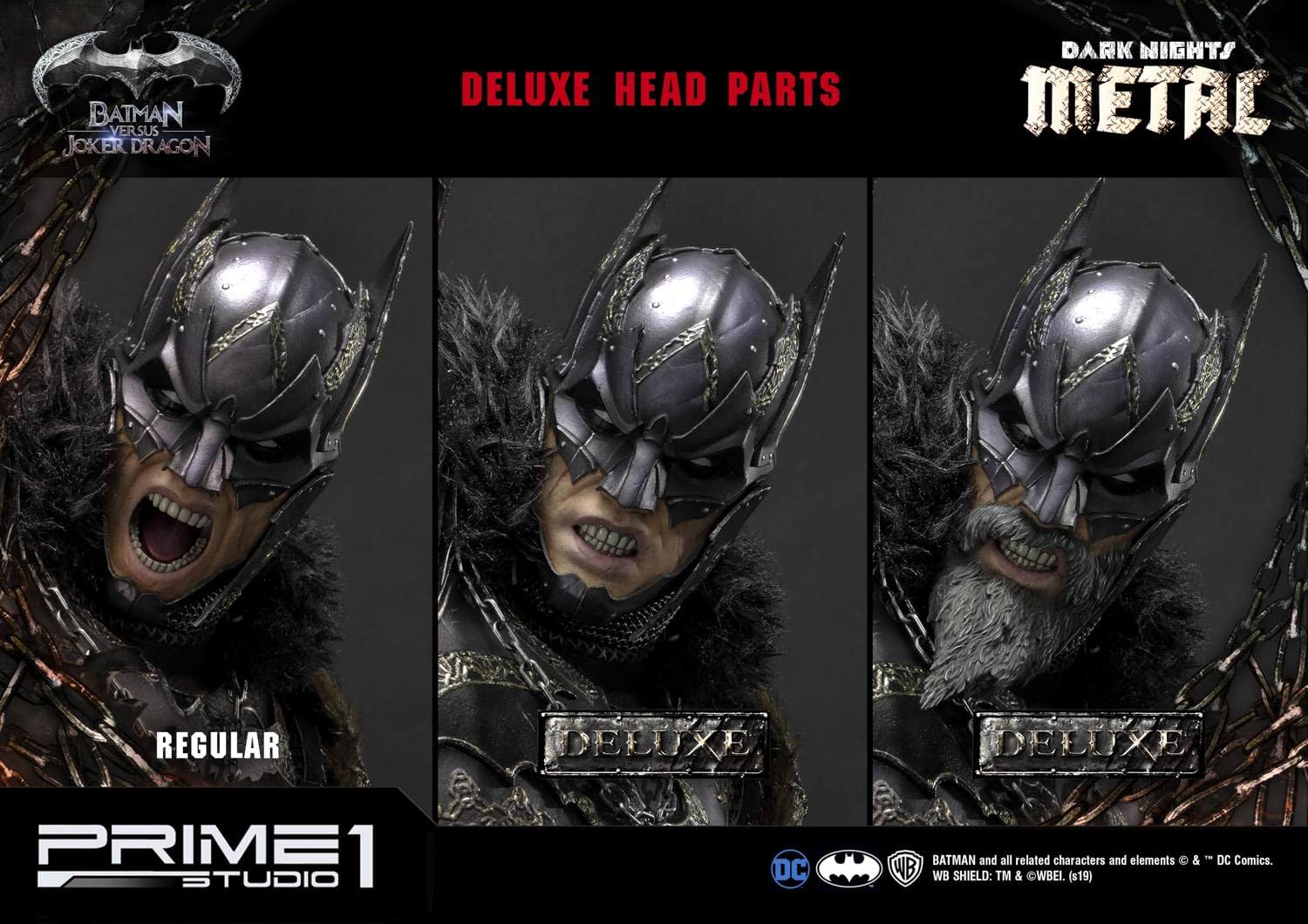 The Batman Versus Joker Dragon Statue stands approximately 34 inches tall and it is a must-have for all DC Comics Dark Nights: Metal fans! A great piece to add in your collection with Batman Who Laughs from the same series.
Product Specifications
·Statue Size approximately 34 inches tall [H:86.9cm W:77.9cm D:59.3cm]
·Statue Size with the Torch [H:86.9cm W:80.3cm D:59.3cm]
·One (1) designed a theme base
·One (1) interchangeable Chest Armor (Alternative Batman logo) – Deluxe Version
·Two (2) alternate Portraits (Clenched Teeth, Beard) – Deluxe Version
·Two (2) interchangeable left-hands (Torch, Open Hand) – Deluxe Version
[Notice]
Prototype samples are shown.
Product details could be subjected to change without further notice.