Dynamite Offers Red Sonja, Vampirella, And Chaos! Comics Barware
Dynamite is firing up a new Kickstarter campaign for a line of barware items involving some of their most popular characters. Now you can have Red Sonja, Vampirella, and Smiley from Chaos! Comics adorn your kitchen or bar. And it doesn't just offer up pint glasses and bottle openers — some of the other rewards include digital comics, graphic novels, and even busts designed by fan favorite Arthur Adams. It starts with a two-piece Red Sonja pint glass set featuring the She-Devil with a Sword as she appeared on the covers of Marvel Feature #4 and 1977's Red Sonja #1, both illustrated by industry legend Frank Thorne! Featuring the ever-classic Red Sonja logo on the back of each glass, this two-piece set ships in a protective case and comes enclosed in a window front collector box.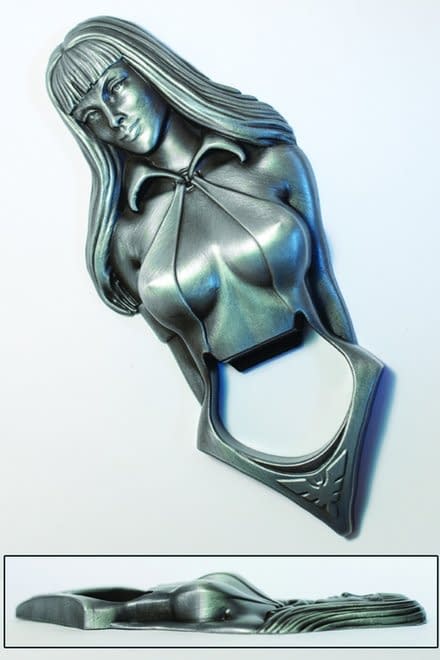 Then there is the official Vampirella bottle opener. Made of cold-cast zinc alloy and measuring approximately 4.5" by 2" in size, the bottle opener ships in a four-color display box and features two magnets on the back that will allow you to display on your refrigerator door.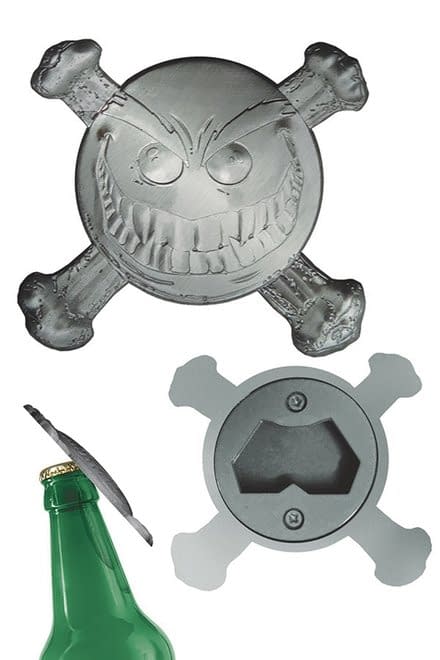 The Smiley the Psychotic Button bottle opener! Made of zinc alloy and stainless steel, and measuring approximately 3.75 inches tall, this toothy bottle opener also features a back magnet for ease of storage, and ships in a full-color box.
Production is under way, with an expected shipping date of April 2018. Backers who support the Dynamite Barware Kickstarter will have the opportunity to receive rewards, including digital issues, digital graphic novels, and Arthur Adams Vampirella and Red Sonja busts. The digital comics and graphic novels offere are Red Sonja #1, Vampirella #1, and Chaos #1 and Red Sonja 1, VampirellaVol. 1, and Chaos! Vol. 1.