The Fantastic Four Storm Siblings Get Funko Pop Exclusives [Review]
Our final part of the ongoing Fantastic Four Funko Pop review is; The Exclusives. There are four exclusive Fantastic Four Funko Pop vinyl figures. The first one was a GameStop exclusive Invisible Girl, a Hot Topic exclusive Human Torch, Barnes & Noble exclusive The Thing, and a Specialty Series glow-in-the-dark Human Torch. Looks they didn't want to give Mr. Fantastic a variant in this wave but I'm sure we will see one later on. We were able to get our hands on two of the current four exclusives. When we get the other ones in hand we will do coverage on them as well.
This review will be covering brother and sister combo Johnny and Susan Storm and their Funko Pop exclusives. First up is the GameStop exclusive Invisible Girl. Her box is the same as the original except there is a GameStop exclusive sticker on the window.
This is kind of a lazy exclusive and I really wish they did a lot more with it. The best way to showcase the differences with her variant is by shown you side to side comparisons with the original. The only difference here is her legs are semi-translucent showing us as if she was about to go invisible. I'm curious if they were trying not to copy the Chase variant of The Incredibles Violet. A different pose or a whole bodied camouflage would've been a better take than just the translucent legs. However, I am a completionist so I needed to have her for my set it's interesting and I do like it but I wish there was more to it.
As for her brother Johnny Storm a.k.a. the Human Torch has an exclusive that is worthy. This Hot Topic exclusive figure is the right kind of exclusive as it shows Johnny Storm with fire elements. The box Isn't a simple sticker swap as the new mold is posted on the front, side, and back.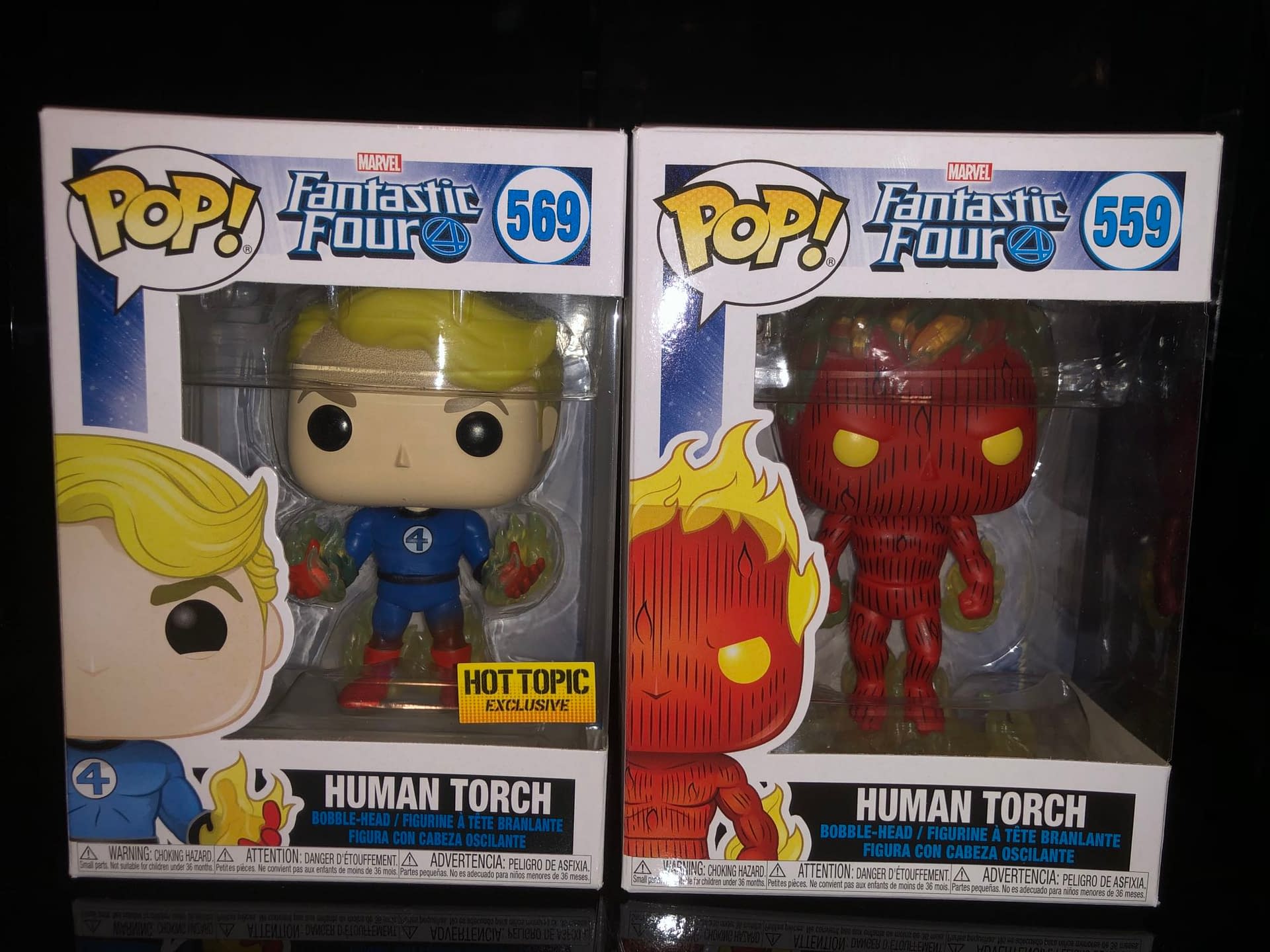 The figure itself is pretty awesome you get to see the Human Torch powered down with his hands and feet ignited. You can see his iconic blue costume with the Fantastic Four logo in the center. You do see the same flame elements that we see in the full bodied Human Torch figure. This is a pretty nice exclusive and I'm glad we got to see a power down human Johnny Storm. This is a must have for any Human Torch fan of the Fantastic Four.
Both Fantastic Four retailer exclusive figures are still available to purchase online. The GameStop exclusive Invisible Girl you can find located here and the Hot Topic exclusive Human Torch Funko Pop can be located here. Don't forget to check out some of our other Funko Pop Reviews here at Bleeding Cool like our recent coverage of The Umbrella Academy Funko Pops!