GameStop Exclusive Marvel Gamer Mystery Box [Unboxing]
GameStop has had a nice variety of Funko mystery boxes lately over special events. Lately, we have seen a lot of new gamer styled Funko's exclusive at GameStop. This time we take a look at the Black Friday exclusive Marvel gamer Funko mystery box.
The mystery box itself is specially designed with a holographic Funko image. There are also decals of electronics all over the box giving it a nice shine. Opening the box we are great with a nice assortment of Deadpool Funko products. There were three special characters in each box each one came with chase variants. There is Miles Morales and a Miles Morales unmasked as a chase, sitting gamer Groot and standing gamer Groot as the chase, and lastly Deadpool gamer and unmasked Deadpool gamer chase.
It looks like we were greeted with the Deadpool gamer Funko mystery box. Right off the back, I can tell this going to be a cool box. Taking a look at the smaller items in the box, we got a Pop sticker of Deadpool gamer from the same design as the Pop vinyl. It does look like the pocket Pop is glow-in-the-dark however we got our Deadpool is in a Miles Morales box. This looks like a simple error with packaging and I have heard reports of other collectors getting this same issue. We are also greeted with X-Men Deadpool Pop PEZ. Funko has been dropping a lot of Pop PEZ, so it's not surprising to see some of these enter the mystery boxes. I am personally not a collector of the PEZ so this will be probably a stocking stuffer for a friend. We are also greeted with a glow-in-the-dark Deadpool pin that shows off the circuit board style decal behind it.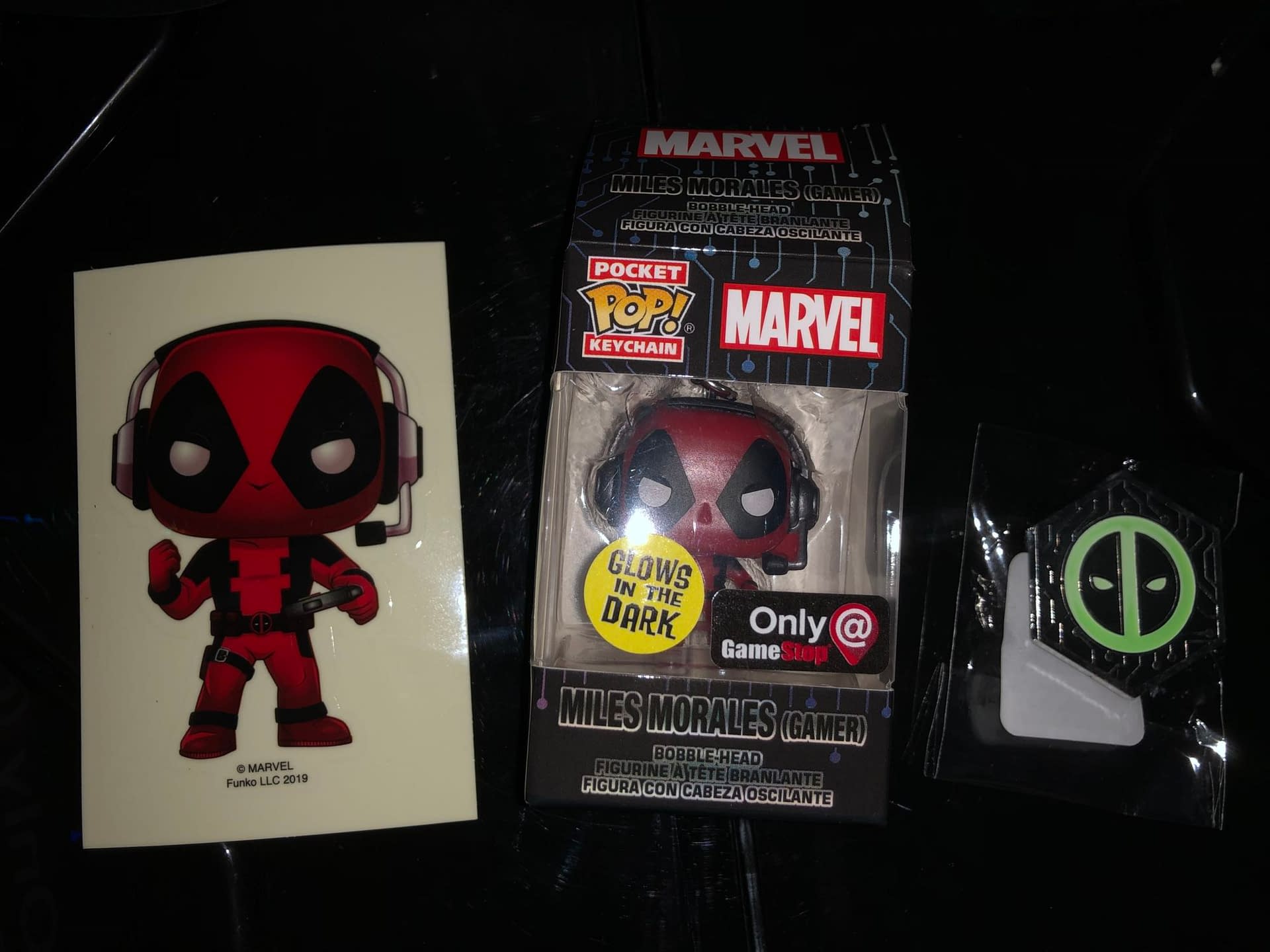 Now moving onto the main event from the GameStop Funko Marvel box, the Deadpool gamer Funko Pop. I like the design of this Pop I think unlike miles and Groot, Deadpool definitely fits the situation. The Chase version would be a great figure to have but I'm just glad that we happened to stumble upon a Deadpool version at all. There's nothing special about his box besides the circuit board styling decals all over it. The color of the Pop itself is quite bright red and black. This is a great Deadpool Pop all around and the headset is a very nice touch. Just like most Deadpool Pops, he has his famous belt holster and his holster. This one does have him featuring a game controller in hand and there is no specific game system this controller supposed to go to, it just is for the design.
If you're a fan of video games like myself and Marvel characters and even collecting Funko Pop's then these GameStop boxes are the mystery boxes for you. There is six total of characters you can get in the box with three beings of Chase variants. Most are still in GameStop stores you can also find them located online and here. These would be great simple and cheap gifts for the holiday. So make sure you treat your gamer pal with a cool little mystery box from GameStop and who knows what they will get inside. Stay tuned up Bleeding Cool for more Funko reviews from the newest wave of Avengers: Endgame, Umbrella Academy, Steve Irwin and much more.