Own Ivaldi's Deadly Mist Armor with the New God of War Statue
God of War 4 has been out for quite some time now but seeing collectibles from it never gets old. This time it's from one of the hardest challenges in the game Ivaldis Deadly Mist Armor Set challenge. You can only get this armor sat through a gratuitous set of challenges where deadly toxic mist drains your life throughout the gauntlet. This time you don't have to do those challenges to get the armor and you can buy it with Prime 1 Studio and their newest statue. The statue features Kratos and his son Atreus in all their fighting glory. Both are decked out in the awesome black and gold styled deadly mist armor set. The statue stands approximately 28 inches tall it is detailed to perfection details of them, their clothes and weapons depicted as accurately to the game as possible. There' is even an LED function inside the statue for Mimir's eyes. There are two versions of this statue, with a deluxe having to alternate heads and swappable hands with Kratos holding the Blades of Chaos and another with his Leviathan Axe on his back. This is one statue God of War fans should not pass up and act fast before it's gone.
The God of War Kratos and Atreus Deadly Mist Armor Set from Prime 1 Studio is set to release between the fourth quarter of 2020 and the first quarter of 2021. The standard version of the statue will cost $1200 and pre-orders are live in located here. The deluxe that is available through Prime 1 Studio shop will be priced at $1400 and the pre-orders are live and located here. Don't forget to check out all the other amazing statues coming soon from Prime 1 Studio.
BOY!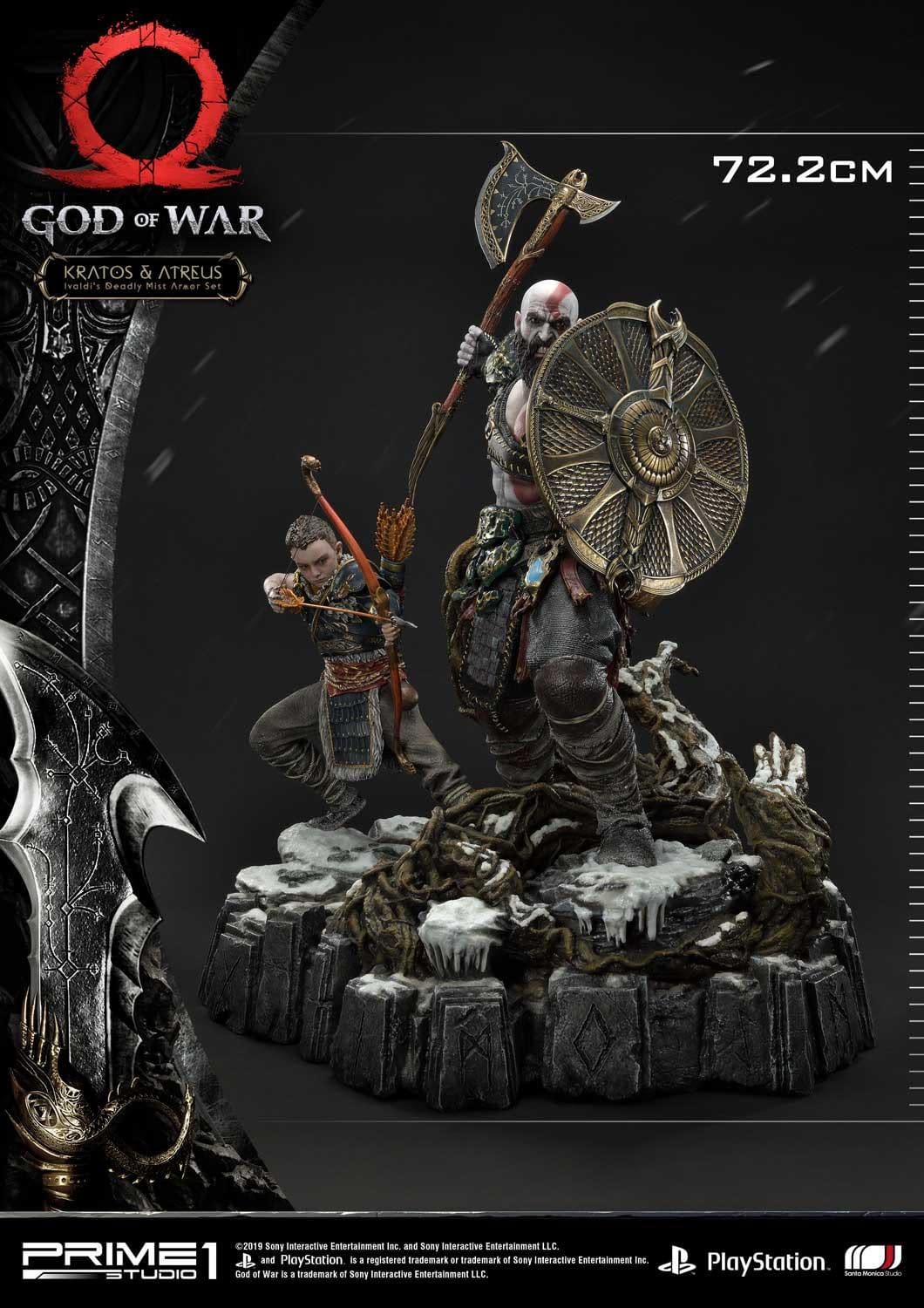 Kratos & Atreus Ivaldi's Deadly Mist Armor Set Standard and Deluxe Version Statues
Descriptions
"Close your heart to it. On our journey, we will be attacked by all manner of creature. Close your heart to their desperation. Close your heart to their suffering. Do not allow yourself to feel for them. They will not feel for you."
Prime 1 Studio is excited to present the second God of War 2018 Statue – UPMGOW-02DX: Kratos & Atreus Ivaldi's Deadly Mist Armor Set Deluxe Version based on original references from the video game.
God of War is an action-adventure video game developed by Santa Monica Studio and published by Sony Interactive Entertainment (SIE) on April 20, 2018.
Kratos – the protagonist of the God of War series and his son Atreus go on a journey together, to spread the ashes of Atreus's mother at the highest peak of all the nine realms. They face danger in their path as they are forced to fight many enemies. One of them is Baldur – the main antagonist of God of War of whom the statue has been created as well.
The Kratos & Atreus Statue stands approximately 28.5 inches tall and features the highly detailed bodies covered in the New Ivaldi's Deadly Mist Armor Set. The equipment is made with accuracy and precision. A LED light up function is added in Mimir's eyes.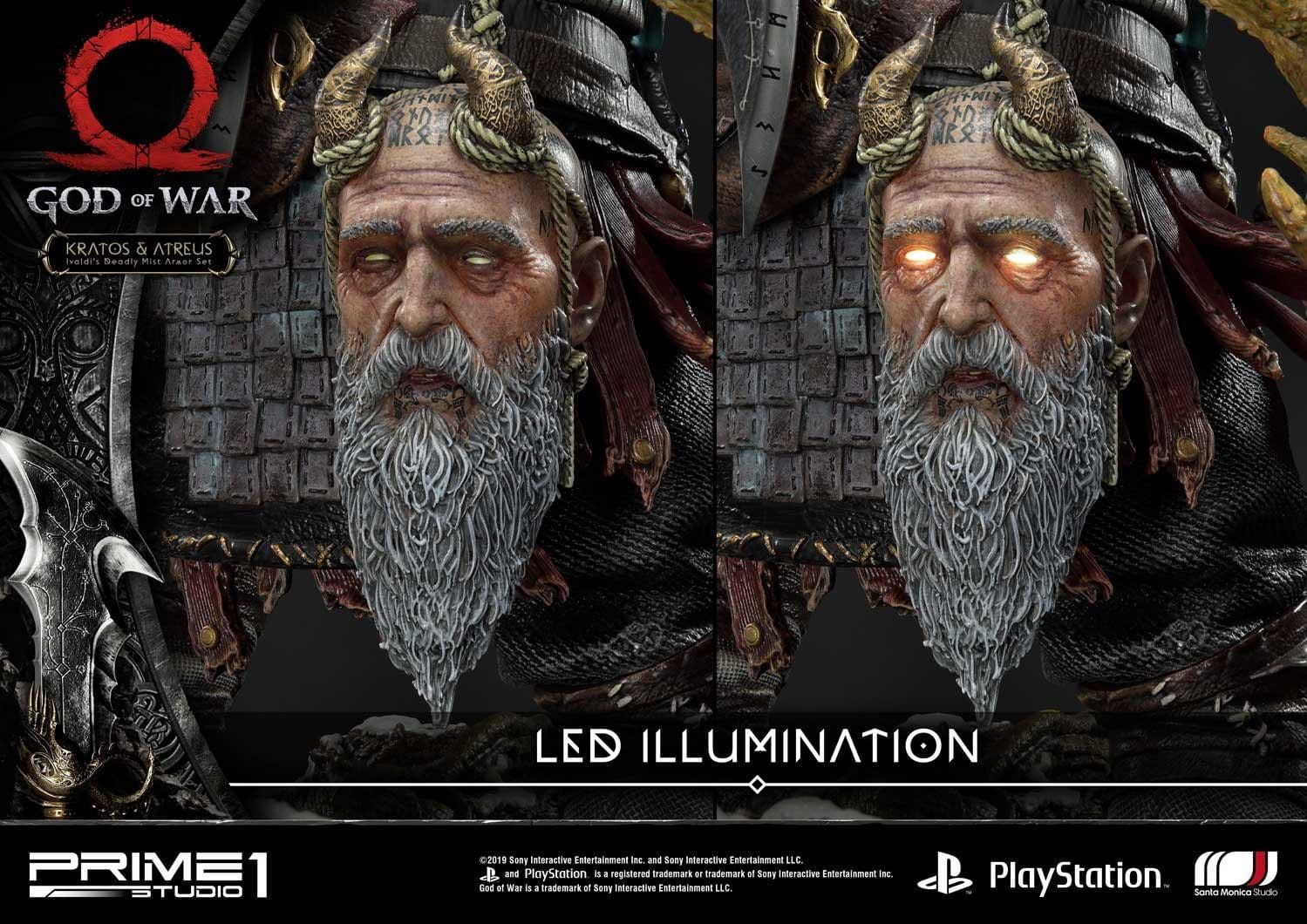 The Deluxe Version includes additional parts such as two alternate portraits, two swappable hands holding the Blade of Chaos and one swappable Leviathan Axe on the back.
This is the best companion piece to display next to the UPMGOW-01: Baldur & Broods Statue which is up for pre-order! The characters of both Statues are in a combat poses, so they look pretty amazing combined together, like they create a one complete diorama.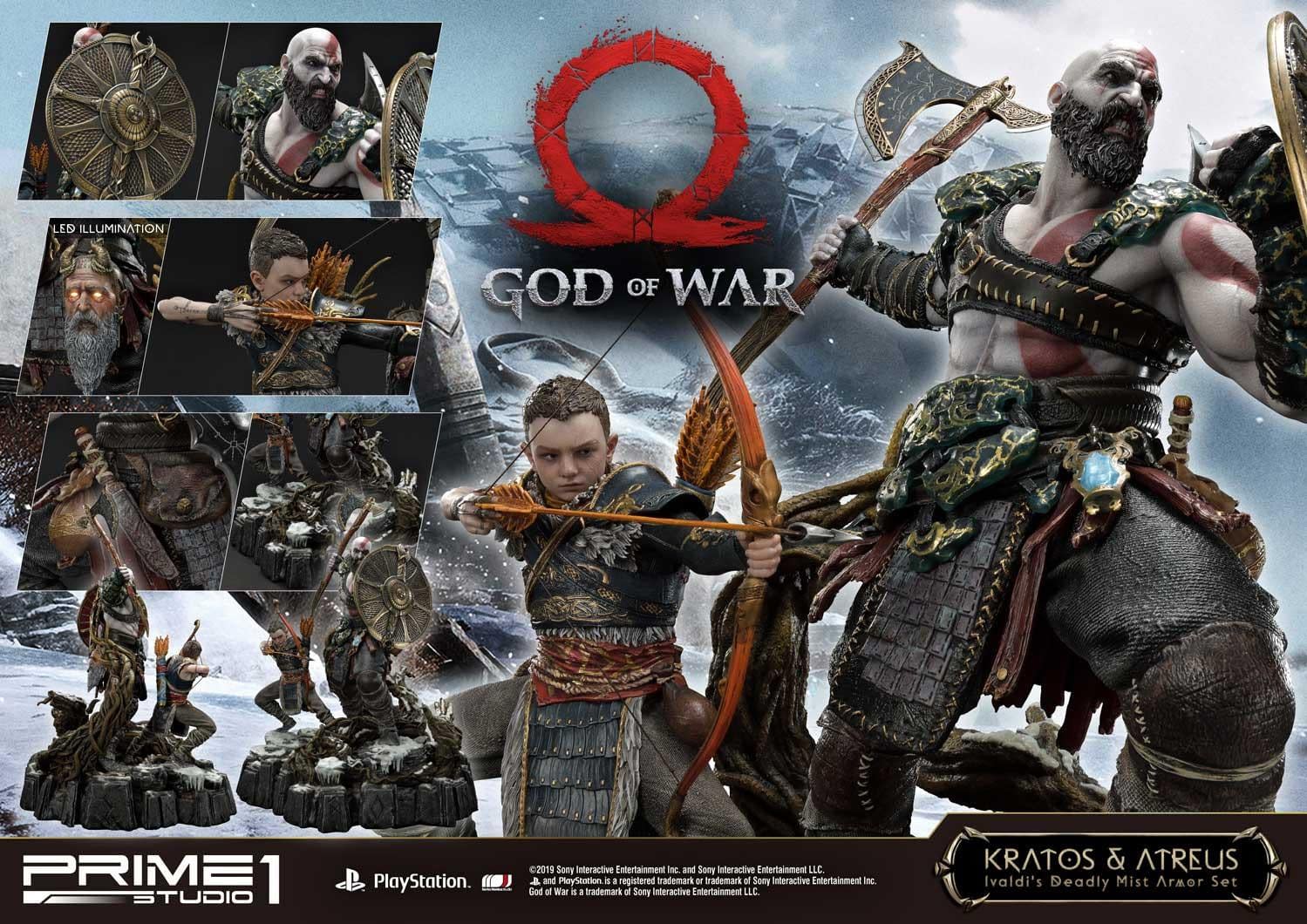 Specifications:
Statue Size approx. 28.5 inches tall with Leviathan Axe [H:72.2cm W:54.1cm D:52cm]
Statue Size approx. 25.8 inches tall with Blades of Chaos [H:65.5cm W:54.1cm D:52cm]
One (1) designed theme base
LED light-up function in Mimir's eyes
Three (3) Alternate Portraits (Angry/ Closed Mouth/ Shouting) (DX)
One (1) swappable set holding the Leviathan Axe & the Guardian Shield (DX)
One (1) swappable set holding the Blades of Chaos (DX)
One (1) swappable Leviathan Axe on the back (DX)
One (1) swappable Blades of Chaos on the back (DX)