Harley Quinn skates on in with a new One:12 collective figure from Mezco Toyz and this one will be a PX Exclusive. The figure puts an original spin on her classic red and black outfit. We will be seeing a skater punk style costume biker jacket, boots, spiked helmet, and even a shaved head portrait for Harley. She is also packing some heavy accessories in this figure too, for the non-lethal stuff, you will be getting a joker doll, a grinning smile head swap, and eight interchangeable handpieces. For the lethal section, Harley Quinn will be getting her iconic mallet, a knife, a rocket launcher with an explosive effect attachment, and a machine gun with removable ammo clips. As always Mezco One:12 collective figures do come with a themed base and a poseable figure stand. This figure is pretty well detailed and articulated and it would be perfect for any Harley Quinn fan. This is a perfect example of what a retailer/online exclusive should be. Something that we don't usually see often brings a unique twist to an iconic character that will make fans want to buy it.
The Harley Quinn One:12 Collective Figure from Mezco Toyz Will be priced at $90 and she is set to skate on in January 2020. Harley is set as a PX Exclusive so your best bet to get yours would be pre-ordering from your local comic shop. However, if you don't have a local shop you can find pre-orders online and is located here.
It's game time puddin'!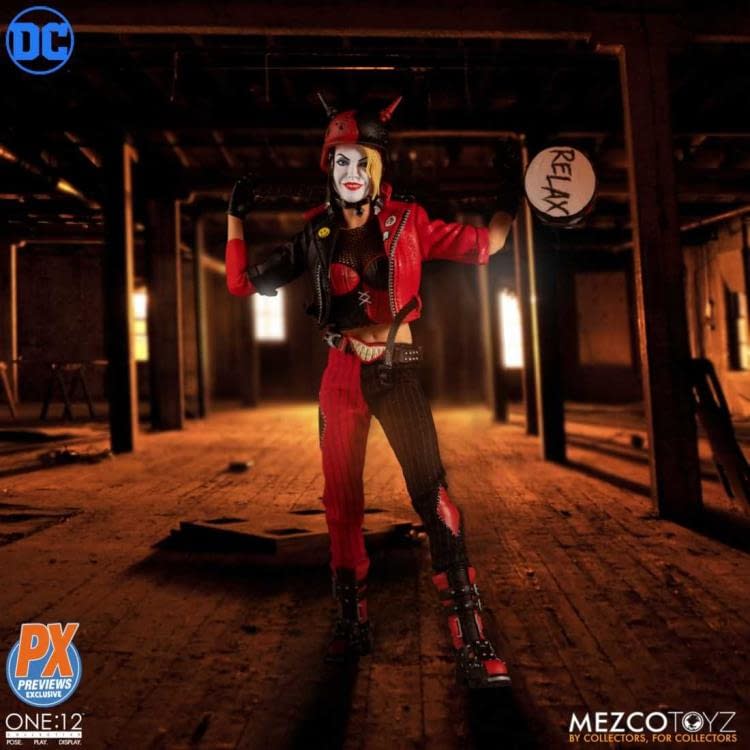 From Mezco Toyz. A PX Exclusive! Play for keeps with the poster girl for chaos, Harley Quinn! This One:12 Collective: Playing for Keeps Edition PX Exclusive Harley Quinn features an original punk spin on her classic black and red outfit! Rocking a shaved head, spiked helmet, and incredibly detailed biker jacket and boots, this Harley is ready to shred with some heavy artillery!
Along with her classic mallet, included are: a knife, rocket launcher with blast FX, machine gun with removable ammo clips, eight interchangeable hands, alternate grinning face, and a Joker doll accessory! Each One:12 Collective Harley Quinn figure comes with a display base with adjustable display post, and comes packaged in a collector friendly box.