Inspector Gadget Cartoon Returns with New Figures from Blitzway
Blitzway is bringing back the 1983 classic cartoon Inspector Gadget. This time it will be with their new line of figures that we originally saw during San Diego Comic Con 2019. Today it looks like Blitzway is finally giving us all the details with new photos, prices, and pre-order links. As you know Inspector Gadget, his niece Penny and her dog Brain are a crime fighting unit trying to stop the billions group MAD. MAD is led by the notorious Dr. Claw and it is up to Uncle Gadget to bring them all to justice. Blitzway is bringing these animated characters to life in this wave of 4 figures. The first wave of 1/12 figure will include the dog Brain, Penny, Inspector Gadget, and Chief Quimby. Each figure will feature its classic animated stylings and will come with interchangeable pieces. Inspector Gadget is the only articulated figure while the others will be static.
While not all of these figures move, they are perfectly sculpted and ready for display. Each figure comes with interchangeable pieces that will enhance your Inspector Gadget collection. There will be a deluxe version that will come with all four Inspector Gadget figures and added bonuses. From added background scenery to speech bubble effects the deluxe edition will be a must have for any dedicated fan of the series. You will be able to buy each of these figures separately and pre-orders are all live. Brain and Penny are bundled together and are priced at $69 and they are located here. Chief Quimby is priced at $49 and you can find him in the trash here. Inspector Gadget will be priced at $89 and found here while the Deluxe Gadget Set is priced at $189 and is here. I hope we can see another wave of these figures so we can see the return of cartoon MAD and Dr. Claw.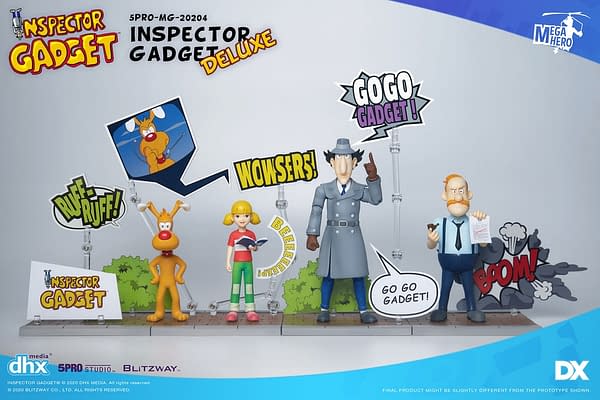 "Thousands of high-tech gadgets protruding from his outstretched fingertips and extending arms and legs. Inspector Gadget who has a body full of amazingly interesting tools but always solves every case whimsically. Brain, the incredibly intelligent puppy who helps him solve the case, and Penny, his adorable niece. Along with the hilarious Chief Quimby who always pops out of unexpected places and delivers secret orders."
"This wonderful action figure which recreates Gadget and his amazing special abilities from the famous animation brings back the heroes of your childhood who linger in your memory. Inspector Gadget's special abilities are expertly recreated with several interchangeable parts. A number of Penny and Brain's parts can be replaced to recreate memorable scenes from the animation."
"Also, the deluxe version contains the connectable bases with each character and special speech bubble effects to create more dramatic and entertaining scenes in the play. Blitzway Design & Development Team has gone through various attempts and trials and errors in the prototyping process, and each part has been painstakingly selected in a variety of materials for its purpose, which provides high play value."
FEATURES
5PRO-MG-20204 [Deluxe version] – Inspector Gadget 1/12 scale Anime Action Figure / Anime Collectible Figures
Highly detailed likeness of Inspector Gadget from the original animation.
Exquisitely designed equipment and stand.
"DX ver. includes 'Special Speech Bubble Effect Parts' and 'Earlybird Bonus'
(Special Gadget face and hand)"
Inspector Gadget comes with 2 Replaceable faces, 3 Replaceable hats, 3 Replaceable eyes, 7 Replaceable hands, 1 Gadget 'Brella, 1 Gadget 'Copter, 2 Gadget skates, 2 Gadget springs, 4 Gadget arms, 1 Gadget neck, 2 Gadget mechanical arms, 1 Flashlight, 1 Detective badge, 1 Magnifying glass, and 1 Diorama base.
Brain & Penny come with 1 Mexican style hat [Brain], 1 Mexican poncho [Brain], 1 Replaceable nose with mustache [Brain], 3 Replaceable arm [Penny], 2 Replaceable face [Penny], 1 Opened book [Penny], 1 Closed book [Penny], and 2 Diorama bases.
Cheif Quimby will get 1 Trash can, 4 Replaceable arms, 1 Mission paper, and 1 Diorama base
DX version comes with:
Whole figures with accessories [Inspector gadget / Brain & Penny / Quimby]
Special speech bubble effect parts with transparent poles
Special Gadget face and hand (Earlybird Bonus)