Iron Man Makes His Last Stand with New Nendoroid Figure
Iron Man had his final stand in Avengers: Endgame was not only heart touching but a tear-jerker. If you want to remember that iconic moment but with a smaller and cuter version of Tony Stark then look no further. Good Smile Company has announced a new Nendoroid Iron Man Mark 85 figure. This Nendoroid figure is based on the final scene in Avengers: Endgame and is jam-packed with accessories. He does come with an interchangeable head to gives you the ability to let him become Tony Stark. He even comes with a little miniature Rescue a.k.a. Pepper Potts to show that she really has his back. This Iron Man Nendoroid figure is quite articulated and can even be placed on his knees and he even comes with a mini Nano Infinity Gauntlet. This can give you the ability to pose him in his final moments from the movie. I do wish that it did come with battle-damaged Tony Stark head though. It seems like a lot of collectibles are kind of staying away from the battle damage which odd because it was the whole vibe of the ending of the film so it's surprising for companies to stay away from it. With this Nendoroid figure, you do get a display stand as well as a poseable articulated display rod. If you're a fan of Iron Man or Marvel this is a figure you should definitely get to your collection.
The Nendoroid Iron Man Mark 85 Avengers: Endgame Deluxe Version Figure from a Good Smile Company is priced at roughly $73 after conversion. They figure it is set to release in June 2020 and pre-orders for it are already live and located here. Pre-orders will only be open until 26 December so act now before it's too late. Don't forget all the other amazing Nendoroid figures coming from Good Smile Company like Captain America and Zelda.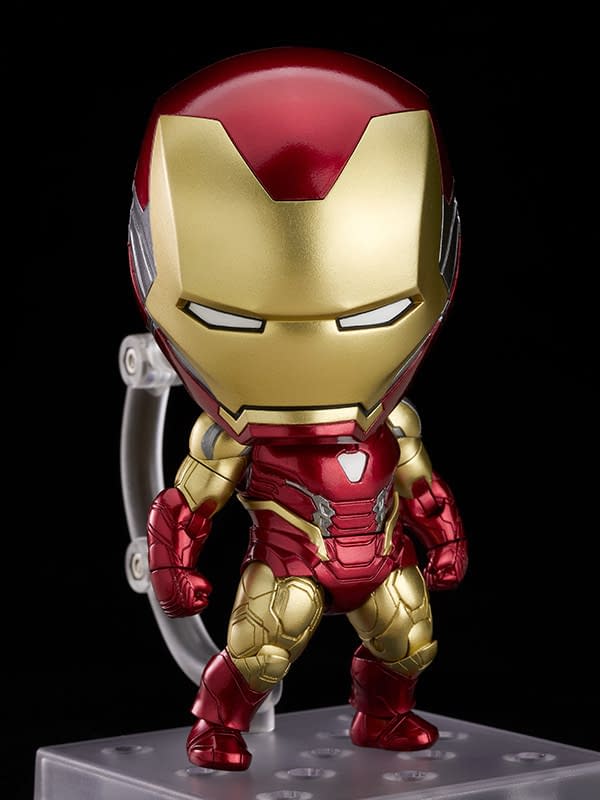 Nendoroid Iron Man Mark 85: Endgame Ver. DX
"And I… am… Iron Man."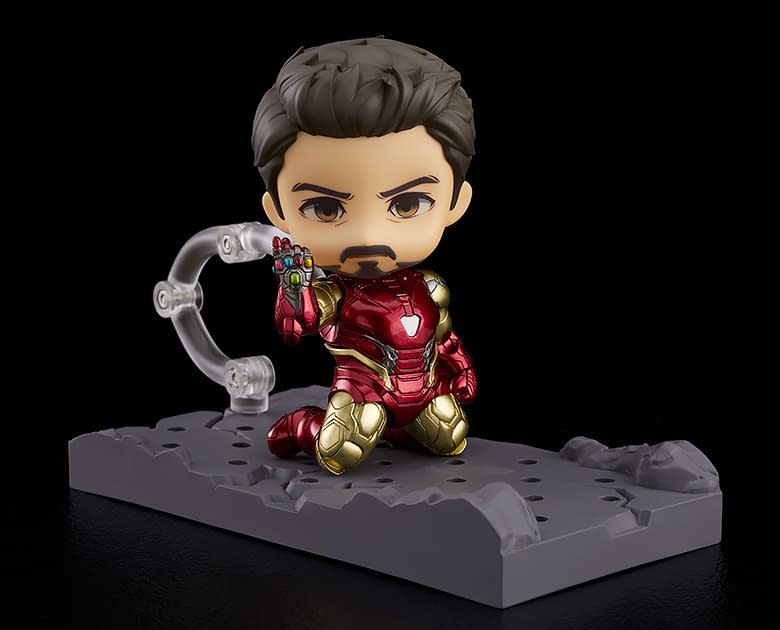 From "Avengers: Endgame" comes a DX Nendoroid of Iron Man Mark 85! The Nendoroid features full articulation and metallic paintwork, making for an impressively detailed recreation. The partition lines of the figure match with Iron Man's suit, ensuring he looks great no matter how you pose him. Both masked and unmasked head parts are included allowing you to display him either way. Using the included Repulsor effect parts, you can easily recreate action scenes from the film.
The DX version includes the Nano Light Refocuser as well as a miniature-sized figure of Rescue, allowing you to recreate a wide variety of battle scenes. An interchangeable arm part equipped with the Infinity Stones is included in order to recreate the scene from the end of the film.
A special stand base based on the final battle from the film is also included and can be displayed side-by-side with the based included with Nendoroid Captain America: Endgame Edition DX Ver. (sold separately). Be sure to add him to your collection!