Iron Studios Reveals "I Am Iron Man" Statue That We Love 3000
Tony Stark's quote, "I Am Iron Man" is one of the key phrases that has come out of the MCU and a one of the major iconic moments inside the most recent film Avengers Endgame. Thankfully, Iron Studios has just announced a new statue to memorialize that amazing scene. Unlike other versions of this moment, Iron Studios has used 3D references from Avengers Endgame to give us Iron Man fans the statue we deserve. The realistic nature of this statue gives me everything I would have hoped for.
The detail of Iron Man's Suit is perfect and the battle damage on Tony himself is striking. Robert Downey Jr. is also quite remarkable detailed and beautifully crafted for a statue of this magnitude. One of the most unique things about this statue is that it has the ability to connect to other Endgame Statues that Iron Studios also is offering from the film. Sadly, it won't be shipping until the 3rd quarter 2020, but for something so unique and detailed to perfection, it will be well worth the wait. It is currently now up for preorder here, I know I will!
Check out the Iron Studios statue below!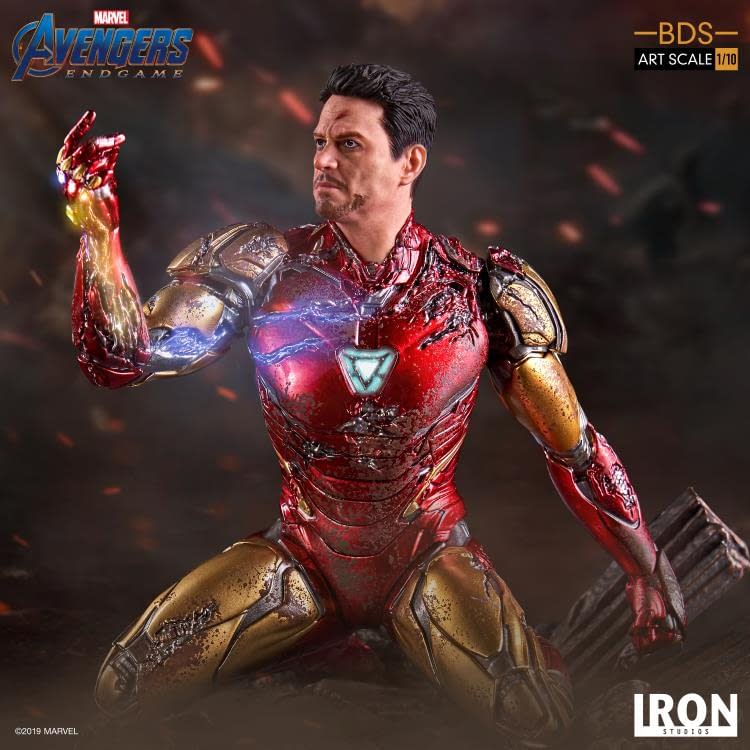 Iron Studios is proud to present the Iron Man Art Scale (I am Iron Man) 1:10 Battle Diorama Series Statue from Avengers: Endgame. This statue is based on original 3D references from the movie and is specially hand-painted. The diorama base allows you to connect the statue with other characters to create a battle scene.
Specifications of the 1/10th scale Iron Man include:
– Limited edition
– Based on original movie references from 3D modeling
– Made in polystone
– Hand painted
– Automotive paint
Product dimensions: 5.9 in (H) x 5.5 in (W) x 5.9 in (L)
Product Weight: 1.3 lbs
Release schedule: Third quarter of 2020