Jurassic Park Dilophosaurus has Escaped in New Iron Studios Statue 
Jurassic Park is the movie to go to if you want to see dinosaurs. We now know that a lot of these dinosaurs are theme park designs and could possibly not be based on new accurate evidence. Until we get to travel back and time to see for ourselves then all we have is our imagination and collectibles. This time Iron Studios continues their Jurassic Park line of statues as the Dilophosaurus has broken as is ready for your shelves with this new 1/10 Art Scale statue. The dinosaur is based on actual original movie references and will be handprinted so you know you will be getting some high quality work here. The statue will feature a nicely special base to show off your dinosaur in all his might. The Dilophosaurus is spreading his fin and ready like seen in the film when it comes across the very appetizing Dennis. The detail in this statue is beautifully done and the colors on its foil are memorizing. This is a must have piece for any Jurassic Park fan out there.
The Jurassic Park 1/10 Art Scale Dilophosaurus Statue will be released into the wild between October and December 2020. The statue is priced at $119.99 which isn't all that bad for a 7 inch tall highly detailed statue. Pre-orders are already live and you can find them located here.
Get the stick stupid.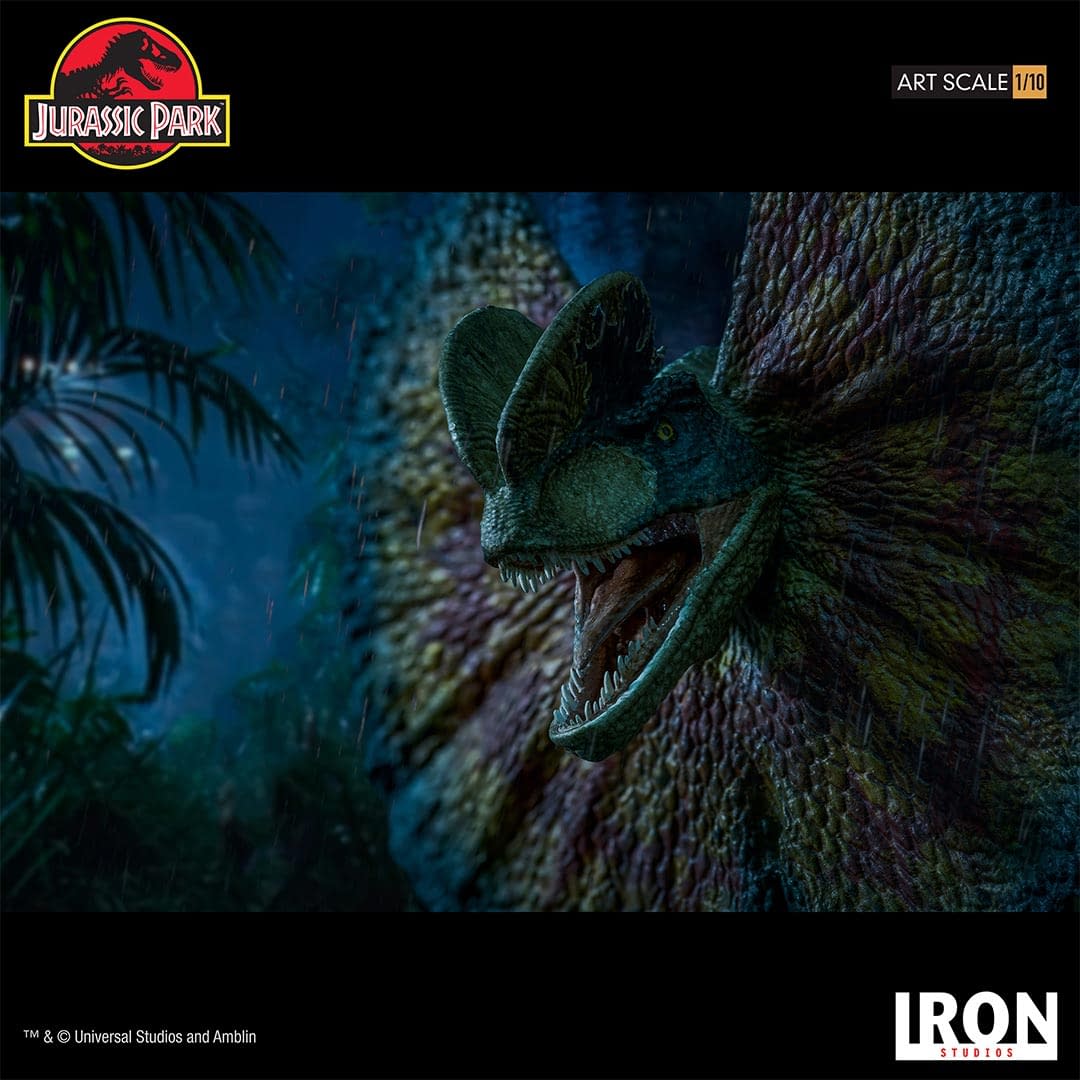 Dilophosaurus Art Scale 1/10 – Jurassic Park $119.99
DESCRIPTION
Dilophosaurus Art Scale 1/10 – Jurassic Park
License: Jurassic Park
Scale: Art Scale 1/10
Features:
– Limited Edition Jurassic Park Statue
– Based on original movie references
– Made in Polystone
– Hand Painted
– Includes base
Product dimensions: 7 in (H) x 11.8 in (W) x 5.5 in (L)
Product Weight: 0.8 lbs
Release schedule: Fourth quarter of 2020
*This item will be shipped from our warehouse in Los Angeles – California