Kidrobot SDCC Exclusives: Spongebob, Aggretsuko, Godzilla, and More
Kidrobot is or course here at SDCC again, and this years booth exclusives are some of their coolest looking ones yet. I especially like the Mechagodzilla. Aggretsuko, Spongebob, and a Chia Pet Dunny will also be available. All are extremely limited and will be available as a first come, first served basis. Check them out below!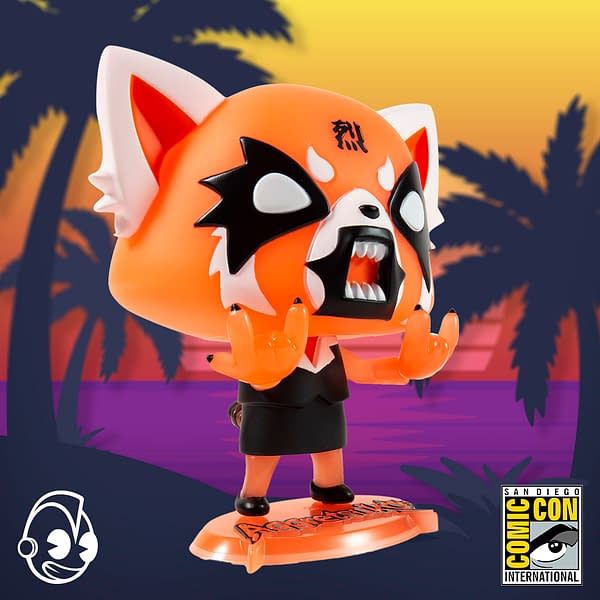 Aggretsuko serves up her signature rage in red glow-in-the-dark vinyl with the new San Diego Comic Con Exclusive vinyl art figure from Kidrobot and Sanrio. The Aggretsuko Rage 6" Art Figure is limited to 500 pieces, available for $45.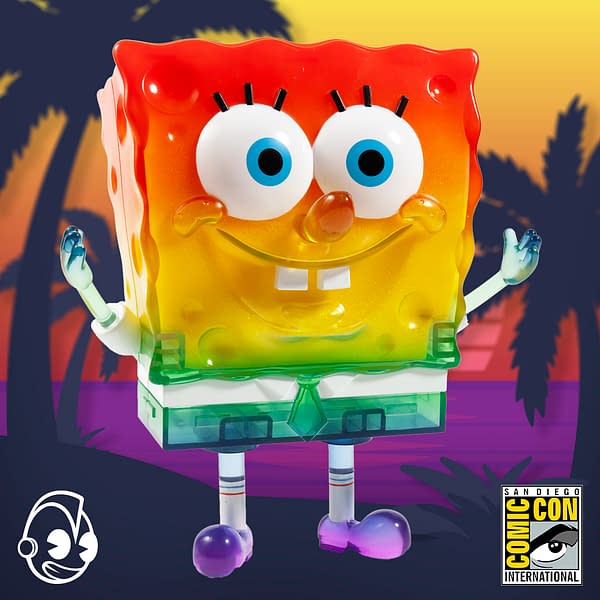 SpongeBob is turning 20 and we're honoring him with an all-new collectible rainbow art figure with a semi-translucent shell that reveals an actual sponge inside. The Sea Sponge SpongeBob 8" Art Figure (Rainbow) is limited to 300 pieces, available for $55.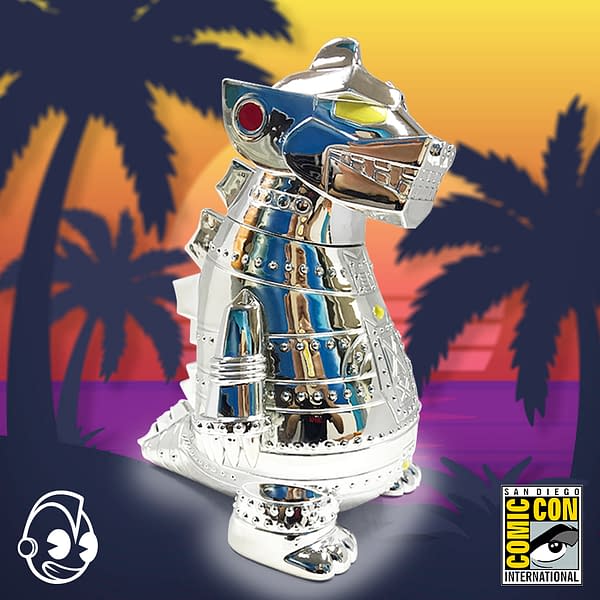 Godzilla's arch nemesis, Mecha Godzilla, will be taking a break from stomping on cities and joining us in the form of this awesome CHROME design that throws back to the 1974 classic "Godzilla vs. Mechagodzilla." Mecha Godzilla 8" Art Figure (chrome) is limited to 500 pieces, available for $100.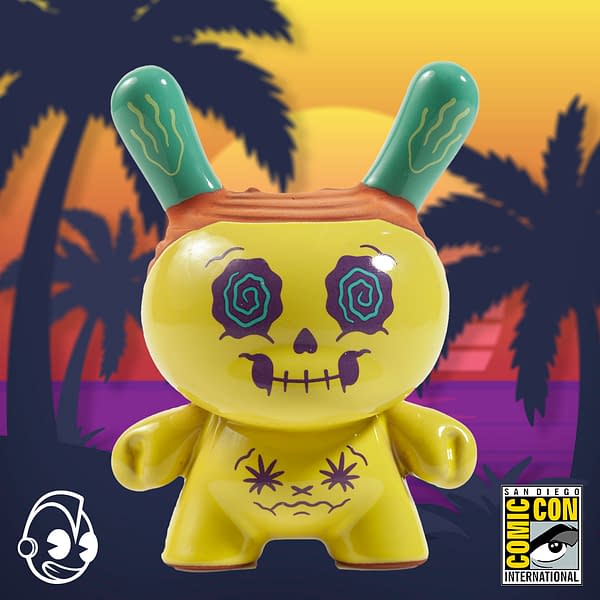 A Chia Pet Dunny? Yes! Following the sold out SDCC 2018 Exclusive Let Love Grow Terracotta 5" Chia Pet Dunny by Jeremyville, we hereby reveal the second Chia Dunny featuring South Africa based artist, Kronk. The Buzz Kill Chia 5" Dunny by Kronk (Yellow) is limited to 200 pieces, available for $45.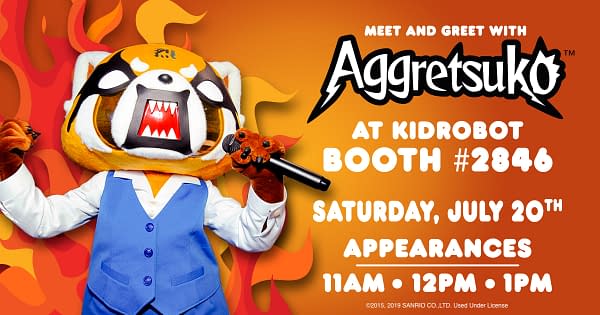 On top of the exclusives, Aggretsuko will be making a three hour appearance at the Kidrobot booth on Saturday. The details can be found below.
Ready to RAGE?! Stop by Kidrobot SDCC booth #2846 and meet Aggretsuko herself on Saturday, July 20th, at 11am, 12pm, and 1pm.
In order to meet Aggretsuko and snap a rage-filled photo, SDCC attendees must get a wristband for one of the time slots directly from the Kidrobot booth. All wristbands are handed out on a first come, first serve basis in limited quantities set aside for each day – so go to Kidrobot booth #2846 first thing in the morning, get a wristband and don't miss your chance to scream some death metal with your favorite heavy metal-loving red panda!

Line formation starts at the beginning of each time slot and lines formed before each time slot will not be allowed. Fear not: if you have a wristband, you will meet Aggretsuko!