LEGO has been no stranger to the Mystery Bag gimmick as they are on Series 19 of their original series. However, we are starting to get a specialty LEGO pack featuring some specific themes. We have recently seen bags for The Lego Movie 2, Disney characters, and most recently: DC Comics. As a fan of DC, I just had to snag me up a couple in the hope of getting some of my favorite characters. 16 characters are getting released in this wave of LEGO Minifigures some featuring classic 1st appearance outfits and others are getting three first LEGO debut. We have covered all of the figures coming out in this wave located here. So let's not hold out any longer and dive right into the mystery!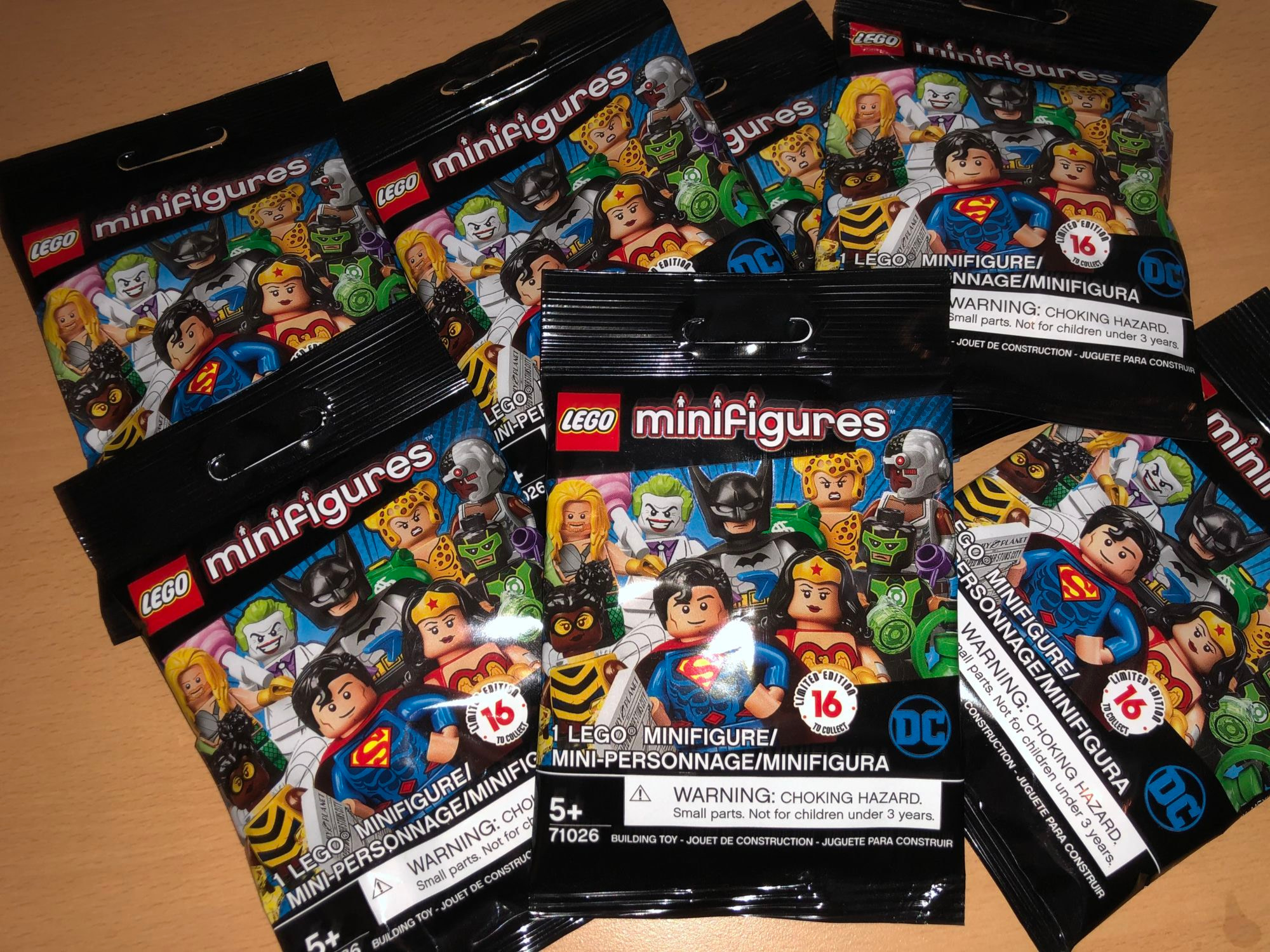 Opening a mystery bag is always a gamble as you might not want all of the characters and you could risk a chance of doubles. Each bag will include a nice display stand that can connect your LEGO Minifigure and allow a nice set of poses. We are also given an instruction manual for some of the DC Comics figures that have extra accessories with them. On the backside of the instructions, we are given a checklist with all 16 characters. There is one specific character I am after and that would be Stargirl and with her new show coming out of DC Universe it would be so bad to have one. I have 7 mystery bags here so let us check out who is inside!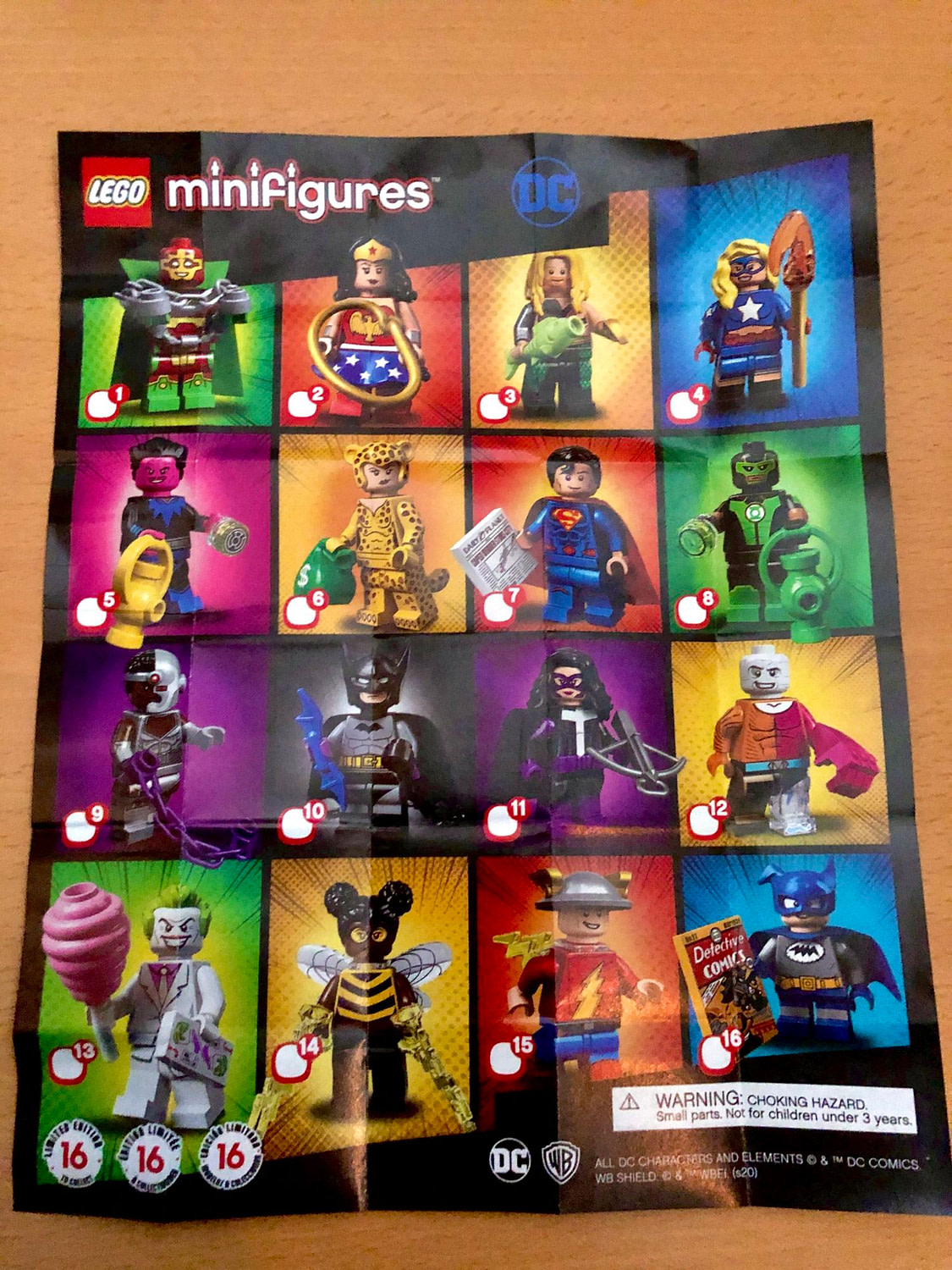 Opening up our first bag we are getting with the pieces of a speedster; Jay Garrick to be exact. LEGO Jay comes with his display stand and a cool back attachment for some lightning. The display stand is slightly odd as the piece to connect your LEGO Minifigure is slightly tilted so they can only be posed in a motion pose. The back attachment is a nice accessory as it adds the running lightning effect to the character.
Next up seems to be the man who can escape anything, Mr. Miracle. This is his first LEGO Minifigure appearance and he comes loaded out with accessories. Mr. Miracle comes with a chain, and 2 sets of handcuffs. He comes with 2 outfitted capes one for his back and the other for his neck. This little guy is pretty awesome and his colors are very bright. If you ever wanted to carry around a Miracle in your pocket the is the one for you.
LEGO Mystery Bag Number 3 is none other than the Man of Steel himself, Superman. This figure right her is more than I ever wanted in a minifigure. Superman does come with a Daily Bugle Newspaper accessory, with the title, "Caped Wonder Stuns City," on it with him catching a plane. The cape on this figure is different than most LEGO caps as this one is cloth and fits so perfectly with the figure. He also features two different faces that can be shown from quick rotation. I was surprised to see an evil version of Superman or at least his "laser vision" shown for the character. HE is currently the coolest figure I have picked out from these mystery bags.
Bag Number 4 it looks like the King of the Seven Seas is here, Aquaman! This is a version of Aquaman that we saw in the 90s version of comics as he has a hook hand. I am kind of curious why they decided to include a fish as his accessory instead of a trident though. The LEGO Minifigure does show some feminine style detail but if you know the character they are aiming for you won't be fooled. This figure also does feature two different heads too, one is angry and the other is calming. Behold the King!
We now move on to LEGO DC Comics Mystery Bag 5! This one I honestly wasn't excited to get but I was dead wrong as Batman gets his 1st appearance turned into a minifigure. Batman is packed with accessories and that is pretty nice for the price you get them at. Batman does have a removable mask that shows Bruce Wayne with goggles underneath. LEGO Batman also comes with a whip and 2 blue batarangs. I'm not sure why he got a whip but it could be referring to him swinging on the cover of Detective Comics #27. 
Two bags left and we haven't seen a villain or Stargirl just yet. Number 6 treats us with the 1st appearance outfit of Princess Diana a.k.a Wonder Woman. She comes with a shirt and her iconic lasso. I like how they added the shirt of this LEGO Minifigure as it is a new part but defiantly needed for her. Wonder Woman also has a swappable face that switches between angry and calm like the rest. I would say that is an added feature but Mr. Miracle and Jay Garrick don't.
I am pretty glad that I managed to not get a double this far and managed to lock down the trinity. I would have made more sense to give us a first appearance Superman LEGO Minifigure instead of his New 52 outfit. Either way, his cape is what makes me love that figure and with all the accessories to 1st appearance of Batman its nice to have them together.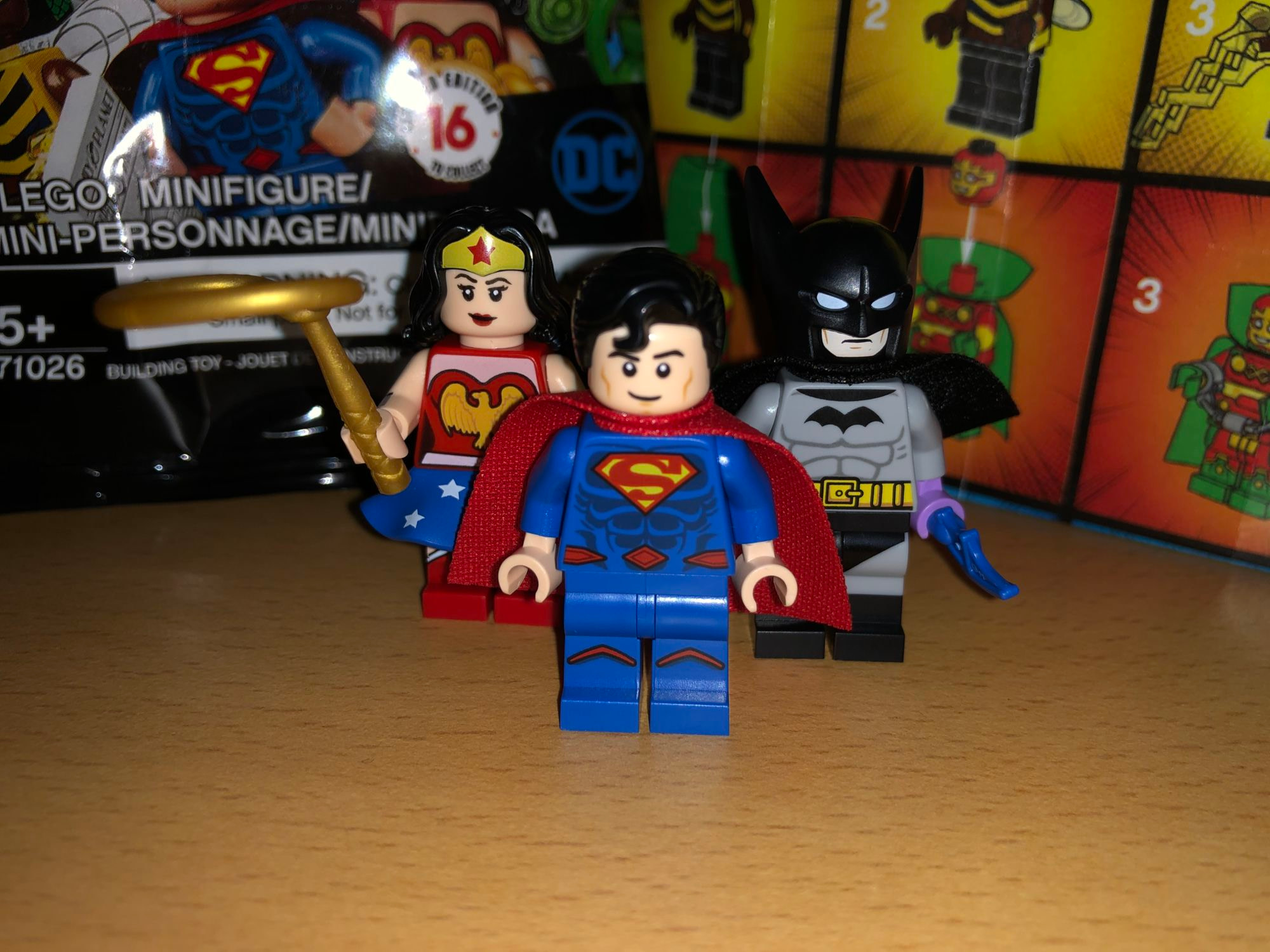 We have finally made it to our last LEGO DC Comics Minifigure Mystery Bag, fingers crossed. WOW, just wow! We lucked out today as our last mystery figure is indeed Stargirl. This was the one figure I was hoping for and she came in to save the day last second. This is also her first LEGO Minifigure debut as she shows off her star spangle outfit. Stargirl does come loaded out with her staff as well as the display base. She too does feature two different faces that go from a grin to an aggressive smile. 
These were such a blast to open! LEGO really did a great job with these figures and I was oddly surprised by all the accessories and details in each. Jay Garrick, Mr. Miracle, and Stargirl really did it for me as these are characters you don't really see and I am glad LEGO went into the DC vault for them. If you want to test your luck you can find your own DC Comics LEGO Minifigure Mystery Bags here. If you're a fan of DC Comics I highly recommend them and be on the look for that Stargirl!