Magneto Joins the X-Men in New Mezco One:12 Figure 
Magneto is just as iconic as the X-Men themselves. He appeared right alongside the X-Men in X-Men #1 written by Stan Lee. Since that day Magneto has varied his strategies and paths. In the Marvel Now series, he teamed up and join Cyclops in Uncanny X-Men after Wolverine took over as headmaster in the Jean Grey Institute. One:12 is showing off that badass white Marvel Now costume in their newest figure. Magneto's clothes and cape are fabric (like usual) and he has over 30 points of articulation. Magneto comes with two separate heads, one with his anti-telepathic helmet and the other is unmasked. He comes with three sets of interchangeable hands as well as three different magnetic power hand swaps. These hands give Magneto a more dynamic feel and allow you to pose him just right. The base is quite simplistic with an X themed display and then a connecting attachment stand to allow Magneto flight and strategic poses. The white costume is a delight here, something we don't see often and it pops with the magnetic hand attachments. This is a must-have for any X-Men, Marvel villain fan or even a Marvel fan.
Magneto White Costume Marvel Now One:12 Figure is Previews Exclusive. The best bet to get him would be through a local comic shop or if there are none near you, you can preorder him here. Magento Marvel Now is priced at $80 and is set for a March 2020 release day.
"Peace was never an option."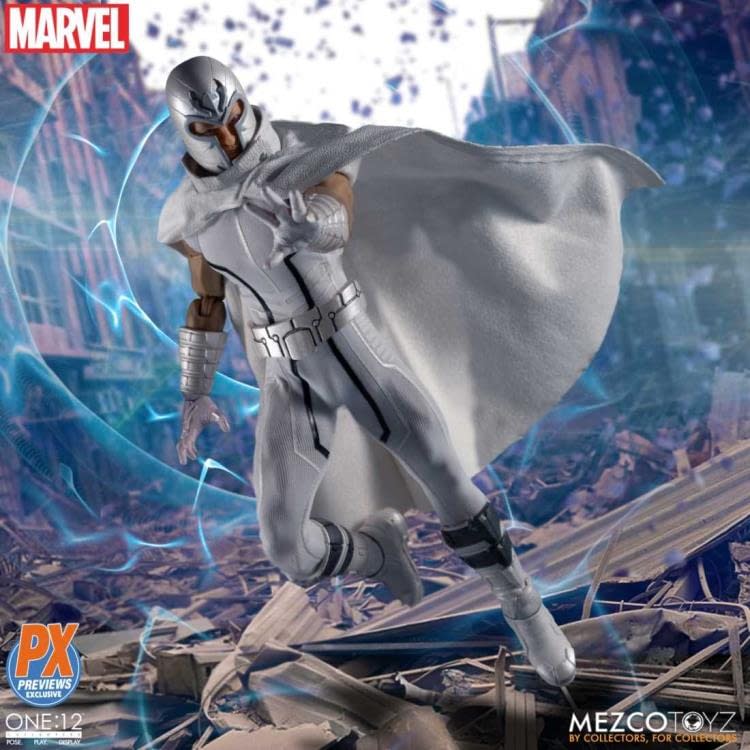 From Mezco Toys. A Previews Exclusive! The master of magnetism, Magneto in his Marvel NOW! costume joins the One:12 Collective line! Presented in his white fitted cloth costume with a long cape, Magneto comes complete with magnetic force effects that are capable of holding small metal objects with embedded magnets.
Featuring 30 points of articulation and painted authentic detailing, Magneto also includes two head portraits and six interchangeable hands. Each One:12 Collective figure is packaged in a collector-friendly box with an included One:12 Collective display base with logo, designed with collectors in mind!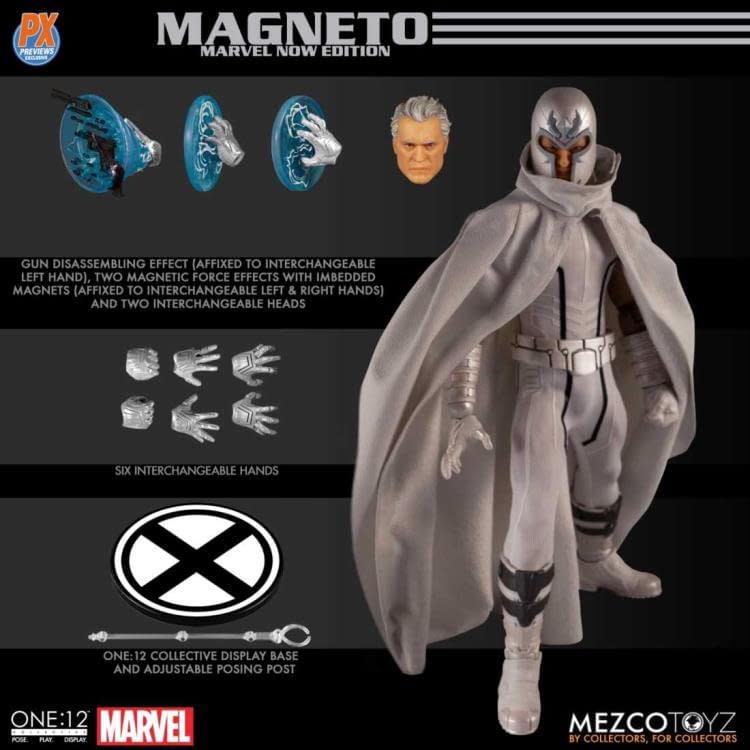 Preorder your Magneto today!