This Monday Super7 will have a new Masters of the Universe Club Grayskull figure up for order. This will be a holiday version of He-Man, straight from the Masters of the Universe Christmas special. He-Man will come with a candy cane Power Sword and a Santa hat, with snow-covered box art. The neatest thing about this figure is that it comes wrapped in MOTU wrapping paper! That is going to make this a really tough one to open, good thing the limit to purchase is two figures. Man, imagine seeing this under your tree this year all wrapped in the paper and such. What a great idea by Super7. Then again, they always have great ideas.
Check out the figure and packaging below, and have your card ready to order this Monday. These are going to go pretty fast if I had to bet. He-Man will ship in early December.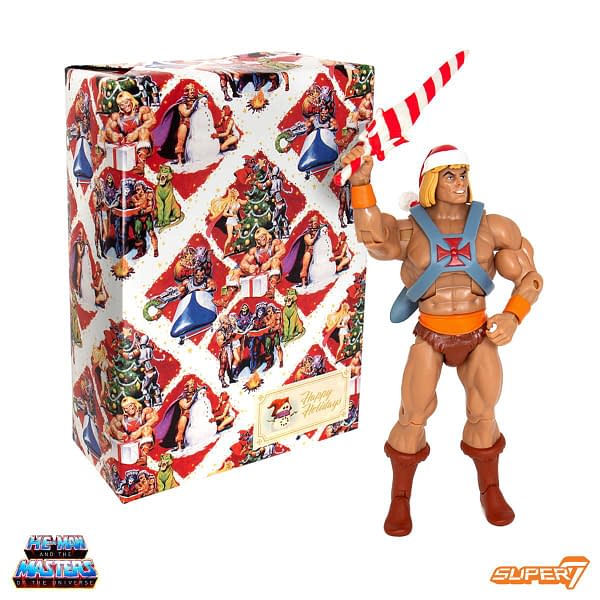 Arriving this Cyber MOTU Monday: Straight out of an 80's Christmas in Eternia! Masters of the Universe – Holiday He-Man 7" Club Grayskull Collection Figure. The new He-Man sculpt with Santa Hat inspired by the 1985 Masters of the Universe Christmas Episode! Holiday He-Man comes with new candy cane sword and snow covered packaging. Everything is gift wrapped in 1984-style MOTU Christmas wrapping paper. This is a limited edition release that comes packaged in an additional outer shipping box. Holiday He-Man will go on sale this Monday (11/26) sometime between 12:00PM and 12:15PM PST in the Super7 webstore. There will be a limit of 2 (TWO) per customer and orders will start shipping in early-December (Yes, this year… This is not a pre-order release).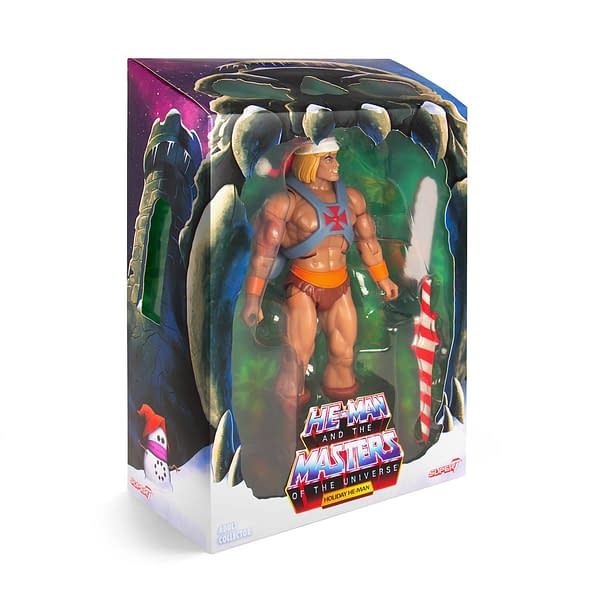 Enjoyed this article? Share it!