Kotobukiya Shows Off Upcoming DC Comics Mera Bishoujo Statue
It's time to move over Aquaman, Mera is ready for her spotlight with Kotobukiya. Kotobukiya recently shared some concept art of one of their upcoming Justice League statues. The Queen of the Deep, Mera, will soon be ready for action with the next statue in the Bishoujo line. The concept art piece shows off plenty of what we will be expecting for this iconic DC Comics heroine. She will be featuring her iconic red hair and her green costume. It looks like she will be standing on a water-themed base with water coming up from it. The colors of this upcoming Kotoukiya statue really complement each other and will defiantly pop on any shelf. This concept looks very promising for Mera and all of her fans will be happy to add her to their collection.
The Kotobukiya Bishoujo statue series has been always a lovely collectible series. They incorporate their own unique design and sculpt to these iconic characters than any fan can love. It is nice to seem some uncommon heroes like Mera get their own time to shine and this concept does just that. From the brightness of her red hair to the shine of her green suit, and the dynamic movement of the water this will be a great addition fo any DC Comics Heroine fans collectionThe details of this piece will probably look 10 times better when we see the final product. I'll be looking forward to seeing the final piece and you can see what other DC Comics Kotobukiya Bishoujo Statues are already out now and here. This statue will look quite nice with other companion pieces like Shazam (Mary), Zatanna, Raven, and Starfire.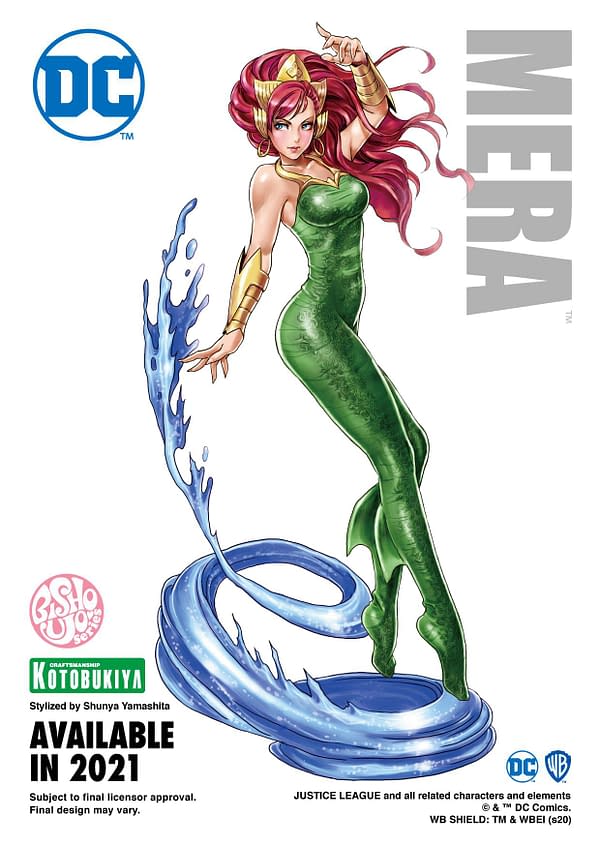 NEW PRODUCT INFO:
"We're excited to announce that MERA is joining our DC COMICS BISHOUJO line! Stay tuned for updates!"