NECA Reveals a Gamestop Exclusive Ultimate Gremlins Figure
Gremlins fans are going to want to get to their local Gamestop in May. NECA will be releasing an exclusive version of their excellent Ultimate Gremlin figure. Dubbed the Ultimate Gamer Gremlin, this version has new accessories. A popcorn bucket for his head, a propeller hat, soda (the midwesterner in me is screaming at me to call it a pop), sunglasses, a portable arcade game of Fail Guy, and a 80's cartridge of the Gremlins video game. How cool is that? The Gremlin will feature 25 points of articulation, including in the ears and its jaw.
Check out some more details and pics down below. This Gremlins figure will run you $29.99 and can be preordered right here, right now.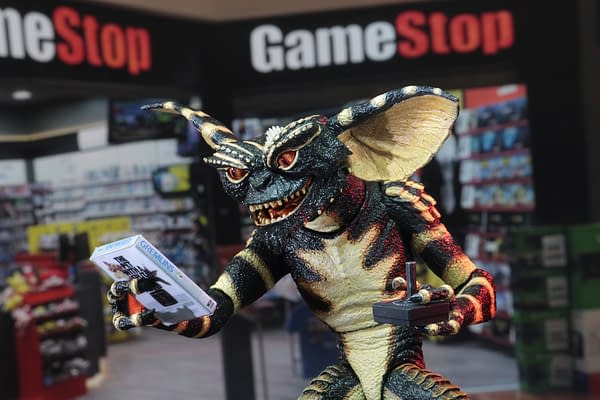 You know the rules; keep them out of sunlight, don't get them wet, and never, ever feed them after midnight. Break them and your fuzzy, friendly little Mogwai will turn into a scaly, savage Gremlin, like this deluxe 7" scale figure (stands approximately 6" tall). Celebrate Gremlins and Retro gaming with the Gremlins Ultimate Gamer edition available only at Gamestop!

This Ultimate Gamer Gremlin features over 25 points of articulation, including ears and jaw. He also comes with a bucket of Popcorn that can be placed over his head, sunglasses, a propeller hat, Soda for late night gaming, a handheld arcade game, a classic joystick and of course his very own copy of the Gremlins video game box. All of this packaged in a collector-friendly window box with opening flap.