Review: GameStop's Green Lantern – Lantern Corps Ring Set
A while ago we were looking over new DC stuff that had come out in 2019, and one of the items that caught our eye was a GameStop Green Lantern exclusive. GameStop usually gets a lot of exclusive items you can't really nab anywhere else, so when something shiny comes along that you absolutely need in your life at their store, it becomes a must-own before it disappears. In this case, it was the Lantern Corps Ring Set, which they were kind enough to send our way for review.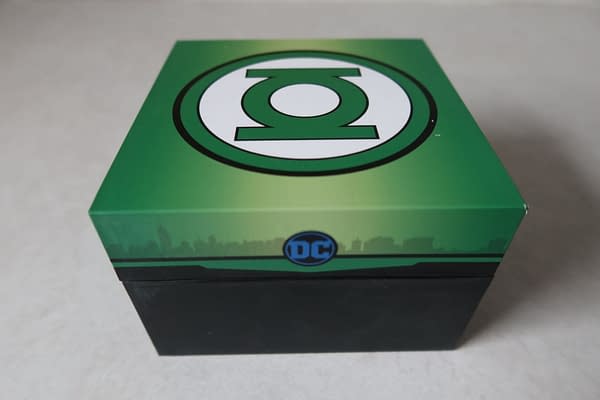 The set itself is pretty cool looking. You get a total of nine rings, each one representing the different aspects of the Lantern Corps. Whether they agree with each other or not, you have a ring in here for every aspect. They are Willpower, Fear, Love, Rage, Hope, Avarice, Compassion, Life, and Death. Fans of DC Comics should know all of these well and recognize the designs on each one. They are presented on a small board highlighting each inside a Green Lantern type of jewelry box.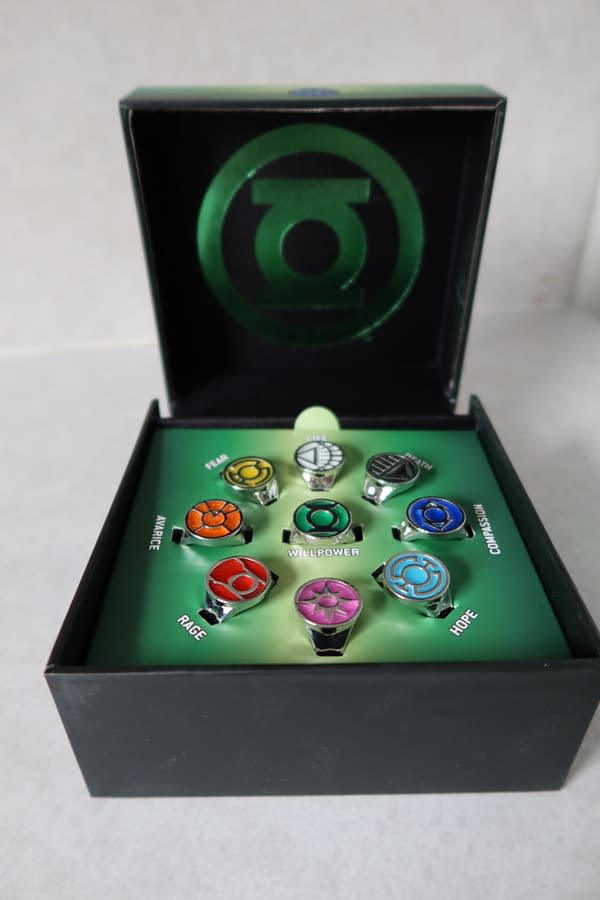 Each one of these rings is metal and designed to look silver, but they're not really silver. We're guessing standard nickel with a copper interior, smoothed out and polished to give the appearance of sterling silver. The primary symbol is represented in silver while the color sits behind it. The Lantern Corps rings, especially those worn by the Green Lanterns, have changed the design over the years depending on the characters and time periods and artists drawing them. These fall more in line with the designs of Hal Jordan's ring, as well as the early versions worn by John Stewart before they made the lantern more predominant in the design.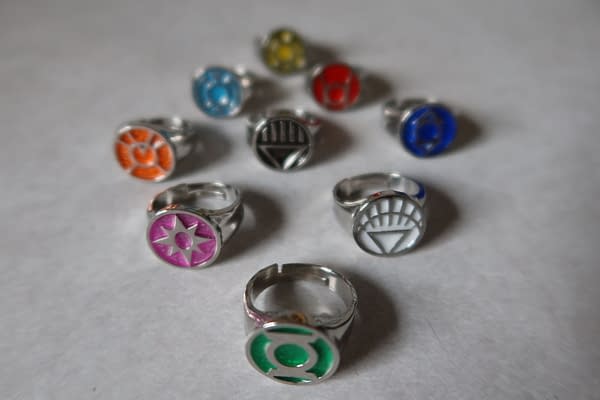 These rings are designed to fit the fingers of anyone size 8-14. This is done by doing an L-cut into the band so you can slowly bend them and adjust. Getting them to bend is a tricky process. This took me back to my youth getting cheap mood rings at 7-11 for fun, and then having to bend the ring so it could fit. And much like those were years ago, these have the same bend and give where if you apply too much pressure, you might just break the metal. I thankfully didn't break any while I was setting them up, but there were a couple of times where it felt like I could easily break this off. The rings themselves fit well after they're adjusted, and surprisingly don't pinch the skin like cheaper rings might.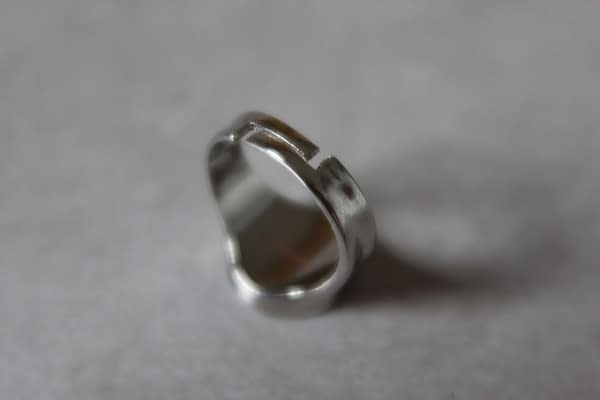 Overall, this is a pretty cool set to have. But I would say the Green Lantern – Lantern Corps Ring Set is more of a display item than wearable jewelry. Yes, you can wear them if you choose to, but let's be honest, this is a set. If you were getting just a single ring to wear, you'd get that one ring and be done. The only purpose of getting this kind of collection is to have it on display. Which isn't a bad thing by any means, it's basically a DC Comics collector's dream item to sit on a shelf along with a Batarang and a black Superman armband. If you do choose to wear them, take caution in adjustment and not losing one of them. If not, you have a decent box to display them in. The rings currently sell for $30.