Spider-Gwen Thwips Into Action With New Iron Studios Statue
Spider-Gwen is probably one of my favorite Marvel comics characters to recently be introduced. A new take on a classic character can really change everything. I was glad to see her introduction into the Spider-Man: Into the Spider-Verse animated film. Hailee Steinfeld really brought the character to life and I hope we get to see more of her. Iron Studios has been releasing a nice set of Spider-Man: Into the Spider-Verse battle diorama statues. And Spider-Gwen is the final piece and she looks amazing. The character, just like the rest, is standing on a piece of rubble with spray paint on it. The word "thwip" is showcased, one of the iconic Spider-Man comic webbing noises. The statue does come with an alternative head where you can show Spider-Gwen unmasked. The display stand also seems to show two drumsticks on it, which shows the personality of Spider-Gwen as the musician she is. This awesome statue is perfect for fans of Spider-Man: Into the Spider-Verse, or fans of Spider-Gwen herself.
The Spider-Gwen art scale Spider-Man: Into the Spider-Verse statue from Iron Studios is scheduled for release in the second quarter of 2020. So be on the lookout for her between April and June. She is priced at $119.99 and Spider-Gwen is available for pre-order here and don't forget to check out the other Spider-Verse statues too!
"I'm from another dimension. I mean, another, another dimension."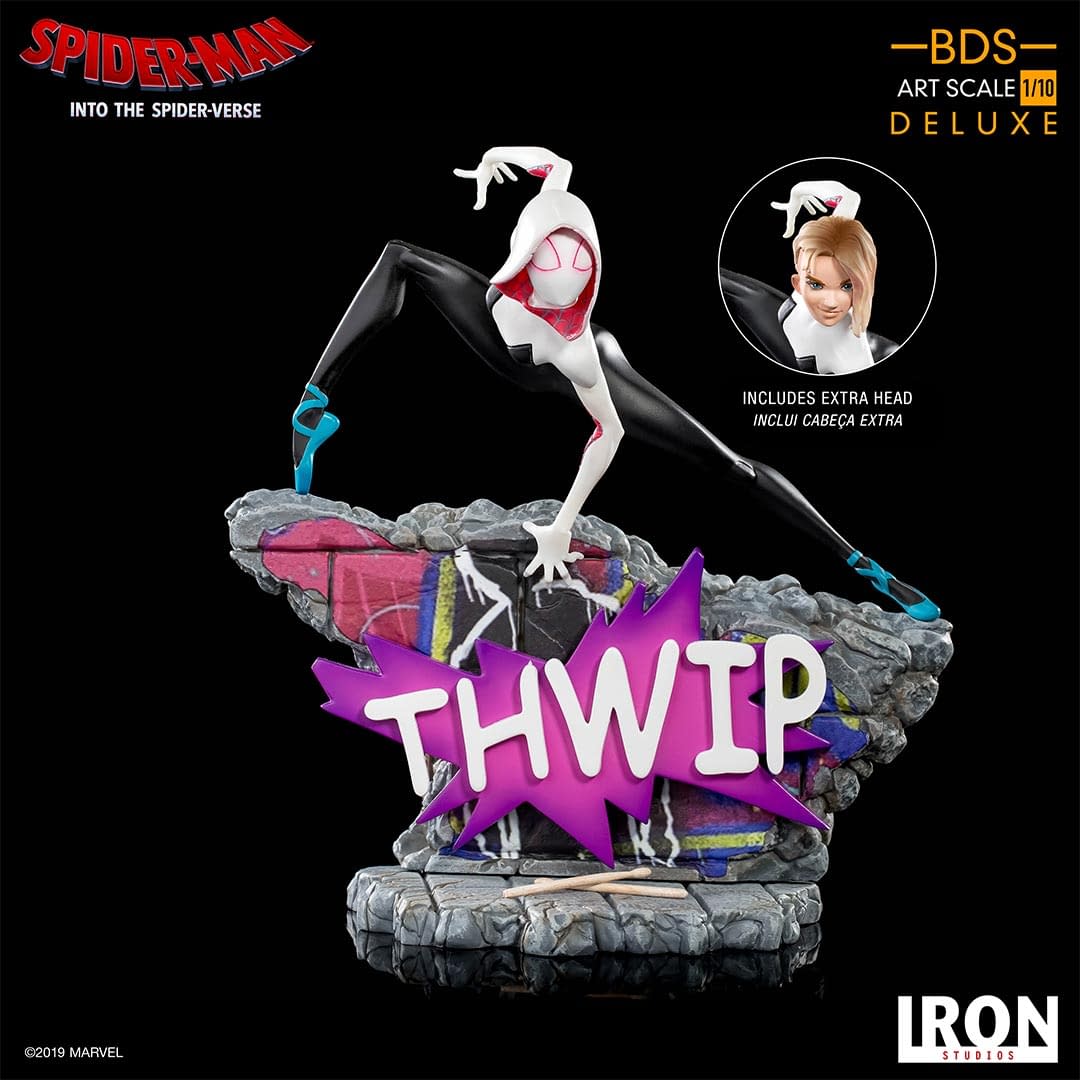 Spider-Man: Into the Spider-Verse Battle Diorama Series Spider-Gwen 1/10 Art Scale Limited Edition Statue
Spider-Gwen BDS Art Scale 1/10 – Spider-Man: Into the Spider-Verse
License: Spider-Man: Into the Spider-Verse
Scale: Art Scale 1/10
Features:
– Limited edition
– Based on original movie references
– Made in polystone
– Hand painted
– Includes extra head
– This statue is part of a battle diorama based on the Spider-Man: Into the Spider-Verse
Product dimensions: 6.6 in (H) x 6.2 in (W) x 3.5 in (L)
Product Weight: 0.7 lbs