Spider-Man Breaks Free in New Iron Studios Statue
Spider-Man: Far from Home finally introduced us to the bigger world of Spidey on the big screen. One of the coolest scenes throughout the film was the illusions Mystery caught Spider-Man in. Us fans were waiting to see what this real-world interpretation of his iconic illusions would be. They were more than we have hoped for and they easily created some amazing scenes featuring a zombie Iron Man and a return of Peters homemade suit. Iron Studios is bringing some of that magic alive with their newest statue. We get Spider-Man jumping through the illusion with digitalization, smoke, missiles, and more. This is a very dynamic statue and it pulls a lot of the aspects from Far From Home's final battle to give fans a truly special piece. To make this statue even more intense, the illusion has an LED function to really light up your collection. I would have loved to see a split costume showing both homemade and his newly upgraded suit. I am really starting to love the use of LED technology in some of these statues and it makes statues like these more compelling and very unique.
The Iron Studios Spider-Man: Far from Home Statue is priced at $999.99. the statue is set to release at the end of the year and pre-orders are already live and can be found here. Stay tuned here at Bleeding Cool for more web-slinging and Marvel collectibles that are coming soon!
Break the illusion.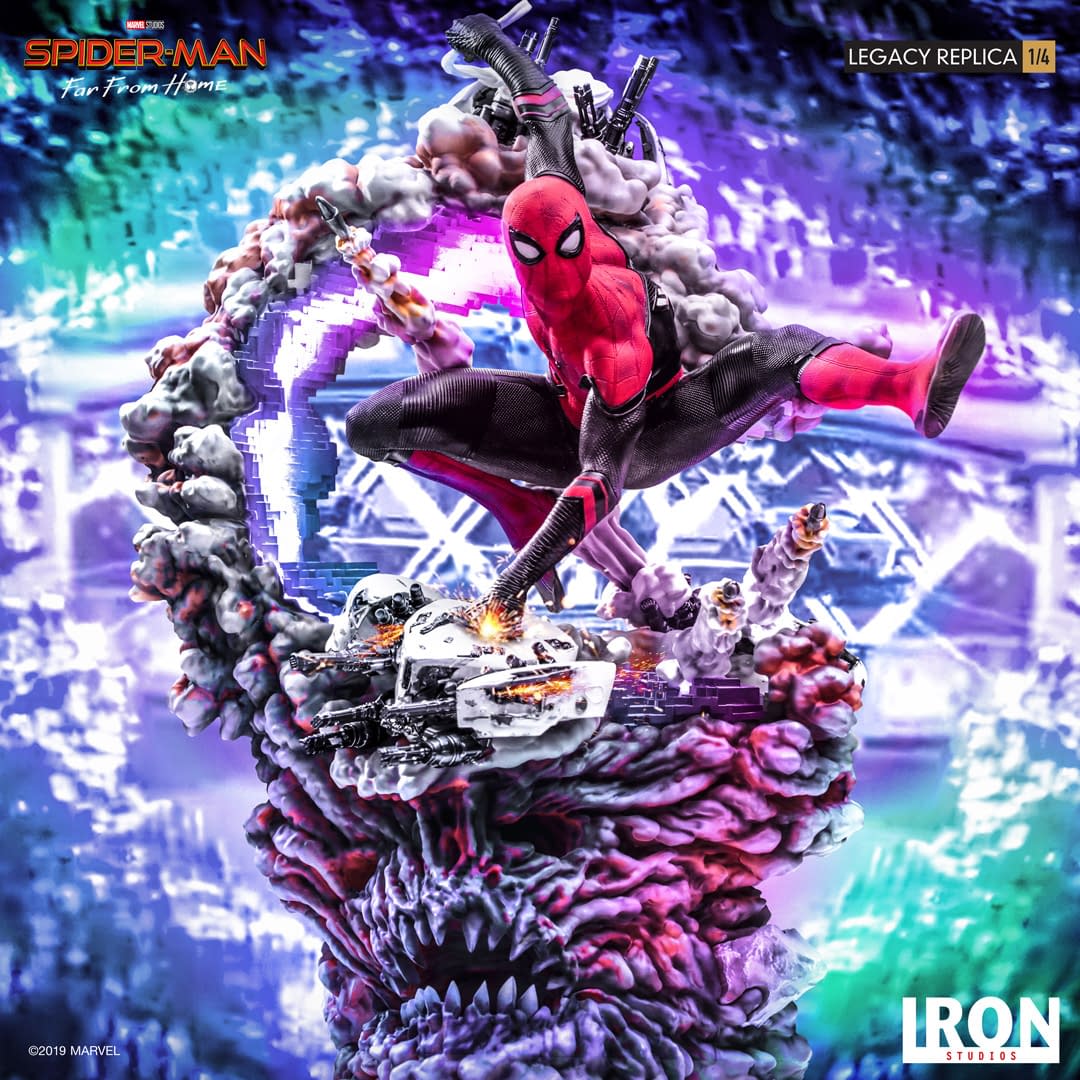 Spider-Man: Far From Home – 1/4 Scale Spider-Man Legacy Replica Statue
Spider-Man Legacy Replica 1/4 – Spider-Man: Far From Home
– Scale: Legacy Replica 1/4
– Limited edition
– Based on original Spider-Man: Far From Home movie references
– Made in polystone
– Hand painted
– LED light-up effect
– Statue product dimensions: 23.6 in (H) x 18.8 in (W) x 19.6 in (L)
– Product Weight: 35.2 lbs